The Chinese regime announced on July 26 that the third peak of this year's flooding season has arrived in the upstream region of Yangtze River, while the second peak reached the midstream area.
Roughly 459 million people live in the Yangtze River drainage basin as of the end of 2017, with 51 percent of them living in rural areas, according to China's Ministry of Water Resources (MWR).
Since early June, heavy rain has hit the river basin area and large swathes of southern and central China. Floods and mudslides have been reported in over 27 provinces and regions.
To protect the cities, Chinese authorities opened dikes and dams to discharge overflowing stormwater from rivers and lakes into rural areas, which caused tens of millions to lose their homes.
By evening July 27, the peak will reach Three Gorges Dam, China's largest, according to the MWR.
Due to rising water levels, regions along China's longest river, Yangtze, and its tributaries Chu and Jing, as well as the areas around China's two largest lakes, Poyang and Dongting, are at risk of being submerged or inundated, the MWR added.
The Huai River, which runs through central China, is also facing more floods.
The MWR Huai River commission announced on Sunday that water levels of the 620-mile-long Huai River reached past the alert line.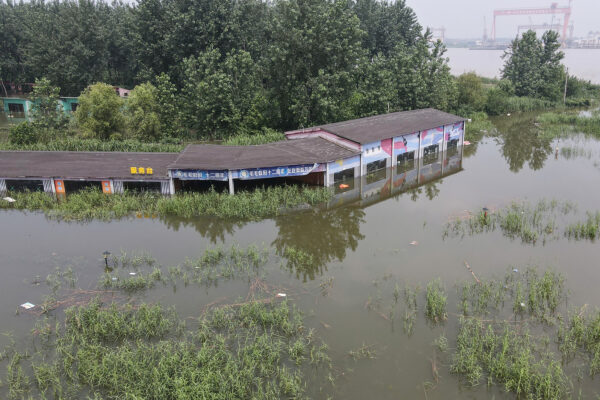 On July 20, local authorities opened up the Wangjiaba Dam to discharge floodwaters from the Huai River for over 76 hours, submerging the Mengwa region in Anhui Province, home to 195,000 residents.
Two days later, authorities discharged Huai River waters to the Jingshanhu area, home to 855 residents. This area is the eighth region along the Huai to be submerged intentionally.
The Chinese regime has arranged for 28 locales along Huai River to discharge water due to heavy rainfall, according to state-run media Anhui Pictorial. The total area spans 1,507 square miles, 883 of them farmland.
Authorities have also discharged waters from the Yangtze River to rural areas, but did not disclose details.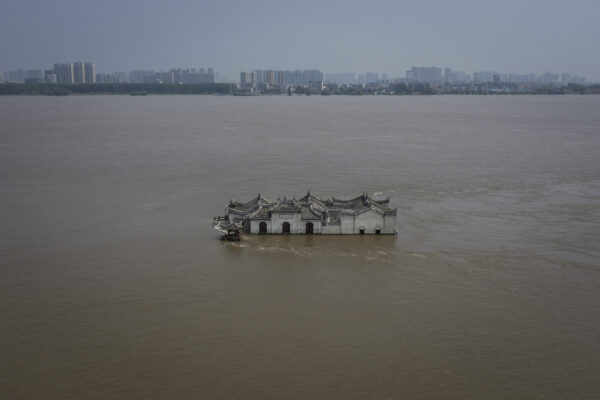 Floods, Mudslides
On Sunday, Yibin city in southwestern Sichuan Province reported one mudslide, which killed at least two people, and buried local factories and houses. Yibin is upstream of the Yangtze River.
On Saturday, Mao County, about 400 miles north of Yibin city, reported two mudslides, which damaged houses, gas stations, and roads.
Since July 22, Chongqing city has reported mudslides in its Wulong district. On Sunday, a mudslide blocked a local river and threatened the safety of more than 520 residents downstream. Chongqing is also upstream of the Yangtze River.
Though state media and authorities have kept mum about the flooding since early June, netizens across China shared flooding videos online, revealing the severity of the disaster.
In central Hubei Province, stormwater inundated cities. Especially in Jianshi county, Enshi city, flood waters reached into residential compounds.
In rural areas, the floods submerged houses and farms. In downtown Jianshi, the floods washed away cars and people's valuables. At least two people died and three were missing in Jianshi.
Authorities said the flooding in Hubei was the worst in over a hundred years.
As flooding overwhelmed Nanjing city in eastern China's Jiangsu Province, local authorities recently admitted that a state-run construction company, Jiangning Urban Construction, had dug into a dam located on the Yangtze River's tributary, the Qinhuai River, in order to build about ten restaurants and bars. The construction, which reached half the dam's height, has damaged the structure and could cause an embankment breach if the dam collapses.
Nanjing, downstream of the Yangtze, is home to roughly 10.31 million. Since early July, part of the city has been inundated by floodwaters. On July 18, the city reported that the flooding was at the highest level since records were kept in 1954.