China's Snow Storm Damages Chenzhou Power Grid
February 7, 2008 12:00 am Last Updated: February 7, 2008 12:00 am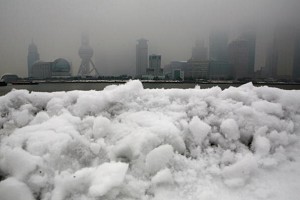 BEIJING-According to China's official news, the recent heavy snowstorm has severely damaged the power grid of the Chenzhou City, Hunan Province in southern China. As repair is made difficult by the storm, authorities estimated that the power supply would not be restored in a short period of time.
The local officials originally said power supply in Chenzhou could be resumed before the Chinese New Year (February 7). However, according to their reports, although the State Grid Corporation of China mobilized 3,000 technicians and people from six provinces including Henan and Shandong to repair the power grid, it is extremely difficult to restore the Chenzhou power grid since it has been destroyed by the snowstorm. The low temperature as well as the continuous rain and snow have made the situation even worse.
On February 4, at 9:00 p.m., a small portion of Chenzhou City briefly regained electricity. But experts said that the power grid in Chenzhou was hit so heavily that a large portion of it needs to be rebuilt, and much engineering work is needed for restoration. As a result, Chenzhou's 500,000 residents are not expected to have power supply within a short period of time, nor will those living in its surrounding areas including Jiahe, Linwu, Anren and Guiyang counties and the vast rural areas around.
It has been reported that poles and grid towers along Chenzhou's highways are still covered in thick ice. The closer to Chenzhou, the thicker is the ice on the wire. Due to the heavy weight of the thick ice, many towers have collapsed.
The remnants of the transmission line towers have become "glass towers": Each wire is wrapped in thick ice, many as thick as an adult's wrist, and shackle insulators have become icy balls.
An expert of China's Committee for Disaster Reduction stated that the disaster in Chenzhou is a unique occurrence. He said that it has been the most severe disaster for the South China region in history, and the power grid across urban and rural areas was damaged most severely.
As of February 4, in Chenzhou as many as a thousand transmission line towers of 110k volts and of 220k volts have been wasted due to collapsing, deforming or potential danger. Almost all the city's backbone power lines and supporting transmission network have stopped working.
As the ice keeps melting, many deep-frozen grid towers are collapsing one after another. Experts in construction of electrical units have come from other parts of the country to help. According to them the unprecedented ice disaster has completely destroyed Chenzhou's power grid that had been built in past decades.
It is reported that since the power grid was destroyed in most part of Chenzhou, traffic lights do not work during the daytime and vehicles are jammed together. There are long lines of people waiting in front of the few banks that can still operate with their own power generators. Residents are buying as much coal and charcoal for heating as they can find. At night, the city is completely in darkness.