News Analysis
"China controls the processing of pretty much all the critical minerals, whether it's rare earth, lithium, cobalt, or graphite," said Pini Althaus, CEO of USA Rare Earth.
It's estimated that mainland China has 75 percent to 80 percent of the global lithium battery supply. This isn't a mistake. China may have missed the combustible engine revolution, but it won't miss the electric vehicle revolution.
"The Asian nation hosts 80% of all battery cell manufacturing capacity today, with capacity expected to more than double," a 2021 report by BloombergNEF reads.
The report also noted that China led the global lithium-ion battery supply chain ranking in 2021, and China is projected to lead the global ranking in 2026. That's primarily from continued investment, continued sales, and continued strong demand for lithium-ion batteries.
As China controls 80 percent of all battery cell manufacturing capacity and with capacity only expected to increase—in fact, it's expected to double to more than two terawatt-hours—China will have enough capacity for more than 20 million electric vehicles (EV) within five years.
Geographically, China holds some of the world's largest lithium reserves, and Chinese companies are buying stakes in lithium, cobalt, and graphite mines worldwide. China's Tianqi Lithium now owns 51 percent of the world's largest lithium reserve, Australia's Greenbushes lithium mine. Ganfeng Lithium, another Chinese company, has a long-term agreement to underwrite all lithium raw materials produced by Australia's Mount Marion mine, the world's second-largest, high-grade lithium reserve.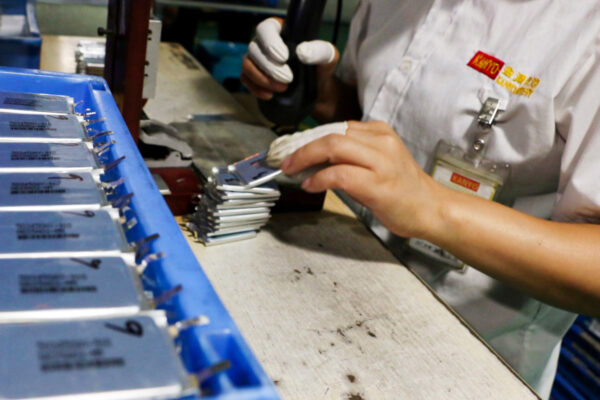 A little-known Chinese battery company owns a significant market share in global lithium battery manufacturing capacity. CATL, which supplies Volkswagen and Tesla, is thought to be the largest lithium battery manufacturer in the world, controlling nearly 50 percent of the market. It's still growing. In 2021, CATL acquired Canada's Millennial Lithium Corp. and a strategically important cobalt mine in the Democratic Republic of Congo.
While the United States is gaining ground, China is the undeniable leader when it comes to lithium. Is this a strategic move by the Chinese Communist Party?
What if China decides to take an OPEC cartel-like approach to lithium-ion batteries, thus cornering the market and setting pricing standards on one of the most important emerging commodities in the world?
Prices have surged over the past year. S&P Platts assessed lithium carbonate at $33,800 per megatonne as of Dec. 31, 2021, which is an increase of 432 percent from 2020.
The race is on.
According to the Chinese Ministry of Industry and Information Technology (MIIT), Beijing aims to encourage lithium-ion battery and material manufacturers to strengthen technological innovation, improve product quality, and reduce production costs.
Now there's some good news on the horizon, at least with forecasts. China's market share of lithium-ion battery cell production is projected to fall to 66 percent in 2030 as Europe and the United States ramp up their domestic production. But China will still hold a majority market share.
The United States has major incentives to ramp up production and be an industry leader.
According to the report "National Blueprint for Lithium Batteries," released by the Federal Consortium for Advanced Batteries in 2021, "lithium-ion batteries are pervasive in our society. Current and projected demand is dominated by electric vehicles (EVs), but lithium-ion batteries also are ubiquitous in consumer electronics, critical defense applications, and in stationary storage for the electric grid. With the increasing electrification of the U.S. transportation sector, growth in employment associated with EVs has already been demonstrated, with electric hybrids, plug-in hybrids, and all EVs supporting 198,000 U.S. employees in 2016, and 242,700 U.S. employees by 2019."
Not only are lithium batteries tantamount to powering our new economy, but the manufacturing of such brings substantial jobs to U.S. communities. If the United States plans to continue to be serious about electric vehicle auto manufacturing, there needs to be more incentives and subsidies for lithium and battery development in the country. Otherwise, we stand to lose total control of the lithium market to China indefinitely.
Views expressed in this article are the opinions of the author and do not necessarily reflect the views of The Epoch Times.