China's Rush for Salt Driven by Internet, State Media Reassurances
March 19, 2011 8:53 pm Last Updated: October 1, 2015 5:19 pm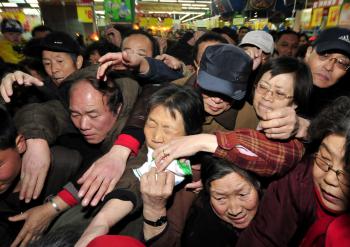 A rush on salt began in coastal cities in China on March 16. As of March 18, the trend has spread to many provinces in China, including regions that are not on the eastern seaboard. Soy sauce has also been sought after as a salt replacement. Many people think that the ocean is being contaminated due to the nuclear crisis in Japan, and that it is only a matter of time before salt becomes hazardous.
Mr. Li from Shaanxi Province told The Epoch Times that he didn't hear about the salt rush until March 17. Everyone was rushing to buy salt. He said his friends had called and said that salt prices in Baoji City had surged 1,000 percent, and were still going up.
Li thinks that's an indicator that people don't trust the government. "Now everyone is getting information from the Internet, and is worried about his or her own safety," he said. "The nuclear reactor problems in Japan will surely have an effect on China. It's only a matter of time."
Cha Wenjun, a resident of Shanghai, said that the rush had a lot to do with the news on television in China. "There are rumors that the seawater is polluted, and that salt will not be safe to eat. [State-run] television stations are saying that this will not affect China," she said.
"However, the people have lost all trust in the government. Every time the government emphasizes something, it's usually the opposite of the truth. Since the 16th, salt has been sold out. Even soy sauce has been sold out."
Ms. Wenjun couldn't find salt in several major grocery stores in Shanghai, and friends in Beijing told her that salt was sold out there as well.
"The Shanghai government stated that there is abundant salt supply in storage, and said that there is no need to stock up on salt," she said.
"During the incidents involving contaminated milk powder, pork, rice wine, and salted duck eggs, the government all said that they were safe, yet they were not, and these problems still persist today."
Another online commentator said that the recent rush on salt showed that the public had a deep distrust in the social order, and lacked a sense of security. He said that people could only feel safe when they had resources, even as simple as cans of salt, in their own hands.

Read the original Chinese Article