China's industrial production and retail sales climbed faster than forecast in October, according to official data. However, the Chinese regime's new control measures against the Chinese Communist Party (CCP) virus pandemic and a weakening property sector have weighed down the economic outlook.
According to China's National Bureau of Statistics (NBS), retail sales increased by 4.9 percent year on year in October, outpacing September's 4.4 percent, and topping the forecast of 3.5 percent by Reuters' poll.
Nevertheless, two major categories that drive consumer spending fell: auto sales were down 11.5 percent, and apparel sales dropped 3.3 percent from the same period last year.
"Growth will likely weaken in the rest of this year," Zhiwei Zhang, chief economist at Pinpoint Asset Management said.
Zhang warned that, due to the COVID outbreak, several cities have tightened travel restrictions, which will undoubtedly negatively impact the service industry in November.
"The property sector slowdown is getting worse," Zhang added. This was "the key risk for the macro outlook in the next few quarters."
Industrial Production
Official data showed a 3.5 percent growth in industrial output year on year in October. The growth rate picked up from September's 3.1 percent, exceeding 3.0 percent predicted by Reuters poll, but remained the second-lowest reading this year.
The more buoyant output data stands in contrast with the country's official manufacturing survey for October. The official purchasing managers' index (PMI) revealed that manufacturing activity fell in October for the second month in a row. 
Signs of stagflation are caused by short-term factors like high international commodity prices, said Fu Linghui, an NBS spokesman, at a Beijing briefing Monday.
China's consumer price index (CPI) rose by 1.5 percent in October from a year ago, while the producer price index (PPI) rose by 13.5 percent, which has been the most significant increase since 1995.
The dramatic disparity in the above indexes, which are major inflation indicators, raises concerns of stagflation, an economic phenomenon in which prices rise, but business activity stagnates. Stagflation can lead to high unemployment and reduced consumer spending power.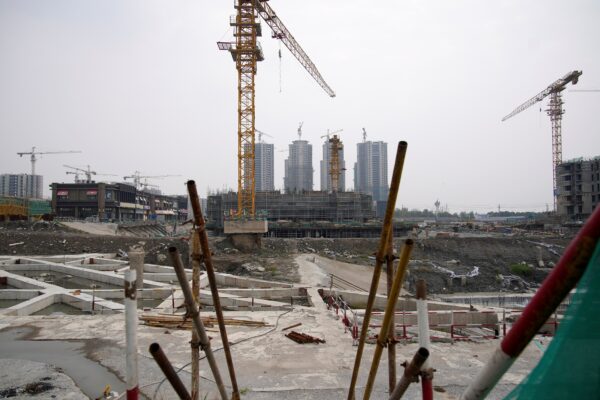 Property Sector
Property investment and sales growth slowed from January to October compared with the first nine months, and new building starts measured by floor area decreased.
"Economic momentum remained weak in October, with the real estate downturn weighing on industry," said Louis Kuijs, head of Asia economics at Oxford Economics, in a note.
Major real estate developers such as Evergrande have teetered on the verge of bankruptcy, sparking concerns among global investors about potential fallout in the whole country's economy. The property industry accounts for over a quarter of China's GDP. 
Evergrande is struggling from deadline to deadline in recent weeks with overall more than $300 billion in liabilities, $19 billion of which are international market bonds.
New home prices in more than 50 out of 70 major Chinese cities declined in October from the prior month, the statistics bureau said Monday.
Looking ahead, China's economy is facing several challenges this year, from a declining industrial sector, to debt problems in the property market, to the "zero-tolerance" policy on controlling the pandemic.
Reuters contributed to this report.