China's Real Estate Developers Slashing Prices, Investors Enraged
October 27, 2011 12:20 am Last Updated: October 1, 2015 3:15 pm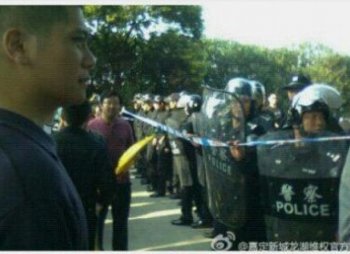 With a glut of unsold finished and unfinished condominium-type real estate piling up all over China, and a tight lending restriction in place, cash-strapped real estate developers in many cities are slashing prices, even up to 30 percent. The sudden big devaluation is causing panic and outcry from recent home investors, many of them wanting refunds.
In Shanghai, several developers, including one real estate giant, launched promotional campaigns offering discounts to attract new buyers. Seeing their investments shrink by hundreds of thousands of yuan overnight, enraged homebuyers smashed developers' sales offices.
On Oct. 22 several hundred infuriated homebuyers stormed three developers' offices.
"We have paid for the property and the loan, but more than half a year has passed, and we still have not seen our homes. Yet the price has already dropped more than 30 percent," homebuyers complained to a developer's staff, Shanghai Youth Daily reported.
Ms. Ye, who just finished graduate school, used all her savings to purchase an apartment in Shanghai in July. She never imagined that the value of her home would suddenly diminish by a million yuan (US$157,400) because of the developer's discount campaign, she told the Yangcheng Evening News.
"It will take me over ten years to earn back what I've lost in two days," she said.
Several hundred homeowners, including many young first-time buyers, turned up at a sales center in Shanghai's Jiading District to protest the price drop and demand refunds.
Protesters vandalized two sales offices in the Jiading District. A huge architectural model and a sign were destroyed in one office, and the office was forced to close down that night.
A real estate agent said people have been protesting for three days in one sales office, and one company finally decided to cancel the discount plan.
On the same day, some 400 to 500 people besieged a sales center in Shanghai's Pudong District. They were protesting against the 30 percent discount offered by a developer. Some protesters clashed with police, and there were injuries, according to Radio France Internationale.
Shanghai Securities News predicted that this is just the beginning of prices dropping as more developers in Shanghai are also planning to offer similar discounts.
Discount War
Beside Shanghai, developers in Beijing, Shenzhen, and Guangzhou have also started to slash prices to push sales.
In Shenzhen, Guangdong Province, a price discount war already started in May.
In Beijing's Tongzhou District, where home prices tripled from 2009 to 2010, prices have now dropped 20 percent on average, and 40 percent in some cases. Beijing's Chaoyang and Daxing Districts have also experienced 20 percent drops.
Second tier cities, such as Chengdu in Sichuan Province, Nanjing in Jiangsu Province, and Tianjin in northern China, are also seeing prices drop, but not as much.
According to Shanghai Securities News, 80 percent of the Chinese cities saw decreased real estate sales in October, with eight cities having over 50 percent fewer transactions.
The growing trend of real estate investors demanding refunds started in early September in Hangzhou, Zhejiang Province. Between Oct. 8 and 18, there were 20 such cases, according to National Business Daily.
Next…Dangerous Abyss