News Analysis
More than half of China's provinces have issued local power restrictions since September. The resulting widespread power outages and cuts under Beijing's new energy policies will likely fuel global inflation by 0.5 to 1 percent, and may drive price increases in the United States of 10 to 15 percent over the Christmas season on retail goods imported from China, according to an economist.
The power outages in China will cut off one-third of the country's production capacity, Huang Jun, a Chinese economist who now lives in the United States, told The Epoch Times. Huang, the former lead columnist for Chinese state-owned broadcaster CNTV and the former chief economist at China Enterprise Capital Union, is now director of the Asian Real Estate Association in the United States.
Affected by China's power outages and cuts, some retail goods sold in the United States could see higher prices, since about 40 percent of those products come from China. This price increase is expected in the two months before and after Christmas, Huang added.
Following a survey of China-based manufacturers, he estimates that China's power crunch on the global supply chain will mainly be reflected in four industries: textiles; toys, stationery, and office supplies; computers and computer accessories; and machinery parts.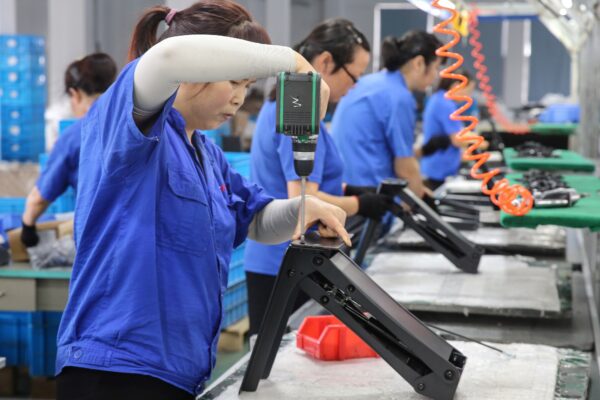 Local reports indicate that in the city of Dongguan in Guangdong province, factories have been receiving official notices to restrict their operations to one to three days per week, depending on the scale and priority of the factory's work as defined by authorities.
In Zhejiang province, the authorities are strictly controlling the manufacturing capacity of textile printing and dyeing, and chemical fiber and plastic products in its cities, including Shaoxing, Huzhou, Jiaxing, and Wenzhou.
Meanwhile, the Jiangsu provincial authority issued an emergency notice on Sept. 16, announcing that it was restricting electricity supply from midnight Sept. 15 to Sept. 30. The effects of power restrictions also have extended to Jiangsu's semiconductor industry. Some chip packaging service providers, such as Intel, Nvidia, and Qualcomm, received notices to idle their plants for several days. Chang Wah Technology, a semiconductor packaging materials supplier, also announced a one-week work stoppage.
Eson Precision Industry, a major supplier of mechanical components to Apple, said that work at its plant in Kunshan, Jiangsu province, had been suspended Oct. 3–8 due to city policy. Unimicron Technology, which supplies printed circuit boards to Apple, also said its factories in Suzhou and Kunshan would halt production on Oct. 3 through the end of the month.
Due to China's large-scale power crunch, Nomura Securities has lowered its estimates for China's GDP growth to 4.7 percent in the third quarter and 3.0 percent in the fourth quarter, down from a forecasted 5.1 percent and 4.4 percent, respectively, and has cut its full-year forecast to 7.7 percent, from 8.2 percent, Reuters reported.
As to the causes of China's power shortage, Huang pointed to four main factors.
"The first reason lies in the imbalance between power generation and electricity consumption in China: 16.4 percent of Chinese electricity is supplied by hydroelectric power, and the consumption for industrial and residential electricity keeps increasing, while hydropower supply reduces, especially in the winter when many areas enter their dry season for the year."
For example, in January, Huang said, about 100 billion kilowatt-hours of electricity was generated.
"But most of China is still very cold in January, and the demands for heating are maybe 120 billion kilowatt-hours, so electricity sees its shortage of 20 billion kilowatt-hours."
The second reason, Huang said, is that Chinese manufacturers are still receiving large volumes of international orders, which has kept up electricity consumption.
Huang says the third reason is linked to a political tug-of-war between the Chinese Communist Party (CCP) and Australia, which resulted in a ban on Australian coal. As a result, Chinese power plants have had to turn to Indonesia and Russia for their coal imports, but that's caused operational losses for power plants.
"Instead of burning Australian coal, [the Chinese authorities] have asked [power plants] to burn Indonesian coal and Russian coal. Firstly, its calorific value of power generation is different; secondly, its parameters are different, which will incur mechanical operation problems," Huang said.
"Of course, the plants can debug it, but it needs stoppages of work. Once the engine stops then start again, it is really a very, very big loss."
The fourth reason is the CCP's climate pledges, including that China must shut down 588 coal-fired power plants within 10 years.
China is currently running 1,058 coal plants—more than half the world's capacity—the BBC reported in April.
"Basically, China must shut down a lot of coal-fired power plants, about half of them, to meet its environmental requirements," Huang said. "But these plants supply more than 35 percent of China's electricity generation. That means there is a 35 percent energy gap. It is hard to cover, even if wind power is increased by seven or eight times."