Analysis
Xi Jinping may be fighting hard to pave his way to the upcoming 20th Party congress meeting in 2022. He may be directing his actions at the Jiang Zemin faction that Xi has implied are careerists in the Party.
From the recent push for common prosperity, to the purging of the entertainment industry and the astronomical default of real estate giant Evergrande, a series of political storms in these two years can be seen as his final clearing of obstacles before the big meeting.
Following the crack down on internet giants and off-campus education institutions, Xi's call for common prosperity in August was an alarming signal to China's billionaires. Chinese internet platform providers such as Tencent, Alibaba, and Pinduoduo have all pledged hundreds of billions of dollars in response to Xi's common prosperity campaign.
Common Prosperity in Communist History
Mao Zedong mentioned common prosperity for the first time since the Chinese Communist Party (CCP) took control of China, in Dec. 1953.
Deng Xiaoping took a simultaneous wealth path by touting the route of letting certain people get rich first.
With Deng's roadmap, his successor Jiang Zemin quickly grasped Chinese wealth and divided it into a few hands, the elites of the Party and the red families.
Consequently, when Xi took power, China was one of the countries with high wealth disparity.
The Gini index, or Gini coefficient, a measure of income distribution within a population, is a gauge of economic inequality. The higher the Gini, the greater the inequality.
China's Gini was estimated at 61 percent in 2010, according to a survey conducted by Southwestern University of Finance and Economics.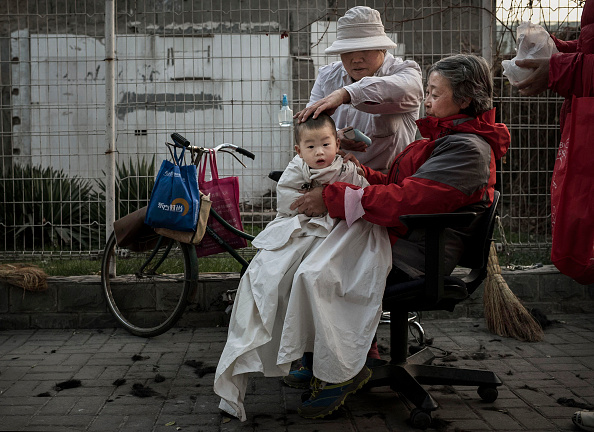 According to the World Bank, China's Gini index in 2016 was reported at 38.5 percent However, the true data is unknown because the regime won't reveal the numbers.
In a 2015 study by the U.S. scholar Xie Yu, the author revealed that the Gini coefficient of China was 0.73 in 2012, indicating a severe income gap. "The richest 1 percent owned more than one-third of the total national household wealth, while the poorest 25 percent owned less than 2 percent.
"Housing assets, which accounted for over 70 percent, were the largest component of household wealth," Xie said.
How did China evolve to become the leader of such huge disparity?
Xi Jinping had the answer many years ago.
Since Xi started his anti-corruption campaign, both Xi and his superintendent of campaign, Wang Qishan, had repeatedly admitted the facts of the serious disparity, inequality, and the abnormal wealth of CCP officials and their families.
According to an Oct. 2015 report of a Hong Kong-based, anti-communism magazine, Zhengming, an inner circle investigation of the CCP revealed that among the multimillionaires in China, more than 65 percent of them were current and retired CCP cadres and officials.
Take Zhou Yongkang, a notorious official of the Jiang faction, as an example. In Dec. 2014, according to Zhengming Magazine, the assets confiscated from Zhou totaled over $16.05 billion, reported The Epoch Times.
Xi's Target
The CCP is good at punishing one person to warn the true target.
In Xi's numerous political storms, there are always scapegoats that serve the purpose of warning the target.
On Sept. 2 Jack Ma's Alibaba Group pledged $15.56 billion to honor Xi's call for common prosperity.
It seems that Jack Ma, who was hurt the most in the common prosperity movement, is Xi's target. According to a report by Financial Times, Beijing will "break up Ant's Alipay and force creation of separate loans app," and "Chinese FinTech will turn over user data to a new joint venture partly owned by the state."
Reuters also reported, "State-backed firms are set to take a sizeable stake in a key Ant Group asset for the first time, three people told Reuters," on Sept. 1. What Ant Group encountered is just one of the CCP's latest actions against Jack Ma.
Since Beijing suspended the listing of Ant Financial in Nov. 2020, the authorities and the state media have accused Jack Ma and his companies of unjust collection of personal data, monopoly, wealth collection in the guise of financial innovation, and so on. The former richest man and mentor of Chinese young entrepreneurs suddenly became a vicious capitalist.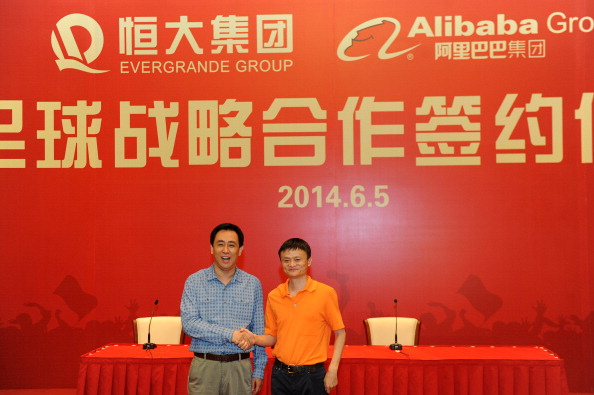 It is believed that Xi ordered the suspension. In a Feb. 2021 report by the Wall Street Journal, an unreported probe done by the authorities revealed that the main stakeholders in the firm included some with links to Xi's political opponent families, such as Boyu Captial, founded in part by Jiang Zemin's grandson, Alvin Jiang; and Beijing Zhaode Investment Group, controlled by Li Botan, the son-in-law of Jia Qinglin, the former Politburo Standing Committee member with strong ties to Jiang Zemin.
Jack Ma's bad luck seems to stem from the conflict between the current leadership and former leaders Jiang Zemin and Jia Qinglin.
Tencent Group is another major contributor in common prosperity. Within four months, Tencent pledged a total of approximately $15.5 billion. Tencent has been hit hard in the wave of the state's supervision recently. Its relation to the Jiang faction is also on  record.
In 2011, Tencent collaborated with Jiang's subordinate Zhou Yongkang in the national surveillance of netizens, along with the network of public security and national security, to review and filter network information.
Current affairs commentator Li Linyi said, "The history of common prosperity in the CCP's history has revealed the logic behind Xi's agenda. That is, in the name of inequality, cracking down on the interest groups that got rich first. The target is his opponent, Jiang Zemin."
Entertainment Star Zhao Wei
Zhao Wei, recently involved in the rectification movement in China's entertainment industry, is another flip-flop in Xi's political storm.
On Aug. 26, actress and businesswoman Zhao Wei's films and television works were suddenly removed from the audio-visual platform. Her Weibo account was closed and she was on put the list of inferior artists.
Quickly, the Chinese media started a wave of criticism of Zhao, including how she and her husband had disrupted the market for 20 plus years with a $9.28 million start-up fund leveraged to $460 million through merges and acquisitions, how she befriended Jack Ma, held a stake in Ali Pictures, and attended various events with Jack Ma.
On Sept. 6, the official newspaper of the CCP's Political and Legal Committee, Legal Daily, issued an article directly pointing at Zhao and her capital scam in China's chaotic entertainment industry.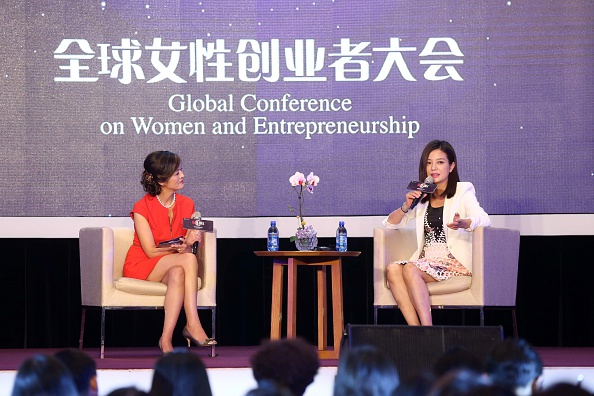 In 2017, there were multiple reports from DepthPaper, a media affiliated with state media China Business Journal, on Zhao and her husband, Huang Youlong's, close ties with former Shenzhen Municipal Party Secretary Huang Li, a crony of Jiang Zemin, and Xiao Jianhua's Tomorrow Group, an investment conglomerate.
Xiao was one of the first "white gloves" to collect and launder money for Jiang Zemin and his close allies Zeng Qinghong and Liu Yunshan. In 2017, Xiao vanished and was believed to have been escorted back to mainland China by Xi authorities from Hong Kong. In July 2020, the CCP's regulator took over the Tomorrow Group.
Recently, highly criticized Jack Ma and Zhao Wei made several appearances on the internet. Commentator Li Linyi indicated that both Jack Ma and Zhao Wei shared a similar path: they are the beneficiaries of the "get rich first" approach, before Xi took power, through their acquaintance with members of Jiang's elite group.
Evergrande Crisis: Warning or Attack by Xi
The default of debt payments by China's real estate giant Evergrande, is part the latest political turmoil. Seeing the former real estate leader on the brink of collapse likely signals the end of an era. According to Evergrande's 2021 interim performance report, its total liabilities reached approximately $305 billion on June 30.
Inside China, the propaganda media touted that Evergrande's crisis is the outcome of more than a decade of radical expansion of the company; and that as a private enterprise, Evergrande is not too big to fail.
The Guangdong local government attitude of being an onlooker, coupled with the withdrawal of the banks, indicate the fate of Evergrande and its founder Xu Jiayin.
But for Evergrande, the debt can be resolved, considering its assets should be sufficient to offset what's owed. High debt has been a typical pattern of China's economy, especially for real estate companies.
It is the subtle attitude change of the CCP that's pushing Evergrande down the abyss. One manifestation of this is that, in recent years, it has become more and more difficult for Evergrande to obtain bank loans, the foundation for Xu Jiayin's success.
An online exposure of Evergrande's letter to the Guangdong government in Aug. 2020 seeking help, shows Xu's frustration started in 2017, when he was refused a loan by a local bank.
Those who are familiar with CCP governance know that only connections and power-to-money networks will grant  access to bank loans. Xu Jiayin used to have plenty of connections of this sort.
The aforementioned 2017 DepthPaper report revealed that when Zhao and her husband attained fame and fortune, an organization with an extraordinary background was involved. Xu Jiayin and Zhao Wei are both members of the Hong Kong Association of Cultural Industries (HKACI).
The then-chief executive of Hong Kong, Leung Chun-ying, was HKACI's honorary patron. The board members include Xu Jiayin and the rich and powerful in Hong Kong, such as Henry Cheng Kar-shun, chairman of Hong Kong-listed New World Development; Robert Ng, chairman of Hong Kong property development conglomerate Sino Group; Albert Yeung Sau Shing, founder and Chairman of Emperor Group; and Charles Ho Tsu-kwok, chairman of the Sing Tao News Corporation.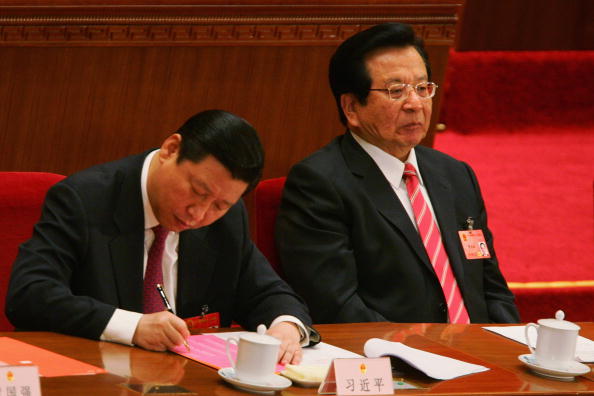 The list of directors of the company registered by HKACI includes Zhao Wei, Xu Jiayin, Albert Yeung, Liu Changle (chairman and CEO of Phoenix Satellite Television), and Xiao Jianhua. Most of the people on this list are in Xu's circle of friends.
One member of Xu's rich Hong Kong friends is well-known red figure Zeng Qinghong. Zeng and his family have controlled Hong Kong for decades. He is considered to be the No. 2 figure in Jiang Zemin's faction; his brother Zeng Qinghuai is stationed in Hong Kong as a special inspector of the Ministry of Culture, controlling both the police and the underworld.
When Xiao Jianhua disappeared in 2017, it was believed that Xi Jinping had him escorted back to China, and Xu Jiayin was once said to also be implicated. At the same time, Evergrande's debt crisis started to surface.
Evergrande made it to the market and overcame many obstacles with help from Xu's circle of friends. This time, none of his friends showed up.
Regarding the debt crisis and other issues, Evergrande did not respond to The Epoch Times request for comment.
Commentator Li Linyi believes there's symbolic meaning to Evergrande's crisis. It is the end of those who got rich first at the Jiang school. "From Jack Ma, Zhao Wei, to Xu Jiayin, these rich and famous who were involved in the political turmoil, their path to rich was branded with the corrupt ruling of Jiang Zemin's era. Their success is tainted with the powerful figures such as Jiang Zemin and Zeng Qinghong. This may be the reason why they were Xi Jinping's latest targets," Li said.
He said the political movement is to purge and attack Xi's political opponents. The battle between Xi and Jiang is ongoing, and will only intensify as the 20th Party congress approaches. Xi fears his succession in leadership could be defeated by the Jiang faction.
Li said, "Xi Jinping is paving and clearing the ground for his re-election next year. He has to at least tighten the money bags of the Jiang faction, and economically crack down and contain Jiang and Zeng's faction."
"The only uncertainty is whether Xi will directly hit the last two tigers," Li added, after all, Jack Ma and Zhao Wei still get to make public appearances from time to time, which means, "Xi is still debating."