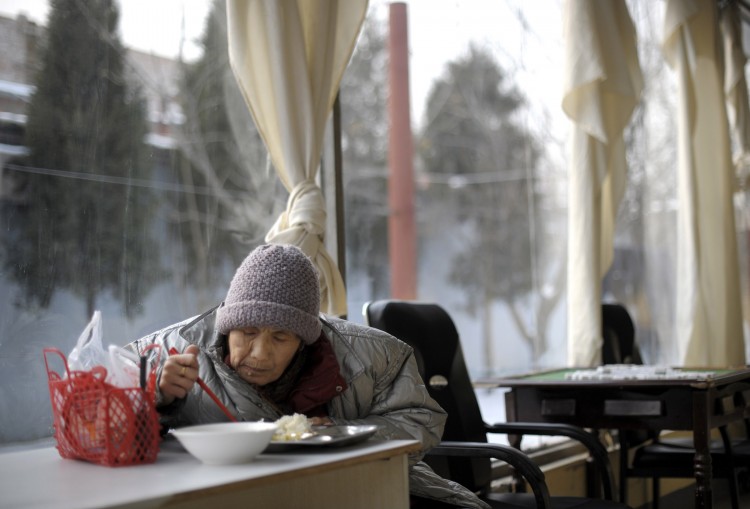 The Chinese National Audit Office reported that China's overall pension replacement rate was 42.9 percent in 2011, below the international warning level of 50 percent. It means retirees face severe declines in their standards of living.
State agencies replace retirees' incomes 100 percent, or sometimes pay them more than they made on the job, it reported. 
Replacement rate disparities are longstanding. The average does not reflect some stark differences between urban and rural pensions.
Chu Fuling directs the Social Security Department at the Central University of Finance and Economics, and focuses on China's pension system. The report, called "Social Security Development Index," and was published by Chinese state publishing company Economic Science Press.
He found that China's overall pension replacement rate dropped from 69.18 percent in 1999 to 59.28 percent in 2002, and declined further to 47.94 percent in 2005. The rate had been stable at around 45 percent until 2011. 
Government retirees are vastly better off than those in the private sector, according to Chu.
Civil service and public institution employees' pension replacement rate has been hovering around 100 percent.
Chu reported that certain government pension replacement rates dropped from 100.92 percent in 1999 to 97.49 percent in 2002, while other kinds of state agency pension replacement rates increased from 101.61 percent in 1999 to 104.56 percent in 2002. 
In a sharp contrast, China's nearly 700 million rural residents receive almost no social security benefits.
CCTV, the state broadcaster, reported that Zhang Haiting of Jiuyuan Village of Xingfu County in Shuangcheng City, Heilongjiang Province receives a pension of 0.3 yuan (5 cents) a month, not enough to buy a popsicle. This situation is common. Among the 40,000 retired farmers in Heilongjiang Province, 25 percent receive less than 1 yuan (16 cents) per month, and half of them receive 5 to 6 yuan (8 to 96 cents) per month. 
Wu Yushao, Deputy Director of the Office of China National Committee on Aging and Director of China Research Center on Aging said "Pensions cannot completely rely on the government," in an interview with AMoney magazine.
Tang Jun, Secretary-General of the Council Policy Research Center of the Chinese Academy of Social Sciences, said that farmers have been forced to rely on their own savings and support from their children to live in their old age, and are not fully covered by the rural old-age insurance program. 
Urban workers and their employers pay into social security, and most of those contributions cover pensions for existing retirees. Tang said those urban workers can't be certain that their own retirements will be funded. "At present those who truly rely on government's financial funding for pensions are government employees." Tang's remarks were widely copied among Chinese news articles, though their ultimate provenance was not clear.
Ren Linyi, Director of the Insurance and Social Security Research Center of the Southwest University of Finance and Economics, told the 21st Century Business Herald that social security expenditures are only 12 percent of China's expenditures, far lower than the 30 percent to 50 percent of Western countries. The ratio is more than 20 percent in developing countries such as Brazil and South Africa. 
China invested 10.31 billion yuan ($ 1.6 billion) in social welfare in 2008, which was 0.16 percent of expenditures that year equivalent to 0.034 percent of that year's total GDP.
According to the Chinese National Audit Office, in 2011, the average annual salary for workers in urban non-individually owned entities was 42,452 yuan ($6,723), and the average monthly wage was about 3537.67 yuan ($560).
Read the original Chinese article.
The Epoch Times publishes in 35 countries and in 19 languages. Subscribe to our e-newsletter.
Click www.ept.ms/ccp-crisis to read about the most recent developments in the ongoing crisis within the Chinese communist regime. In this special topic, we provide readers with the necessary context to understand the situation. Get the RSS feed. Who are the Major Players?