China's 'Panda Man' Defeated by Kung Fu Panda
July 2, 2011 2:20 pm Last Updated: October 1, 2015 4:20 pm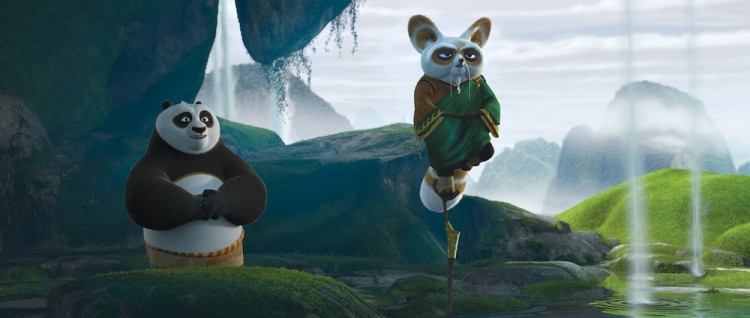 DreamWorks' animation film Kung Fu Panda 2, released May 26, is also playing in movie theatres in Mainland China. In addition to competing with the regime's large-scale political propaganda movie Beginning of the Great Revival, the Hollywood import is also being boycotted by a Chinese artist who claims to be defending China against "cultural invasion."
Zhao Bandi, a Beijing artist, has the nickname "Panda Man" because he often depicts pandas in his art. In May, Zhao put an advertisement in Beijing News and Guangzhou's Southern Metropolis Daily, telling fellow Chinese that they should boycott the U.S. panda movie. The ad showed Zhao wearing a panda hat and holding a toy panda.
But it appears that "Panda Man" was no match for the kung fu of the U.S. panda. Kung Fu Panda 2 grossed over 340 million yuan (about US$52 million) during its first nine days in theaters.
The first episode of Kung Fu Panda, released in 2008, grossed 180 million yuan (US$27.8 million) and set a new box office record for an animated film in China.
The film is set in old China and filled with animated animal characters. The hero, Po, is a clumsy and lazy panda who aspires to become a kung fu master. The story takes off when Po is chosen to save the land from an evil kung fu warrior.
In addition to staying faithful to East Asian cultural elements, Kung Fu Panda 2 includes a lion dance, firecrackers, a shadow show and other Chinese traditions.
'Cultural Invasion'
Zhao, the "Panda Man," was not charmed. On May 27 he sent an open letter via express mail to more than 300 theater managers nationwide asking them to boycott the film, Media China reported on May 28.
Zhao said his goal was to keep the box office income of Kung Fu Panda 2 under 300 million yuan (US$46.4 million) because Kung Fu Panda 2 is "a cultural invasion."
Zhao's initiative received support from Kong Qingdong, a professor at the Chinese Department of Beijing University, and allegedly a Confucius descendant.
Kong blasted Hollywood movies, saying they are indeed a cultural invasion, and that World War III had already begun a long time ago.
"Our territory has been invaded, because some idiots are brainwashed by American movies. Hollywood, is the U.S. Ministry of Culture and Propaganda," Kong went on.
Another supporter of Zhao's is the Dean of the Department of Animation at Beijing Film Academy, Sun Lijun. Sun went so far as to ask for government support to protect China's animation industry and the banning of "foreign invaders."
But Chinese people didn't seem to agree with the cultural invasion theory. One moviegoer told Media China, "There's no need for a boycott. It's merely an animation film and far from being a cultural invasion. For us, watching a movie is just entertainment."
Overall, Kung Fu Panda 2, like Kung Fu Panda two years ago, was received with enthusiasm in China.
The Chinese-regime mouthpiece People's Daily said on May 19 that the film was the first movie to earn 400 million yuan (US$61.9 million) this year, and the first movie to bring in over 100 million yuan (US$15.5 million) per week after three weeks.
Hao Yaning, CEO of Beijing Union Pictures said: "The story of Kung Fu Panda is really good. Whether or not it has been packaged with Chinese elements to better deliver an American theme to the Chinese audience, audiences love it, and we need to explore its magic.
"Chinese peers cannot make a film like this, mainly because we lack the imagination. We dare not find a duck to be the father of a panda," Hao added.
Read the original Chinese article.