The northern Chinese port city of Tianjin has ordered a second round of mandatory testing for its 14 million residents, as the highly contagious Omicron coronavirus variant spreads to a third city weeks before Beijing prepares to stage the Winter Olympics.
Tianjin, about 62 miles from Beijing, was the first Chinese city to officially combat the new variant. Tianjin has vowed to serve as a "moat" to protect the capital, which is to host the Winter Olympics from Feb. 4.
Han Jinyan, deputy director of the Tianjin Health Commission, said the initial screenings of all residents that started on Jan. 9 had been completed. Han told reporters on Jan. 12 that they are launching a new round of testing as the source of the outbreak remained unclear.
The mandatory screening has already brought disruptions to some global businesses, with Japanese automaker Toyota Motor Corp. halting production in Tianjin since Jan. 11, citing the effect of the mass testing order, according to Reuters.
Companies and government institutions in the city were asked to give employees a half-day off for COVID tests on Jan. 11, according to a government notice.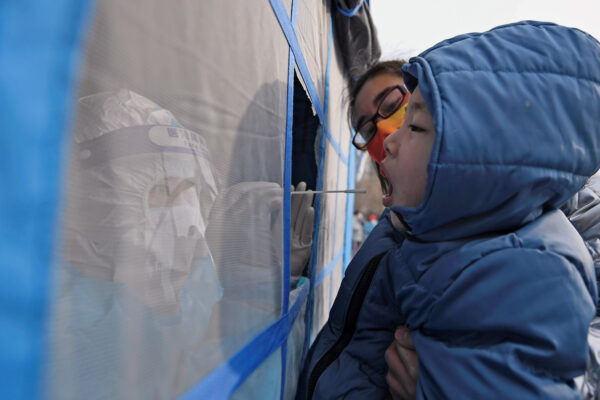 Neighborhoods Sealed In
Tianjin has yet to give a full lockdown order, but hundreds of thousands living in risky areas in the city have been sealed in their homes since Jan. 9. In addition, over 75,000 people have been sent to centralized quarantine. Officials urged people not to leave the city unless necessary and set up 279 checkpoints to dissuade those who intend to do so.
But the Omicron variant has spread to two other cities.
On Jan. 12, health officials in the northern city of Dalian said two college students who returned from Tianjin tested positive to COVID-19. There was no word on what variant they had contracted.
The announcement comes a day after Anyang city in central China reported two Omicron cases linked to the Tianjin outbreak. Anyang officials said on Jan. 10 that infections were traced back to a college student who came back from Tianjin.
On the evening of Jan. 11, Anyang city imposed a total lockdown of its 5.5 million residents, pushing the number confined to their homes in the country to over 20 million people.
Another 13 million people have been confined in Xi'an for nearly three weeks, experiencing shortages of food and medical care, and 1.1 million more in Yuzhou for more than a week. The lockdown of the two cities followed an outbreak of the Delta variant.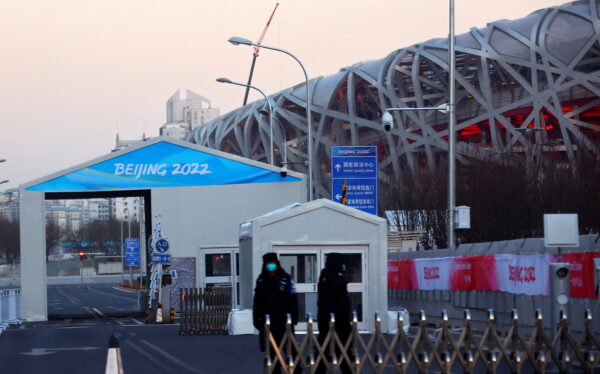 The rare large-scale lockdown across the country came just a few weeks before the Beijing Winter Olympics. Chinese leader Xi Jinping emphasized the pledge of hosting a "safe" Games as he visited Olympic venues on Jan.5.
Beijing's Olympic organizers said on Jan. 12 that the Omicron outbreak is not likely to affect the Games' schedule, but added they'll "leave the options open."
Huang Chun, a Beijing Olympics official responsible for disease control, didn't answer directly if postponement was being considered.
"If the mass cluster transmission happens in the competition zones, it will impact the Games and the schedule for sure," Huang said at the press briefing on Jan. 12. "The worst scenario, if it happens, is independent of man's will, so we leave our options open."
The Associated Press contributed to this report.