A reported comeback of Beijing-led regulatory crackdowns on Jack Ma's Ant Group has sounded alarm bells for China's fintech sector.
Ant, the payment affiliate of Alibaba Group, is facing more state intrusion with Beijing asking banks and state-owned enterprises to conduct a fresh round of checks of their financial exposure and other links with the group up to January, Bloomberg first reported on Monday, citing sources close to the matter.
This latest move has again got investors monitoring the Chinese state's sweeping scrutiny of the country's tech sector, which echoes a wider crackdown conducted last year across an array of sectors such as entertainment, education, and gaming.
Following Beijing's renewed emphasis on "common prosperity"—a slogan the communists have touted is the end goal of socialism—the year-long clampdown has drawn an end to the success stories of some decades-old firms, while Alibaba has lost almost half of its market value in a year since late 2020.
"The focus of the Chinese Communist Party is not on Jack Ma as a person, but the capital chain behind him," said Taiwanese economist Wu Jialong.
"The central government has the intention of nationalizing its business as it wants to tighten its control over the financial sector," he said, given that the payment provider, which is China's biggest with over one billion users, had encroached on state-owned banks.
Yuan Hongbing, former head of the law school at Beijing University now a dissident living in Australia, called the move a "de facto yet disguised confiscation of wealth" from private enterprises in a bid to deal with the country's now imminent economic crisis.
Rather than a matter of personal grudges between the business founder and Party leader Xi Jinping, the move against Ma has unveiled a power struggle between Xi and his political opponents, Yuan said during a Wednesday interview, given Ma's acquaintance with Xi's main rival ex-leader Jiang Zemin's faction.
The billionaire's business empire had come under scrutiny before last year. Ant firstly bore the burnt of a scrapped initial public offering in November 2020. Authorities then slapped a record penalty of $2.8 billion on Alibaba over monopoly concerns in April 2021. A Beijing-driven restructuring plan further departed the main business of Ant with its lending units and introduced outside shareholders.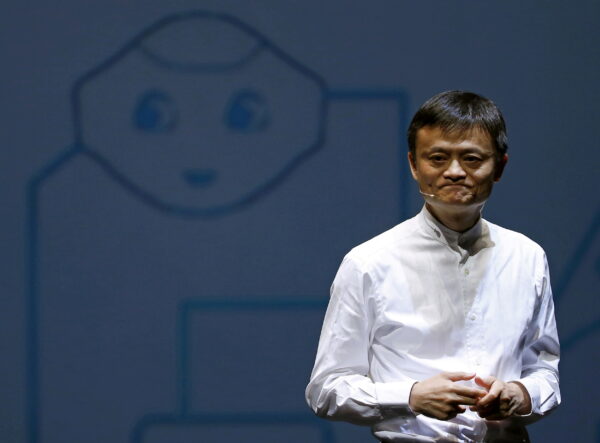 Beijing's "very opaque" regulatory policy and "a high degree of uncertainty" in the financial sector further dims confidence in private investment, according to Wu.
The regime's recent moves triggered a selloff in the technology sector on Tuesday.
As part of that, Alibaba shares have only dropped and its quarterly profits are expected to be hit hard, some say by a whopping 60 percent.
Last month, China Cinda Asset Management Co. Ltd., one of the four biggest state-owned asset management companies in China, announced the scrapping of a planned Ant investment.
Cinda scrapped the deal to buy a 20 percent stake worth about $944 million in Ant Group's consumer finance arm because of pressure from state authorities, people with knowledge of the matter have said.
Meanwhile, shares for China's food delivery giant Meituan have continued to slide after state interference.
Shares in Tencent Holdings, which owns the Chinese social media app WeChat, have also tumbled this week, believed to be spurred on by a widely-circulated online post in China that suggested the tech and gaming giant could face another regulatory crackdown.
The post was later deleted and called out as a rumor by Tencent's head.
Luo Ya and Reuters contributed to this report.