China's Most Populous Province Wants to Ease Up on One-Child Policy
July 19, 2011 9:52 pm Last Updated: December 6, 2015 11:19 am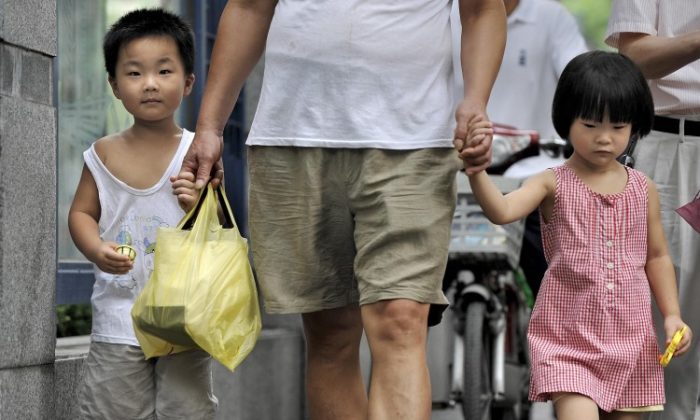 The province of Guangdong is petitioning China's central regime to relax the one-child policy in order to counteract social problems of a rapidly aging population and gender imbalance as a result of the Chinese Communist Party's 30 years of enforced population control.
The proposed amendment would only allow couples to have a second child if either the husband or the wife is an only child.
Guangdong is China's most populous province. Zhang Feng, director of Guangdong's population and family-planning commission, said with the average birth rate per woman in the province being low—1.7 for the past decade—the new policy would have little impact on overall population growth. Guangdong therefore hopes to become a pilot study for the new policy, Zhang told Southern Metropolis Daily on July 11, World Population Day.
Zhang also said that 30 years of population control in China has proven both necessary and successful.
Aging Population and Declining Labor Force
China's most recent census, completed in November 2010, however, revealed serious problems associated with the one-child policy, including decline in fertility, gender imbalance, and a large, rapidly aging population.
The census showed a disproportionately escalating aging population for ages 60 and older, which increased from 2.93 percent in the year 2000 to 13.26 percent in 2010.
This means that China will experience a population explosion of senior citizens over the next 20 years, Nicholas Eberstadt, a political economist and demographer with the American Enterprise Institute, said in a recent article.
Another confounding factor is that China's working-age population is going to have negative growth between 2010 and 2030, according to Eberstadt.
"China's working-age manpower is set to peak in 2016—just five years from now; by 2030, it stands to be shrinking by almost 1 percent per year."
With a shrinking Chinese workforce on the horizon, Eberstadt concluded, "Sustaining the [low] growth rates of the recent past could be an increasingly counterintuitive proposition."
Gender Imbalance
Since 1980, China's sex ratio at birth (SRB) rapidly changed with the implementation of the one-child population control policy.
According to the census, the SRB in 1982 was 108.5 males for every 100 females, in 1990 it was 114.1, in 2000 it reached 119.3, and since 2009 it has stayed at the abnormal high of 120 male births for every 100 female births.
This gender imbalance is the result of gender-selective abortions. Since couples are only allowed one child, many women choose to abort female fetuses in the hope of having a male child.
By 2020 the number of men of marriageable age between the ages 22 and 34 will exceed the marriageable female population by over 26 million, according to Li Jianxin, a sociology professor at Beijing University.
In an article published by Southern Metropolis Daily on March 7, Li said that even if the SRB were to return to its normal range now, the "marriage squeeze" phenomenon caused by the surplus of a marriageable male population would still continue to worsen, even beyond 2030.
Li said most of these "leftover" men are in the often discriminated-against, educationally and economically disadvantaged and excluded group. But these men also have strong physical needs, which cannot be satisfied through normal social means.
As the numbers in this disenfranchised male population grows, the risk of social instability will greatly increase. In particular, when there are unanticipated incidents, such as civil disputes, conflicts between authorities and the people, or unemployment, these "leftover" men will likely become the major source of serious social unrest, Li said.
Voices Against One-Child Policy
During the two conferences—the National People's Congress and the Chinese Political Consultative Conference—held in March of 2011, many delegates proposed looser family planning rules and a gradual transition to a second-child policy.
Beijing-based Caijing magazine revealed in its March 29, 2010 issue that certain departments were considering a new, "improved" family planning policy, which would first be implemented in the five provinces of Heilongjiang, Jilin, Liaoning, Jiangsu and Zhejiang. Subsequently, six provinces and large cities like Beijing, Shanghai and Tianjin will also be allowed to experiment with it, the report said.
An experimental program allowing families to have two children has been in use in Yicheng County of Shanxi Province since 1985, as was disclosed by a Southern Weekend report on Oct. 14, 2010.
Twenty-five years after the inception of the program, the population in Yicheng County had grown by 20.7 percent, which is lower than the national average, and the SRB was at 106, also within the normal range.
China's one-child policy has been widely criticized as cruel and inhumane. Besides the problems of an aging population, shrinking workforce and gender imbalance, there is also the human rights issue of violence, trauma and suffering inflicted on millions of Chinese women.

Women's Rights Without Frontiers says China's population control program is enforced through coercive measures, including forced abortion and forced sterilization, often under the most brutal circumstances. The policy also gives rise to a host of other human rights abuses, such as "gendercide" and female suicide.
"It is a system of repression that has been traumatizing Chinese women for thirty years … No other government policy anywhere in the world systematically punishes, abuses and violates women so grossly as this," Congressman Chris Smith said at an event led by him on Sept. 24, 2010 to commemorate the 30th anniversary of the one-child policy's initiation in China and to expose its human rights violations.
Rep. Smith suggested the U.S. stop funding the U.N. Population Fund, which he said has been the "enabler in chief" of forced abortion and forced sterilization in China, The Epoch Times reported in a previous article.