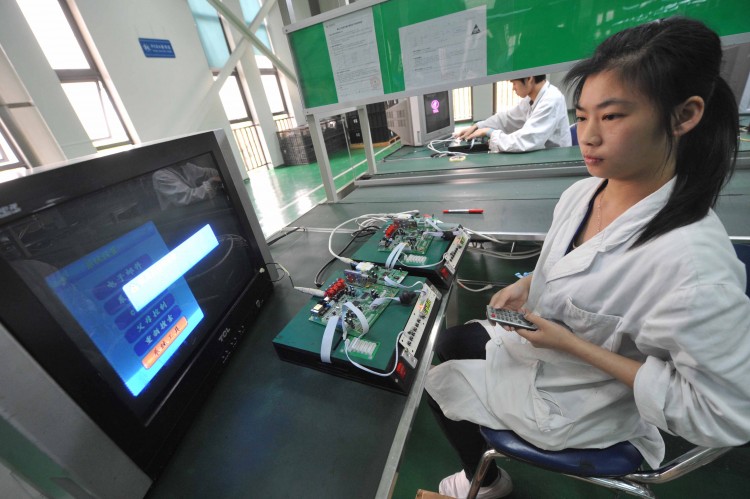 A Hong Kong economist accustomed to making shocking pronouncements has predicted that China's manufacturing industry will "completely collapse" by 2015 and that the economy will soon follow it. 
Larry Lang made his latest remarks at a lecture in Kunming City, in Southwest China's Yunnan Province on May 19.
"China's economy is facing two distinct phenomena that are exactly opposite to each other. The real estate and stock market has cooled down. However, the market for luxury goods, such as high end vehicles and collectors' items, has heated up," he said, according to Shanghai Securities News. 
He added that China's economy is "sick," and this sickness is the crisis the manufacturing sector is facing.
China's manufacturing sector is "suffering from two illnesses," he said, i.e., worsening of investment and management environment and excessive production capacity; consequently money originally meant for investing in the real economy has been diverted to luxury cars and goods.
The three main segments of the manufacturing sector—R&D, logistics channels, and key component parts—are controlled by European and American companies. China, therefore, has lost control of product pricing, which, inevitably, has created crises, Lang said in the lecture.
According to Lang's analysis, the investment and management environments for manufacturing industries in China continue to deteriorate, causing excessive production capacity.
Heavy taxation and fees, as well as a broken capital chain have lowered the margins of manufacturing industries and exacerbated the investment and management environment as a whole.
Lang said China is actually facing four imminent crises: wasting of resources, excessive production capacity, debt crisis, and inadequate consumption. The crisis of wasting of resource and excessive production will explode first, he predicted.
"So many industries with overcapacity inevitably would lead to a long-term depression in China's economy," he said.
The excessive production in various industries adds up to "21 percent in steel, 12 percent in automobile, 28 percent in cement, 60 percent in stainless steel, 60 percent in pesticides, 95 percent in photovoltaic, and 93 percent in glass," Lang said, quoting a report by eastday.com.
The banking sector is also straining under the weight of heavy debts, and 50 industries, led by the real estate industry, are also threatened by crisis due to tightening measures, Lang said. 
He mentioned that in the near future, local government debt in China will be listed alongside U.S. debt and European debt as part of the three major crises in the world. "This is horrifying. All Chinese people will pay a painful price for it," he said.
He blogged on May 7 that China's economy is on the brink of greatest danger, and that "it is definitely not an alarmist talk." 
"I want to tell those Chinese people and officials, who are only concerned about saving face rather than resolving internal issues, how dangerous and terrible today's economy is."
Lang also wrote that having crises is not frightening, "what is horrible is that we turn a blind eye to crisis and try to cover it up. What is even more frightening is to adopt a stopgap approach and therefore create an even bigger crisis."
"China's economic problem today cannot be resolved by the current economic system and means, we should look for other ways," he added.
In October last year, Lang said the regime was on the brink of bankruptcy. One reason, he noted, is that the regime's officially published GDP of 9 percent is fabricated. According to Lang's data, China's GDP has decreased 10 percent. 
Read the original Chinese article. 
chinareports@epochtimes.com
The Epoch Times publishes in 35 countries and in 19 languages. Subscribe to our e-newsletter.