The Jilin Provincial National Health Commission reported dozens of new COVID-19 cases in recent days—in Changchun city, the capital, and Tonghua city, which borders North Korea. However, the public is skeptical of China's official figures because the Chinese Communist Party has consistently lied about or covered up the severity of the virus outbreak.
Tonghua City Launching Third Round of Nucleic Acid Tests 
On Jan. 25, the Tonghua command center for pandemic prevention and control declared at a press briefing that the city would launch its third round of testing on all residents. As of the end of 2019, the city had a population of 2.14 million.
Two days prior, the local Party anti-corruption watchdog criticized 14 officials who it said failed to perform their administrative duties to prevent virus spread. The punished officials included Cheng Weihua, Party chief and director of the Tonghua center for disease control and prevention.
Mobile Cabin Hospitals Under Construction
Currently, mobile cabin hospitals are being built in Tonghua, Changchun, and Huichun cities in preparation for a more menacing situation.
A female resident of Tonghua, Zhang Jie (alias), told the Chinese-language Epoch Times on Jan. 24 that the pandemic situation in her city was more serious than one week ago.
All residents of Dongchang district, Tonghua city, were forbidden from leaving their homes. Authorities placed paper seals on the doors to each household, she said. If the paper seal is broken, officials would forcibly take all household members to quarantine elsewhere.
Dongchang district was officially designated as a high-risk region for virus spread on Jan. 20. 
Zhang said the atmosphere was stifling. "You're not allowed to go out even if you have no food at all! All supermarkets are closed. We received [government] messages that whoever leaves home will have to take legal responsibility for his or her actions. A video uploaded onto social media confirmed this. Now there's nobody walking around in the neighborhood."
The glowing lights from ambulances passing by would startle her from sleep.
She said to her knowledge, local infections were detected in schools, the tax bureau, and crematoriums. 
As COVID-19 cases keep rising, local authorities have begun to build mobile cabin hospitals for "centralized isolation." According to media reports, the project is located at a logistics center in Gangwu district, Tonghua. Three warehouses are being transformed into isolation centers with a total of 1,186 rooms. The project is scheduled to be completed on Jan. 27.
Xin Chun (alias), a Changchun city resident, told the Chinese-language Epoch Times on Jan. 24 that they, too, were fearful of the local outbreak and never missed a day watching news. 
According to Chinese media reports, Changchun's mobile cabin hospital will be built at a plant in Fanjiatun town, with 670 rooms.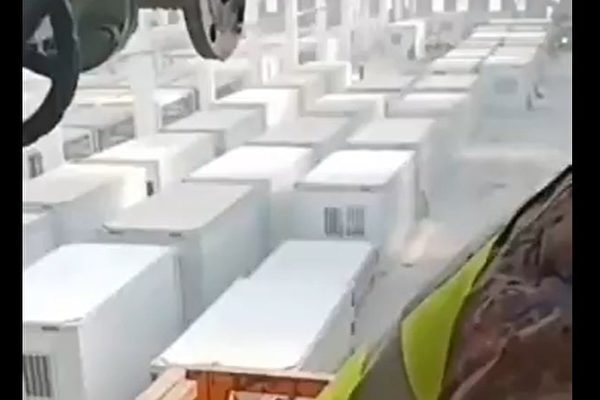 A Chinese netizen revealed on social media that another mobile cabin hospital was under construction in Huichun city, Yanbian prefecture, Jilin province. However, the authorities have not publicized any detail about it.
Dong Hong, a Yanbian resident, also told the Chinese-language Epoch Times that the Jilin pandemic is serious and that they're preparing for more challenges in advance.
"All domestic arrivals must be subject to 28-day quarantine and nucleic acid testing, and all is for prevention," she said.
Yi Ru and Annie Wu contributed to this report.