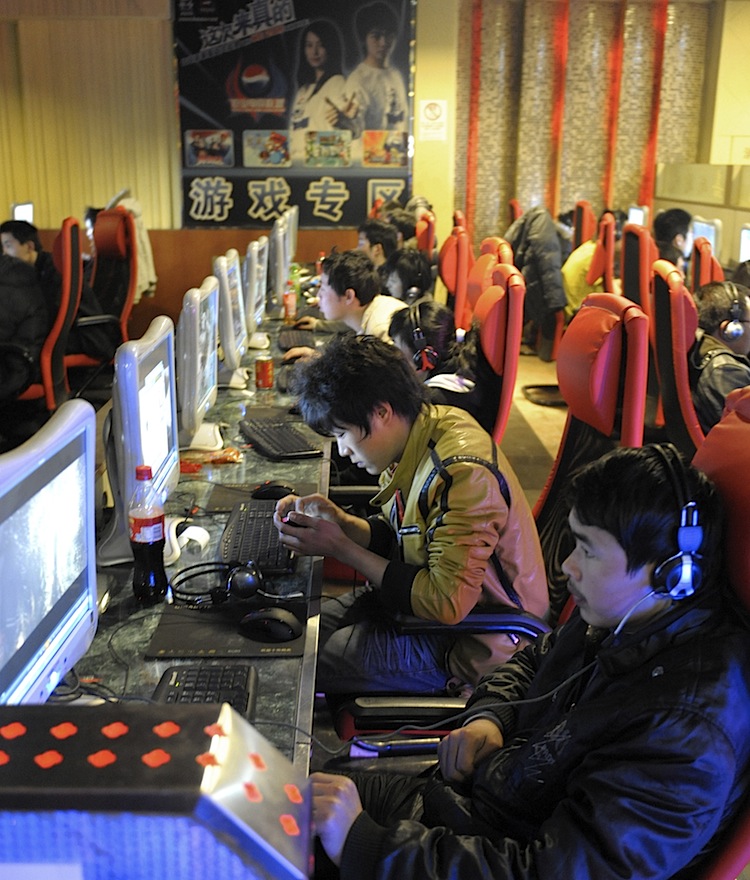 Something funny is going on with China's Internet.
Politically sensitive terms normally censored from search results suddenly returned links to taboo websites that were blocked in China just the day before. Though some of these windows to a freer Internet were soon closed, observers quickly noted that infighting in the upper ranks of the Chinese Communist Party had extended to cyberspace through the lifting of censorship.
Most prominently, searches for terms related to the June 4 Tiananmen Square massacre and the Falun Gong spiritual practice were recently searchable. The violent crackdowns and political sensitivities associated with those terms go to the heart of the Chinese regime's ruling legacy. They are also both connected to former Chinese leader Jiang Zemin, whose allies form one side of the divided factions within the Party.
Opposing Jiang is self-styled reformer Wen Jiabao, right-hand man to current Party chief and ally Hu Jintao. On the side of Jiang, who is thought to be in ill health, are his long-term supporters Zhou Yongkang, the security czar, Li Changchun, the propaganda chief, and others.
Bo Xilai was also a Jiang stalwart. His recent dramatic downfall set off a chain reaction of speculation about the future of one-party rule. Unconfirmed reports of gunfire on Monday evening near Zhongnanhai, the leadership compound, added to the drama.
The term "June 4" in Chinese was briefly unblocked on Baidu, China's main search engine, on March 21. No message appeared saying results were censored, and the first item was about Wen Jiabao wanting to give the event a political rehabilitation. Several formerly banned websites were also accessible—and some still remain available as of March 22. And terms related to Falun Gong were unblocked for a period of time.
---

You might be interested in:
The Modern 'Games' of China (Illustration)
The Beijing Olympics are four years gone, yet a variety of curious 'games' continue to play out in China with an array of characters including regime heavies Zhou Yongkang and Bo Xilai. Here we explore some of them.
---
The Internet opening could be seen as helping Wen Jiabao's case. Wen recently gave a speech highlighting the need for China to enact political reforms and not repeat the Cultural Revolution. This was interpreted by many observers as being another plank in his ideological and political struggle against hardcore elements in the Party, such as Bo and Zhou.
And in an article titled "Wen lays ground for Tiananmen healing," The Financial Times reported recently that Wen suggested three times in high-level Party meetings that the verdict on the Tiananmen Square massacre be revised.
"Putting out news on June 4 might be helpful to Wen," said Chen Kuide, editor of the website China In Perspective, which is influential among Chinese intellectuals. For Wen, it is about being accountable to history, Chen said.
---
Click this tag to read The Epoch Times' collection of articles on the Chinese Regime in Crisis. Intra-CCP politics are a challenge to make sense of, even for veteran China watchers. Here we attempt to provide readers with the necessary context to understand the situation.
---
"He wants to be on the side of the people, the good side. He doesn't [want] to be among Li Peng and those others" who pushed for the military crackdown in Beijing. "He's smart. He knows that in the future June 4 will be acknowledged. … He wants to be accountable to the people."
Three of the other terms that enjoyed varying degrees of relaxed censorship were Shen Yun Performing Arts, "Zhuan Falun," and The Epoch Times. Each of these is considered politically sensitive in China and they are strictly censored.
Shen Yun is a classical Chinese dance company that tours the world. Its stated independence from the regime in portraying traditional Chinese culture, as well as contemporary human rights issues in China, has led to constant hounding by Chinese embassies wherever it travels.  
But searching for "Shen Yun, Performing Arts" (with a comma) on March 21 yielded results on both Weibo and Baidu. The search without a comma was at one point blocked (and was later unblocked, as of evening March 22).
The complexity of the system of Internet censorship in China—whether or not coupled with political directives due to ever-moving battle lines—could all have contributed to search irregularities, according to Ryan Budish, a fellow at the Harvard University's Berkman Center for Internet and Society. "Censorship in China is incredibly multilayered," he wrote in an email. "It's hard to say what is happening in China," with regard to the blocked and unblocked websites.
But www.shenyun.us, the company's official website, was still available from Shanghai in China at 5 a.m. local time on March 23, according to Website Pulse, which tests websites behind the Great Firewall.
Bill Xia, director of Dynamic Internet Technology, does not think this could have been by accident. "Someone has to do something extra … either at a technical level or management level" to make a blocked website unblocked, he said.
A website about the main book of Falun Gong, called "Zhuan Falun," on March 21, appeared as the top result on Baidu when searching the term. By March 22 searches were being censored, and results included only Party propaganda and state-approved websites. The website that once appeared at the top was blocked in China on March 22, according to a Website Pulse.
The initiation of the violent persecution of Falun Gong was one of the most salient elements of Jiang's rule. That terms related to the practice were unblocked amid what appears to be a destabilizing power struggle is no accident, says Chen Kuide.
Searches for "False Fire," the name of a documentary produced by Falun Gong practitioners, exposing a staged immolation meant to frame the practice, were also unblocked. The 2001 incident became the centerpiece of the Party's campaign to attack and denigrate Falun Gong.
"Everyone knows that Jiang Zemin and Zhou Yongkang focused on persecuting Falun Gong, especially Jiang. Allowing this information to be searched is an attack on Jiang," Chen said, providing one possible explanation. "The high-level political struggle at the moment is extremely intense," he said. "Deliberately freeing up certain searches is also a method of political struggle."