News Analysis
As Kazakhstan was rocked by violent protests, China is worried about its investments in the country and the United States is concerned about Chinese nuclear assets.
Kazakhstan President Kassym-Jomart Tokayev ordered the military and police to "fire without warning" to quell anti-government protests, which began on Jan. 2 as a result of the doubling of the cost of liquefied petroleum gas (LPG). Tokayev claimed that "20,000 bandits" had attacked Almaty, the largest city, and blamed foreign-trained "terrorists" for the protests.
As the protests grew, the list of grievances expanded to include inequality and authoritarianism. As of Jan. 9, around 5,800 people had been arrested and over 160 people were killed, including two children.
Kazakhstan is a member of the Collective Security Treaty Organization (CSTO), which includes Russia, Belarus, Tajikistan, Kyrgyzstan, and Armenia. At Tokayev's request, 2,500 CSTO troops were dispatched to the country and he authorized a shoot-to-kill order to quell the unrest.
The BBC reported that Tokayev dismissed calls to hold talks with protesters as "nonsense." "We have to destroy them, this will be done soon," he said in a televised address.
Chinese leader Xi Jinping has expressed his support for Kazakhstan, while accusing and condemning foreign forces for undermining the peace and stability of the country. Beijing is most likely concerned about the safety of Chinese investments in the country and about violence spilling over into Xinjiang.
There's no clear answer as to what was behind the unrest. Pan Guang, director of the Shanghai Cooperation Organisation Studies Center at the Shanghai Academy of Social Sciences, claimed that terrorism, separatism, and religious extremism (dubbed the "three evils" by Beijing) incited the protests, according to Chinese news site Guancha.cn.
The Chinese Communist Party (CCP) uses the "three evils" as an excuse to justify its repressive policies and abuses in Xinjiang. Both the Trump and Biden administrations have called the repression of Uyghurs a genocide. President Joe Biden signed the Uyghur Forced Labor Prevention Act on Dec. 23, banning products made with slave labor.
Over the past two decades, China has built up its relationship with Kazakhstan, eroding the leading role that Russia has historically played in the region. Kazakhstan is a member of the Shanghai Cooperation Organization (SCO) and the Belt and Road Initiative (BRI, also known as "One Belt, One Road"). China is Kazakhstan's second-largest trading partner with bilateral trade reaching $22.94 billion in November 2021. Beijing has invested $17 billion in Kazakhstan, including an 8.3 percent stake in the country's Kashagan oilfield.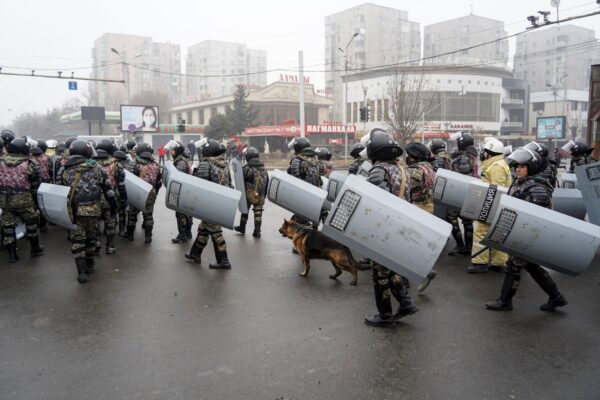 By next year, 56 China-backed projects, valued at $24.5 billion are due to be completed. China obtains about 20 percent of its natural gas from Kazakhstan. During the unrest, one of the CCP's greatest worries was that the pipelines would be attacked. But state-run media Global Times reassured the Chinese that the pipelines were safe, because they are far away from the cities where the riots took place.
Nuclear energy is another area where the two countries are cooperating and one that will become more crucial in the near future. China is engaged in a massive nuclear power plant building program–which is designed to quadruple the country's nuclear power generation over the next 15 years. State-owned China General Nuclear Power Group (CGNPC) partnered with the world's largest uranium supplier, Kazatomprom (Kazakhstan's national atomic agency), to construct the Ulba Nuclear Fuel Plant in which the CCP will be taking 49 percent ownership.
While the CCP professes to support Kazakhstan—"forging an even closer community with a shared future" that's predicated on "neighborliness and win-win cooperation"—it's arguable how much Kazakhstan is benefiting from the relationship.
Kazakhstan runs a tremendous trade deficit with China, which is growing. Moreover, China's "zero-COVID" policy has kept the border closed, adversely impacting Kazakhstan's exports. In the first 10 months of 2021, food exports to China decreased by 78 percent. At present, 12,000 railcars are stuck at the border. The border closure seems contrary to the BRI, which was meant to promote trade between its members and China. Additionally, as wages in China have risen, Kazakhstan had hoped that manufacturing jobs would come back. But so far, this has not happened in significant numbers.
A further problem is China's increased electricity consumption. Chinese Bitcoin miners have crossed the border, using so much electricity that Kazakhstan has had to ask for help from Russia, exacerbating tensions with its larger neighbor.
The Kazakh government has always maintained close ties with the United States, which it sees as a counterbalance to Russian influence. Over the past 30 years, American companies have invested $38 billion in the country, considerably more than China.
U.S. oil companies, ExxonMobil and Chevron, have multi-billion-dollar operations that were disrupted by the recent violence. Chevron, which owns 50 percent of the Tengiz oilfield, had to cut production because some oil workers had gathered in support of the protests.
In 2020, the United States purchased 22 percent of its uranium from Kazakhstan. America is concerned about competing for more expensive uranium on global markets as China is currently buying up enough of the world's uranium to cause prices to increase.
China's nuclear program in the region, and at home, is a concern for the United States. Parallel to its civilian nuclear program, the CCP has stepped up its nuclear weapons program—setting a goal of producing 700 nuclear warheads by 2027 and 1,000 by 2030.
However, Washington wants to contain Beijing's nuclear expansion in order to avoid a nuclear arms race. CGNPC, the Chinese company that has invested in Kazakh atomic energy, has been under U.S. sanctions for its connection with the Chinese military.
Views expressed in this article are the opinions of the author and do not necessarily reflect the views of The Epoch Times.