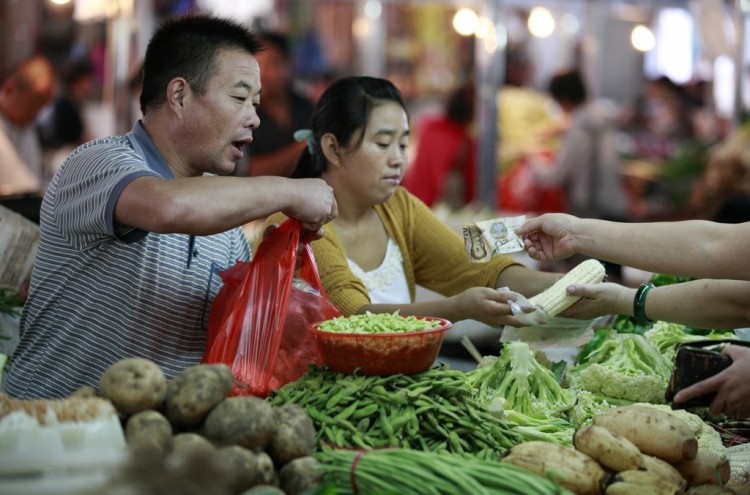 Despite a gloomy economy, China's food prices are on the rise and causing stress among the common people—whose wages are remaining the same.
For August, the consumer price index (CPI), which measures the average change over time in prices paid by urban consumers for a basket of goods and services, rose 6.2 percent month on month, or 79 percent annualized. The primary attributor—exorbitant food prices—increased by 13.4 percent, according to China's National Bureau of Statistics (NBS).
The cause of 30 percent of the food price spike is transportation costs, according to a report by China Economic Net, a Chinese state-run economic daily. The report also noted the nationwide natural disasters in China as another reason for the rising prices.
Liu Wenhua, Director of Consumer Price for NBS, opined that the main cause is the price adjustment of major public utilities such as water, electricity, gas, and transportation, Voice of America reported.
Members of China's working class are barely able to put food on the table as their meager wages cannot stand up to the pressures of rising food costs.
Local citizens from major cities in China told an Epoch Times reporter how their lives have been affected by the high cost of food.
Beijing resident Ms. Wu said prices are rising quickly, but stagnant wages cannot keep up. Many people cannot afford to eat meat. "The price is so high. Common people can barely survive. All prices are doubled, but our wages do not rise," she said.
"We common people can only grumble about the rising prices," said Ms. Wei in Shanghai.
Compared to her wages, Ms. Ning in Tianjin City felt "the prices are rising as fast as a rocket."
The Epoch Times publishes in 35 countries and in 19 languages. Subscribe to our e-newsletter.