Commentary
China's top jet-setting-diplomat-who-flies-beneath-the-radar, Yang Jiechi, arrived in Moscow on Monday to talk security with the Kremlin. The Financial Times calls this "the latest sign of deepening ties between Beijing and Moscow." But I call it baloney.
After 116,000 Russian COVID-19 deaths and counting, Putin should be seething beneath that thin smile. Add to that his legendary attempts to return Russia to the "greatness" of the Soviet days, in which China was a supplicant to Moscow's power, and diplomatic errand-boy to Russian premiers at the U.N. Since the Soviet breakup in 1991, Moscow has had its own 30 years of humiliation, not least at the hands of Beijing.
Russia is desperate for foreign cash after being shut in by Western economic sanctions imposed after its 2014 invasion of Ukraine's Crimea and Donbass regions. Things just haven't been the same for Russia since, with economic circumstances forcing Moscow into China's arms in what amounts to a shotgun marriage. China, perhaps on purpose, used the same "shot-gun diplomacy" with Iran, Thailand, and Myanmar (Burma). International economic ostracization of countries over human rights and military transgressions, forces the resultantly desperate countries to kowtow to Beijing for an exports lifeline.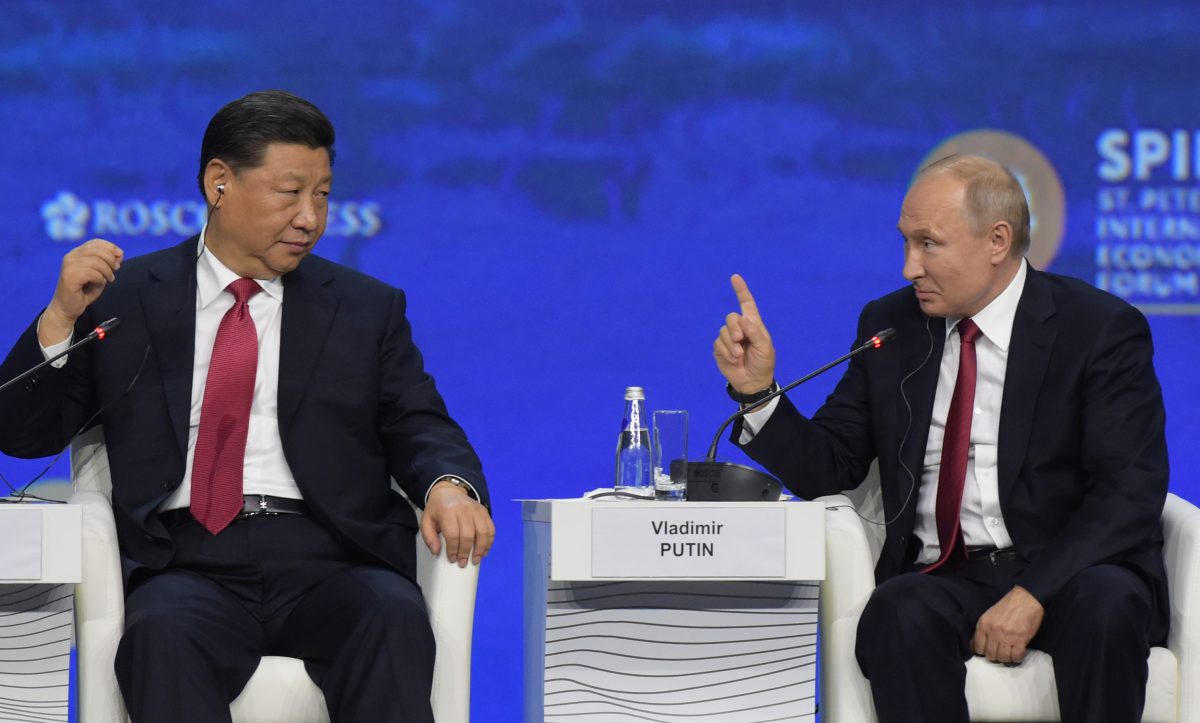 Two months after the Crimea invasion, the ostracized Putin had a $400 billion, 38bcm (billion cubic meters) annual natural gas-supply deal with Xi Jinping, but with strings attached. "The long-running price dispute that had stymied the deal for years was resolved in China's favor, most likely bringing the price down to the levels that China enjoyed from its main Central Asian supplier, Turkmenistan," according to a Harvard analysis. I suspect that was about a 10 percent price cut from international market rates. China "helped" Russia realize that international economic sanctions had turned the once-great country into a practically-land-locked Turkmenistan. Friends indeed.
Then came closer Sino-Russian military ties, and joint military maneuvers in 2018, all probably part of the price that Russia paid China for the privilege of trading. Trade that year was a record $100 billion. In 2019, Russia opened its network to Huawei's 5G. Goodbye, data security.
China is stealing data from Russia with one hand, and force-feeding yuan with the other. Beijing doesn't buy all that Russian energy with valuable U.S. dollars or euros. It buys a significant chunk with its own freely-printed yuan. This forces Russia, or Russia's trading partners, to purchase from China in the future. Russia's foreign reserves in yuan increased from 5 percent in 2018 to 14 percent in 2019, but down to about 12 percent at the end of 2020. That level is still exceptionally-high relative to the world's foreign exchange reserves, which are less than 2 percent in yuan.
China is also using Russia's economic distress to leach or steal technology from the country, including aviation, rocket, and nuclear technologies. China seeks to be a leading global exporter of these in the future, and to do so it needs to acquire the tech first, most easily through theft or secondarily, barter by giving short-term access to China's market. In 2019, Russia's state arms manufacturer Rostec accused China of widespread theft. "Unauthorized copying of our equipment abroad is a huge problem. There have been 500 such cases over the past 17 years," Yevgeny Livadny, Rostec's chief of intellectual property projects, said. "China alone has copied aircraft engines, Sukhoi planes, deck jets, air defense systems, portable air defense missiles, and analogs of the Pantsir medium-range surface-to-air systems."
The Financial Times failed to reveal these underlying stresses in the Sino-Russian relationship. The leading British paper blithely states, in its recent article, that the announcement of the Yang Jiechi trip was made only a few days after Putin and Xi's relationship flourished during the launch of a nuclear energy project that "entails Russia helping China to build four nuclear reactors."
No mention of Russia's relative poverty, and forced technology transfer, in the Financial Times. Just a detailed account of the compliments that the two leaders showered upon one another. Putin said that ties between the two countries were at "the best level in history." Xi talked up a "comprehensive strategic partnership of coordination for a new era," according to the FT.
The famously pink British financial paper swallowed it all, hook, line, and sinker. "The comments add to recent emphasis on closer ties in the build-up to the 20th anniversary of the signing of a treaty between the two countries aimed at bolstering cooperation," the FT reporter gushed. "Last year, in a phone call with Putin, Xi highlighted the need for closer relations with Russia given the 'turbulence' caused by the pandemic and said the 2001 treaty had established [no less than] a new type of international relations, according to state media."
The reporter's tone is critical, even skeptical, of U.S. President Joe Biden, characterized as aggressive against China. Biden "imposed sweeping sanctions on Russia for 'harmful foreign activities.'" Why the scare quotes? The reporter doesn't believe that Russia committed "harmful foreign activities?" That Biden last week waived Trump-era sanctions on Russia against Nord Stream 2, a Russia-Germany gas pipeline, is omitted from the FT story. The waiver came after cyber-criminals in Russia disabled an American oil pipeline this month. Thousands of American gas stations in the south-east suffered shortages as a result.
There's no mention in the article of critical differences between China and Russia, for example China's attempt to economically muscle-in as a "near-arctic state," where currently short-of-the-ready Russia has long been an internationally-recognized arctic power. As in other regions, Moscow needs Beijing's cash, and Beijing is using that vulnerability as a foot in the door. China invested billions of dollars into Russia's Arctic gas projects, including a fleet of ice-breaker gas tankers to be jointly operated by China's Cosco shipping company, and Russia's PAO Sovcomflot. As noted by Foreign Policy, "Russia and China's Arctic partnership is not an alliance—it is driven by business. Despite mutually beneficial interests in the region, commercial realpolitik is at the heart of their engagement."
Neither are Russian fears of losing control of its vulnerable eastern regions mentioned. Russian territory near China is sparsely populated, underdeveloped, and according to Putin in 2000, at risk of takeover by China. Dmitry Medvedev, in 2012, warned that few people live in the Russian Far East (RFE), and protecting its residents from "excessive expansion by neighboring states" remains critical, including by preventing enclaves where foreigners settle. Medvedev currently serves as Deputy Chairman of the Security Council of Russia.
Moscow seeks Chinese capital to develop its far east, but as early as 2016 it was apparent that "not only has the modernization of the RFE run aground, the tie to China is becoming an alliance where Russia depends more on China than China does on Russia," according to Stephen Blank, a Russia expert at the American Foreign Policy Council. The Wall Street Journal notes that RFE locals call China's influence a "Chinese invasion" (as does one Australian academic). They have protested against China-backed ventures including a Lake Baikal water bottling plant and Siberian timber logging.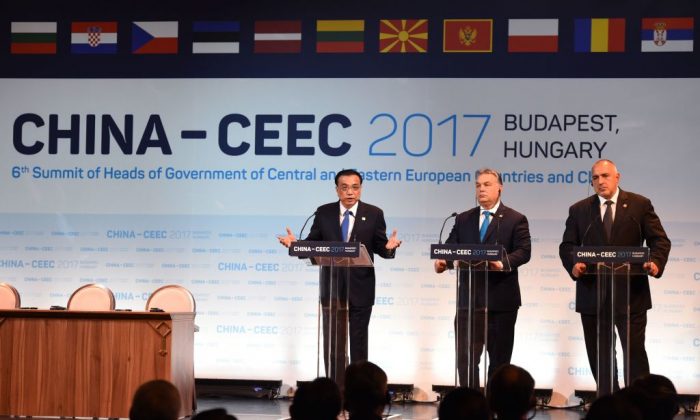 China and Russia are also in competition in Central Asia. Beijing is pushing its Belt and Road Initiative (BRI) into Kazakhstan, Kyrgyzstan, Tajikistan, Turkmenistan, and Uzbekistan, which Moscow sees as within its own post-Soviet sphere of influence. In its new mercantilism, China wants natural resources from Central Asia, in exchange for exports of its overproduction, for example steel and concrete. China also wants to ship its exports by rail through the region, paid for by the countries themselves, but built by Chinese companies. That's hitting three birds with one jade stone.
This is Xi Jinping's self-serving BRI plan, and there are plenty of bribable tin-pot dictators who can help make it a reality. Billions of dollars later, China is Central Asia's top "investor." As elsewhere, Russia's Crimea invasion hampered its own influence in Central Asia, and its attempt at a "Eurasian Economic Union," with Moscow in the lead. It failed because Moscow went broke. The union was "harmonized" (read: subjugated) in 2015 to Xi's BRI.
Now China's state media speaks of "BRI countries" as if they were imperial possessions, even as Xi hastens to clarify that "China has no geopolitical motives, seeks no exclusionary blocs, and imposes no business deals on others." Methinks thou dost protest too much, General Secretary.
Moscow, which has troops stationed in Tajikistan, now has to contend with China's own troops there. Their excuse? Augmenting Tajik border security to protect against Islamic terrorists infiltrating north from Afghanistan. Where Moscow can, it sabotages Chinese influence in Central Asia, for example by inviting India and Pakistan into the Shanghai Cooperation Organization (SCO). Given the dysfunctional India-Pakistan relationship, Russia may have achieved the diplomatic version of a poison pill strategy.
Why the Financial Times portrays all this as a beautifully budding and unproblematic friendship between respected statesmen Putin and Xi, who are in reality closer to mafia kingpins planning each others' eventual demise, is an enigma. Perhaps because it is a British financial paper, and British finance is just dying to get a bigger slice of China's international commerce (and maybe some of Russia's too). Kind of like Russia's awkward kissing-up to China. Both Russian oligarchs (with Putin in the lead) and British financiers, appear to subscribe to the mantra that "flattery will get you everywhere" in the Middle Kingdom.
Anders Corr has a bachelor's/master's in political science from Yale University (2001) and a doctorate in government from Harvard University (2008). He is a principal at Corr Analytics Inc., publisher of the Journal of Political Risk, and has conducted extensive research in North America, Europe, and Asia. He authored "The Concentration of Power" (forthcoming in 2021) and "No Trespassing," and edited "Great Powers, Grand Strategies."
Views expressed in this article are the opinions of the author and do not necessarily reflect the views of The Epoch Times.