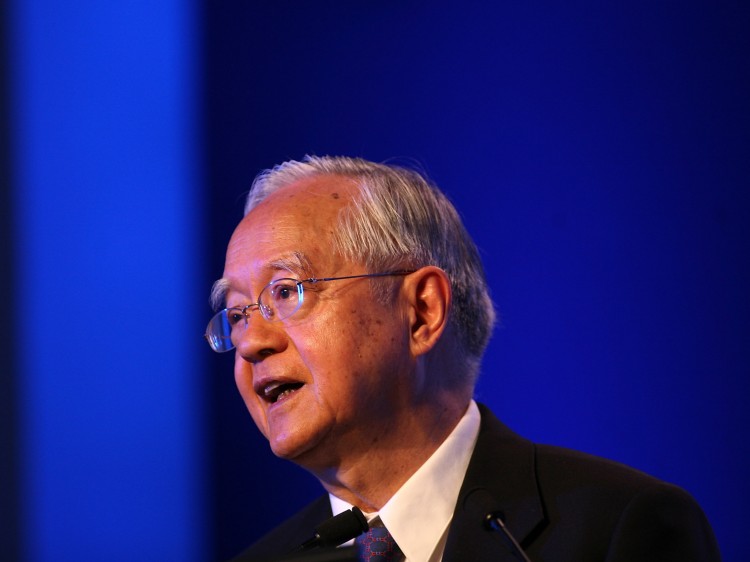 Economist Wu Jinglian said at an international conference that the Chinese regime's current economic growth stimulus plans are not sustainable, and will create dire consequences if deployed.
Wu Jinglian, now 82, is a respected economist, research fellow, and the deputy director of the Academic Committee with the State Council's Developmental Research Center. He is famous for being outspoken and is called "the economist with the strongest conscience," by Chinese media.
Wu said that during his recent visits to different areas in China, he noticed that many local governments were anxious to achieve rapid growth, according to a report by China Business Times, at the International Finance Forum (IFF) 2012 conference on Sept. 17. However, so far the only solution used is still large-scale investment stimulus measures.
Wu pointed out that based on current yet incomplete data, local governments have submitted investment projects totaling over 17 trillion yuan (US$2.7 trillion) this year, but sourcing the money is a big problem.
He gave a few examples of investment stimulus packages that have gone wrong.
One is the high-speed rail system. According to Wu, building high-speed railways in densely populated areas is beneficial even if the project loses money. But China's high-speed rail system is a nationwide project using state assets, which has created a lot of problems, including two trillion yuan in debt (US$316 billion).
Another example is a province that reported a 14 to 15 percent increase in GDP in consecutive years, each with increased investment amounts. Last year, the investment rate there was 89 percent of the GDP. However, the investment rate for the first half of this year is already 120 percent of the local GDP.
Wu said that anyone with the slightest knowledge of economics or history should know that this method of investment is not sustainable. He also said that it will lead to serious consequences and create dangerous problems.
He Qinglian, a prominent economist who lives in the United States, agrees. In an article published in August, she commented that China's stimulus package in 2008 caused more inflation, widening the gap between rich and poor, sending real estate prices skyrocketing, and distorting the economic structure. If the regime resorts to the same measures again, China will face an even bigger economic crisis.
Although many respected economists have voiced similar concerns, the Chinese regime has still opted to implement new stimulus plans.
At the World Economic Forum in Tianjin on Sept. 8, Chinese premier Wen Jiabao said that the Chinese Communist Party (CCP) had a budget surplus of one trillion yuan (US$158 billion) at the end of July, and will not hesitate to use it in fine-tuning to promote stable economic growth.
However, Hu Seimeng, a freelance analyst holds that the CCP is going down a dead end by using economic growth to maintain stability and its ruling legitimacy, and the result will be the opposite of what it wants, as he wrote in his blog.
To solve economic problems in China, large-scale structural adjustment is needed, Gan Li, dean of the Research Institute of Economics and Management at Southwestern University of Finance and Economics, told New Tang Dynasty Television.
"The one trillion yuan should be spent on pensions, medical insurance, and unemployment benefits," Li said, adding that, "If the government invests more in the basic needs of the people, the society will be stable and problems will go away."
In an interview with Caijing magazine published on Sept. 3, Wu Jinglian said that because the CCP and state-owned enterprises have strengthened control over the economy in recent years, social and economic conflict in China is reaching a peak.
Wu also said that the root causes of the multitude of ugly social phenomena in China's society are not implementing economic reform properly and thoroughly, failing to implement political reform, and the excessive interference of administrative power with civilians' normal economic activities.
"Therefore, the most important agenda right now is to put reform on the table again, and to solidly push for economic and political reform," Wu said.
Read the original Chinese article.
The Epoch Times publishes in 35 countries and in 19 languages. Subscribe to our e-newsletter.
Click www.ept.ms/ccp-crisis to read about the most recent developments in the ongoing crisis within the Chinese communist regime. In this special topic, we provide readers with the necessary context to understand the situation. Get the RSS feed. Who are the Major Players?