News Analysis
With China's sharp economic slowdown, South Korea worries that its export industry—including semiconductor, steel, and other major industries that rely heavily on the Chinese market—will suffer a huge setback.
Data released by the Korea International Trade Association (KITA) on Jan. 18 reveal that South Korea's 2021 exports to China amounted to $162.9 billion, accounting for about 25 percent of its total exports. Among them, semiconductor exports to China alone accounted for 39.3 percent of the South's total semiconductor exports.
Over 80 percent of the South's exports to China are intermediate goods. As the outlook for China's real estate sector is uncertain, the South's machinery and steel industries are likely to be impacted.
Weaker demand in China may also weigh on South Korea's exports of home appliances and cosmetics.
Petrochemicals, South Korea's main exports, will also be hit hard. The Yonhap News Agency quoted a source from the Korea Petrochemical Association, saying that China is the South's largest export market for petroleum products; and with China's economic growth lacking momentum, the South's petrochemical and related industries will be greatly affected.
Among South Korea's 10 major export sectors to China, semiconductors account for 30.8 percent, followed by synthetic resins (6.1 percent), flat panel displays (4.8 percent), and petroleum products (4.2 percent).
The source said that Korea's petrochemical industry is already in a difficult situation due to shrinking domestic and foreign demand and rising oil prices, resulting in oversupply; and a weak Chinese economy will put the industry in even greater difficulty.
According to a forecast by the Hyundai Research Institute, if China's economic growth rate falls by 1 percentage point, South Korea's economic growth rate will fall by 0.5 percentage points.
"It shows how dependent our economy is on China," The Korea Times commented on the forecast in an editorial published on Jan. 19. According to the article, the Korean industry needs 1,850 raw materials and commodities, of which more than 80 percent come from China. China's bleak economic outlook could be disastrous for the global economy, and South Korea may be more vulnerable to China's economic weakness than any other country in the world.
On Jan. 20, the Korea Economic Daily also published an article on the growing concerns of the industrial sector's heavy reliance on China. It notes that not only steel, petrochemicals, and heavy equipment, but also high value-added cutting-edge industries, such as semiconductors, monitors, and batteries, have gained several production bases in China.
"In other words, all the major domestic industries are involved. The crisis in China is likely to be transferred to [South] Korea," the article said.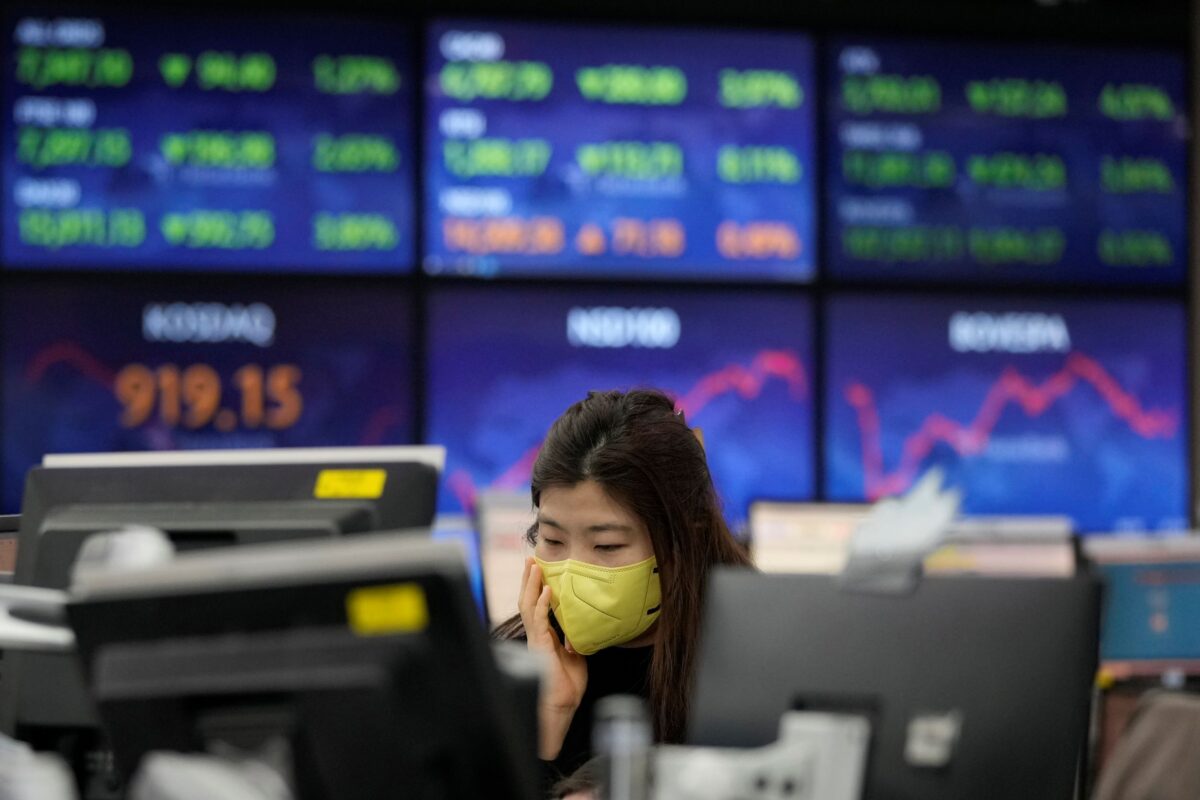 Reasons to Reduce Dependence on China
Korean experts have called for the authorities to use this as an opportunity to change its export structure.
Taekyu Lee, a senior researcher at the Korea Economic Research Institute (KERI), recently told Yonhap News Agency that Korean companies have reduced their size of production in China due to rising labor costs and the less favorable condition for foreign-invested companies in recent years. In order to address the structural risks of exports, it is necessary for South Korea to reduce its dependence on China for exports, he said.
The Korea Times also suggested in its editorial that Korean companies develop concrete means to reduce their over-reliance on the Chinese market.
"Korea should diversify its sources of raw material and component imports while exploring exporting markets around the world," it said.
Lu Tianming, a political commentator, told the Chinese-language edition of The Epoch Times that South Korea's economy is too dependent on China, and the South must diversify its risks and reduce its dependence on China on both the supply and demand sides.
Lu said that the most obvious example of over-dependence on China can be seen in South Korea's imports.
"Some products will be greatly affected if China cuts off the supply, like the previous AdBlue, ice melt liquid, etc.," he said. "But even if there is no supply cut-off, China's inflation and rising prices will impact [South] Korea, because many of [South] Korea's raw materials and semi-finished products are very dependent on China, and the variety and the proportion of products imported from China are very big."
In addition, South Korea is very export dependent on China. About 25 percent is a very large proportion, and now these shortcomings are showing, according to Lu.
He said that the South has no choice but to develop export markets elsewhere.
"This dependence is very high. As the saying goes, it's very dangerous to put all your eggs in one basket. So it's imperative to diversify the risk, on both the supply and demand side, to reduce this dependence on China, and this will be more beneficial to [South] Korea's long-term development."
Lu also mentioned that depending on an unethical, rogue communist regime, such as the Chinese Communist Party (CCP), is an additional risk to South Korea.
With the escalating tensions between China and the United States, and both countries vying for South Korea, the Chinese regime, if it loses, will take advantage of the South's economic dependence and threaten the country, which it has already done, Lu said.
China's Economy Facing 'Most Difficult Period'
Last December, Chinese officials openly admitted that China's economy has entered a very deep recession.
China's Minister of Finance Liu Kun made a rare public statement at the end of 2021, saying that he wanted to "put into practice the goal of living a more constrained life."
During its annual Central Economic Work Conference on Dec. 8-10, the CCP admitted that China's economic development is facing triple pressure from shrinking demand, supply shocks, and weakening expectations.
Professor Li Daokui of Tsinghua University School of Social Sciences said in a speech in early December that in the next few years, China's economy might be in "the most difficult period," compared to the past 40 years.
Views expressed in this article are the opinions of the author and do not necessarily reflect the views of The Epoch Times.