China's Economic Heartland Besieged by Wild Winter
January 29, 2008 12:00 am Last Updated: September 11, 2015 9:57 am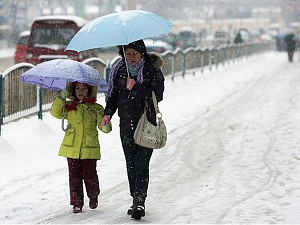 SHANGHAI–Chaotic winter weather besieged China's business and farming heartland on Tuesday, with no quick end in sight to weeks of snow and ice that have trapped energy and food flows ahead of a big national holiday.
Icy temperatures, snow and sleet pummelling much of central, eastern and southern China have crippled many thousands of trucks and trains loaded with coal, food and passengers in the most severe weather seen in decades.
More than 20 people have have died in weather-related accidents, including three workers who fell while trying to repair iced up power lines, according to state radio.
The snow and biting cold across regions that usually have fairly temperate, snow-free winters was likely to continue on Tuesday, the national forecaster stated on its Web site (www.nmc.gov.cn). Beijing remained clear, with the temperature below freezing.
China warned residents of Shanghai and neighbouring Jiangsu and Zhejiang provinces–the country's commercial engine room–to stay indoors if possible. In Shanghai, some food shelves in shops emptied as people stocked up.

The chaotic weather has choked coal shipments, magnifying energy shortages that have brought electricity brownouts to 17 of China's 31 provinces and province-status cities.
On Monday, the Ministry of Agriculture ordered urgent steps to fight food shortfalls that are driving up prices and adding to already heady inflation.
China is counting the economic cost of all this disruption and damage. On Monday, the main Shanghai stock index plunged 7.19 percent, its fourth biggest drop this decade, as investors added the weather woes to gloom about inflation and the global economy.
Railway stations and airports remained choked with stranded passengers trying to return to families to celebrate the Lunar New Year, or Spring Festival, which starts on Feb. 7.
In the far south, over 150,000 people crammed around the main station in Guangzhou, hoping for word of restored services — which seems unlikely soon, according to the Guangzhou Daily. At the main Shanghai railway station, over 70,000 people were stranded by Monday night, local radio reported.
Up to 19 airports, mostly in eastern provinces, are completely shut and flights from others are badly delayed.