China's Drought Will Make Food More Expensive, UN Says
February 11, 2011 9:17 pm Last Updated: October 1, 2015 5:42 pm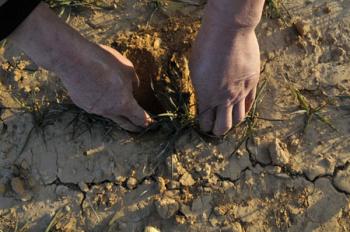 Northern China's wheat production is threatened by severe droughts, and the country's food market is likely to face an acute shortage.
On Feb. 8, the Food and Agriculture Organization of the United Nations issued a warning that the severe drought will result in decreased wheat production in China.
The Chicago Board Of Trade responded with an increase in the futures price of wheat, which is now at a two year high.
According to VOA, the United Nations has identified that out of 14 million hectare of wheat, about 5.16 million hectare is affected by the drought. At the same time, the drought may also cause water shortages affecting 2.57 million residents and 2.79 million livestock. This all takes its toll on the wheat prices—flour increased by 8 percent in January.
Statistics from the Central Meteorological Observatory show a drastic decrease in precipitation in the northern parts of Huanghe River and Huaihe River since last October, resulting in various degrees of drought in Beijing, Tianjin and seven provinces, with the worst being in Henan and Shandong provinces.
Xinhua News reported that Shandong Province is experiencing the worst drought in 60 years, and that the most severely affected Heze and Jining areas have not been hit so badly in 200 years.
In the State Council Special Meeting for Drought Relief, Hui Liangyu, the director of the State Flood Control and Drought Relief Headquarters, pointed out that the drought in northern China started earlier and is lasting longer. The affected areas are mainly wheat growing regions. The winter drought might change into a spring drought, causing major damage. Forecasts show that the drought is likely to continue.
China is the largest wheat producing country. According to the National Development and Reform Commission (NDRC), China's ratio of grain reserve to consumption is about 40 percent, which is much higher than the internationally accepted safe limit of 17 to 18 percent. However, as China starts to import food in larger quantities, it will affect international food prices.