Floodwaters hit China's largest and driest desert, Taklamakan, and created a huge lake as big as 42,000 soccer fields. State-run oil and gas enterprise Sinopec announced that the desert flood had submerged about 50 oil exploration vehicles and 30,000 sets of equipment.
"The total inundated area [of the flood] is over 116 square miles, and severely impacted the oil field's production and exploration," according to a Sinopec spokesperson, reported the Chinese state-run Observer on July 31.
The Observer reported that the flood damaged the roads built by Sinopec for oil and gas production in the desert, and telephone poles were leaning in different directions because of the flood.
The flooded desert has no regular residents, and Sinopec's employees who work in the oilfield are the only people who live there.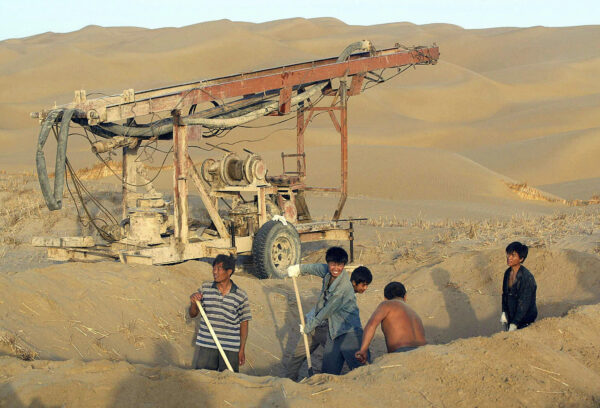 Flood in Desert
Sinopec shared a video on its official account on Chinese social media Weibo on July 29. Footage showed the flood had submerged the flat desert, where there are no rivers, and nowhere for the water to drain.
An employee of Sinopec told Caixin on July 30 that the flood started in the middle of July due to heavy rain, and the floodwater didn't fully dissipate after the rain slowed down. Even worse, the relatively hot temperatures in the region caused the snow and ice on nearby Tianshan Mountain to melt, resulting in increased flooding in the desert.
A Sinopec employee said the sands in the desert have good seepage, and that he and his co-workers believed the water would be gone soon. "It really depends on whether it will rain in the following days," he added.
Another Sinopec employee told Chinese state-run Jiemian that all of the inundated equipment could be repaired after the flood.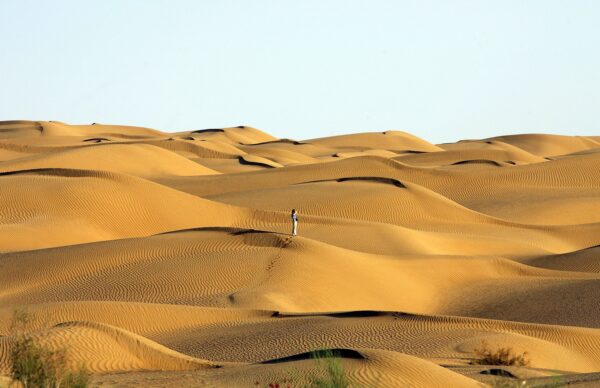 Taklamakan Desert is located in the southern Xinjiang region and surrounded by Kunlun Mountains to the south, Tianshan to the north, the Pamir Mountains to the west, and the Gobi Desert to the east. The desert has an area of 130,000 square miles, which is a little bit bigger than the size of New Mexico.
The flooded region is in the northern part of the desert, which is close to Tianshan.