China's Dispossessed Wonder, What Use Is Parliament?
March 2, 2007 12:00 am Last Updated: March 2, 2007 12:00 am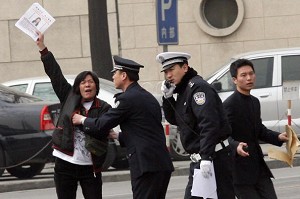 BEIJING—Next week's annual meeting of China's parliament means little to farmer Zhang Zhenjun, who has spent the past 15 years looking for a resolution to a festering land dispute.
Like most of China's 1.3 billion people, he has no say in who is chosen to represent him.
Indeed, he says he does not even know who his "people's representative" is—most certainly someone carefully chosen for his or her loyalty to the ruling Communist Party.
Zhang has shuttled backwards and forwards between various Party offices, both in his poor, dusty home province of Gansu and Beijing, saying each time he has been rebuffed by officials ranging from the callous to the plain bored.
"Nobody cares if you don't have money. If you have money, you have power in China," he said, sitting in a coffee shop near Tiananmen Square, where the 3,000-odd deputies will meet.
Ruddy-faced Zhang has joined the hoards of petitioners who flock to Beijing from the provinces almost daily to seek redress from the Chinese Communist Party for everything from official corruption to police brutality.
Zhang is part of a tradition stretching back hundreds of years, when peasants would come to the capital to put their cases of injustice to imperial officials. In modern China, with its carefully controlled press and compliant courts, the petitions system is still seen as a final recourse to justice.
He spends much of his time hanging around a grim, industrial part of southern Beijing, at a Letters and Visits Office, where petitioners from all over China gather.
Leave or Else!
They say they have been warned by law enforcement officials to leave Beijing before the opening of parliament—or else.
"I'm prepared to be arrested," said Ding Wenyang, from the industrial northeastern city of Shenyang. "I'm not scared."
Few people make it to the petitions office. Many provinces and cities send their own law enforcement officials up to Beijing to drag home petitioners, fearful of letting the central authorities get wind of problems in outlying regions.
The regime, which values stability above all else, fears that if it cannot keep a lid on popular discontent, protests could spin out of control and threaten its grip on power.
Cai Zhengfang, also locked in a property dispute, says her family in Shanghai has been under house arrest since the middle of last week, though she managed to sneak out and get to Beijing.
"They even offered money to keep me away," she said, her faced covered by a scarf to keep out the winter cold.
When asked what they want from parliament or if they are planning to try and meet their government-appointed representatives, the petitioners laughed bitterly.
"It will do no good," said Song Ruoxian, who is trying to get an investigation into her daughter's murder reopened.
One group of petitioners from Hebei province, which partly surrounds Beijing, wants to hold a news conference to highlight their plight, targeting the hundreds of Chinese and foreign reporters who will be in the capital for the meeting.
But they say they have little confidence they can do so despite plans to send out the time and place by mobile phone text message only to reporters who have registered with them.
"This is the most sensitive time of year," said one of the organisers, who declined to give his name.
Edited by The Epoch Times