China's CPI May Have Been Intentionally Underestimated (Video)
November 30, 2010 12:47 am Last Updated: October 1, 2015 6:22 pm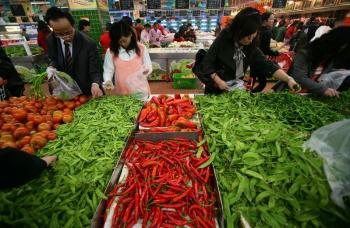 [ High Inflation Sends China Food Prices Soaring – NTDTV ]
For the past five years the Consumer Price Index (CPI) in China may have been intentionally underestimated by up to seven percent, according to a report released on Nov. 9.
The report, titled "Data and Perception: Is CPI the Wind or the Sail," was published by the Chinese Academy of Social Sciences (CASS), an academic institution under the charge of the ruling Chinese Communist Party (CCP).
CASS researcher Xu Qiyuan analyzed data in the overall CPI as well as eight subcategories with monthly reporting. The period between January 2006 and May 2010 was selected to avoid major weight changes between the subcategories, as the weight given to each CPI subcategory is adjusted every five years.
Xu wrote that for the period studied, 7.53 percent of price changes could not be explained by the subcategories and their assigned weight. He therefore suspects that there has been artificial manipulation in the official CPI data.
The report also pointed out that recent survey results by the People's Bank of China, China's central bank, revealed that only 21 percent of urban bank customers are satisfied with commodity prices. The satisfaction rate was the lowest since 2001, and significantly lower than the 30 percent rate achieved during the 2007-2008 period of "official" high inflation.

Xu thinks that the underestimation of CPI is directly linked with the residents' dissatisfaction with commodity prices.
In the report, he calls for greater transparency on how the CPI is calculated.
Dr. Cheng Xiaonong, economic commentator, told The Epoch Times, "I personally believe that the gap is much wider. The National Bureau of Statistics of China has a basic policy to underestimate [CPI]."
Cheng added that in democratic countries, the statistical bureau's job is to objectively collect and publish data; but in China, the National Bureau of Statistics is not only a statistical bureau, but a de facto spokesperson for the Party. It has to follow orders from the communist regime and the data it publishes is influenced by Party politics.
"It has several methods to suppress CPI and then explain to the public how the CPI is correct," Cheng said. "People suspect the data is wrong, but the problem is that the Bureau never publishes how the statistics are calculated, the type of products it sampled," etc.
If the methodology and other factors used to calculate CPI were made public, people would see how the data was manipulated, Cheng said; which is why such information is kept secret.
Read the original Chinese article.