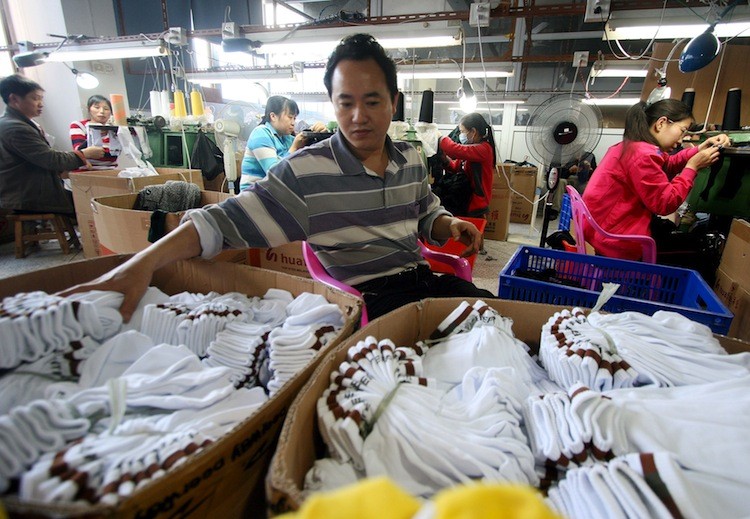 Export quality Chinese apparel is being sold at giveaway prices within the country as the clothing industry, hit hard by the slump in the global economy, struggles to thrive in the international market.
A recent field survey by mainland Chinese journalists in Guangdong Province revealed that with rapidly increasing production costs, foreign orders have declined significantly, and that China's clothing and footwear factories are looking at a crisis.
According to a report by Guangzhou Daily on May 21, on the Shangxiajiubuxing Street of Liwan district in Guangzhou, one store put up a sign saying "last day clearance" with a pile of clothing at the entrance marked at "3-9 yuan/item". The store clerk said the price reduction was mainly due to the closing down of many factories. Another store had a sign saying "super bargains: 1 yuan/item" for children's clothes. These discounted items were 100 percent cotton, and of good quality.
Shangxiajiubuxing Street is one of the busy commercial centers in Guangzhou city, and many of the stores there sell factory surplus items at discounted rates, directly connecting the factories with the retailers. It also means that the prices at these stores are an indicator of the industry.
The vice-chairman of the Guangzhou Clothing Industry Association said many of the clothes sold for less than 20 yuan on Shangjiu Road are below manufacturing cost. During the financial crash of 2008, the majority of items meant for export that never left the country were sold at discounted rates domestically. However, most of the discount sales today are due to surplus factory items or the factory clearing out their stock before closing down.
According to a report by the Chinese Textile Exchange Market website, during the China International Clothing and Accessories Fair this March the rise in cost of production was the most talked about topic by merchants.
In 2010 the cost of cotton went up by 50 percent while labor costs went up by more than 15 percent. Many clothes manufactures said that in less than one year, the total cost of one piece of clothing went up by 20 percent. In the footwear industry, the situation is even worse, with total cost increasing by 30 to 40 percent.
Guangzhou Daily reports on a company in Xintang town of Guangzhou city that specializes in making brand-name jeans for children. One third of their orders are domestic while two thirds used to be exported to Europe. In the past, the average monthly production reached 220,000-250,000 items, but since March their orders have greatly been reduced; now, their monthly demands barely reach 100,000 items.
Ditai Textile is a medium sized apparel factory. Zhan Jiafu, the factory director, said that there are seven production units, but only three are currently operating and almost all the orders have been completed; new orders are not coming, and many of the workers are on vacation. "The situation this year is worse than that of the financial crisis earlier," Zhan said.
The footwear industry is also in trouble. Guo Zhenhua is the owner of Baofu Rubber Products Factory and his factory specializes in supplying raw material to shoe factories. He said that the increasing production cost is making China's footwear prices increase, so many of the foreign customers have switched to ordering from Vietnam and other countries.
Mr. Guo also said that Guangdong mainly produces medium to high end shoes; since October of last year, the orders have reduced by about 30 percent. Jinjiang in Fujian Province produces mainly medium to low end shoes, but the situation there is even worse. He recently visited Jinjiang and reported that there were no orders, workers have been dismissed and many factories were already closed.

Read the original Chinese article.