Chinese netizens are mourning the death of Li Wenliang, the whistleblower doctor who first publicized information about the coronavirus outbreak in December 2019.
Early morning on Feb. 7, Li passed away after contracting the virus from a patient he had treated. Soon after, there was an outpouring of grief and anger on social media. Chinese censors quickly began deleting such messages.
Li and several doctors in Wuhan, the epicenter of the novel coronavirus outbreak, had alerted the public about the illness before authorities confirmed it. But he was visited by local police and reprimanded for "rumor-mongering."
After public outcry, Chinese authorities touted Li as a hero who warned people about the virus.
Grief
"Today's Wuhan is our city tomorrow" and "I want free speech" are currently among the hottest keywords on Chinese social media.
Netizens are angry that the authorities had punished Li for telling the truth.
Comparing his bravery to figures in Chinese history who risked their lives in pursuit of freedoms, some even shared photos of protesters during the Tiananmen Square movement of 1989—a taboo topic that is banned from public discussion.
Soon after, such posts were removed by Chinese censors. Only posts by state-run media about his death were available. On the Chinese Twitter-like platform Weibo, netizen Lin Sensen complained that he tried eight times unsuccessfully to write a post, alluding to lingering questions he had about Li's death. He said: "I'm tired."
Wuhan authorities also arrested citizen journalists who shared information about the situation in Wuhan on social media.
Chen Qiushi is from Beijing. He arrived in Wuhan on Jan. 24 shortly after the city was locked down. Early morning on Feb. 7, Chen's mother said that she couldn't reach Chen, and asked for netizens' help in tracking him down. In the afternoon, Chen's family received a notice from officials that Chen had been detained.
Netizen Fang Bin also shared videos he recorded inside Wuhan hospitals since late January.
On Feb. 7 afternoon, Fang said in a new video that plainclothes police had surrounded the residential area he lives in, and that he was concerned they could break in at anytime.
Li's Death
State-run media first reported Li's death at 9:30 p.m. Thursday. But hours later, they reported that he was still alive and being resuscitated. Shortly before 4 a.m., state-run media then announced that Li had passed away at 2:58 a.m. on Feb. 7.
Li, an opthamologist, studied in Wuhan. Some of his former university classmates are his colleagues. On Feb. 7, Li's classmates revealed that Li had actually died around 8:30 p.m Thursday, and claimed that the hospital did not give him proper treatment.
Though the posts were removed soon, netizens screenshot them and shared them on international social media platforms.
State media reported that hospital doctors tried to revive him, using a medical ventilator to supply the oxygen. Then they conducted an extracorporeal membrane oxygenation (ecmo) operation and roughly three hours of cardiopulmonary resuscitation (CPR).
On Feb. 7, Li's mother revealed more about her son's death in a published video. "His condition was stable about 20 days ago. He could eat and walk. But in the last two days, his condition deteriorated rapidly,"
Because the disease is contagious, both Li's parents could not see him in person. They previously were infected with the virus but had recovered and returned home.
"After they [the hospital] sent his body to a funeral home, they [authorities] took us to the hospital to collect his belongings."
The mother said Li Wenliang's wife Fu Xuejie returned to her hometown, a village in Zaoyang City of the Xiangyang municipality in Hubei Province, together with Fu and Li's five-year-old son after the doctor fell sick on Jan. 10.
Fu is also pregnant with their second child, due in June, the mother said.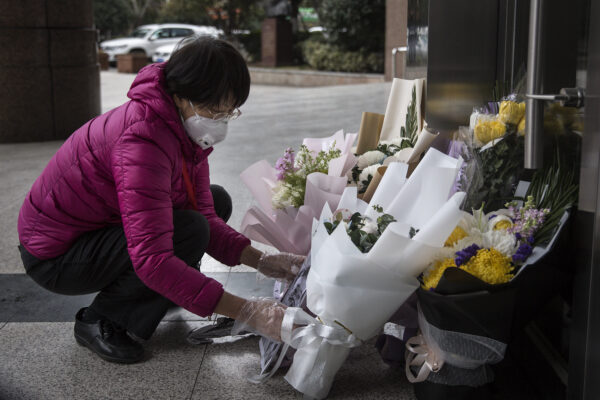 Li's Wife
Li's wife Fu also posted a public letter onto social media.
"My young brother was diagnosed [with the coronavirus] on Jan. 27. Both of my parents started to have a fever on Feb. 1, and are under quarantine at home," Fu said. "After hearing my husband passed away, my body can't stand the pressure anymore. I started to have a fever today. I'm worried about our baby in my womb."
Fu said all adults are required to be quarantined if they are suspected of contracting the virus. She is worried that no one would be able to take care of her five-year-old child if she were quarantined.
Fu asked for help for her son, as it would be difficult to relocate him back to Wuhan, where his grandparents are living. The entire province is currently under transportation lockdown.
The 2019 Novel Coronavirus (2019-nCov) first broke out in Wuhan, located in central China's Hubei Province, in early December 2019. Tens of thousands have been infected within China, while dozens of countries are also reporting cases.