Wang Yu is acclaimed as the "Bravest Female Lawyer in China" by rights activists in the country. Wang became a human rights lawyer because she wants to defend innocent people from China's corrupt judicial system. She was also imprisoned for her human rights work in 2015. Having experienced abuse in a Chinese prison, Wang recognizes many of the instruments and torture methods used in Xinjiang's internment camps.
Wang, 48, used to practice business law until an incident at a train station in Tianjin City in 2008. When several railway employees denied her from boarding a train even though she had a ticket, Wang got into an intense argument with them and later filed a lawsuit. However, she was arrested and sentenced to two and a half years in prison on the charge of "intentional assault."
After Wang was released, she decided to become a human rights lawyer to help victims of China's unjust judicial system and fight for their rights. Many of her clients were Falun Gong practitioners.
Wang was the first lawyer arrested during what is now referred to as the "709 Incident."
On July 9, 2015, the Chinese regime rounded up hundreds of human rights lawyers and activists across the country. The lawyers and activists were detained and interrogated, with some, like Wang, forced to make "confessions" on China Central Television, saying that they have realized what they have done as a human rights lawyer or activist was wrong—it was the Chinese regime's method of discouraging their activism and promulgating deceptive propaganda.
Although Chinese authorities released her from prison in August 2018 due to international pressure, she is still constantly under surveillance.
In mid-October of this year, Australian human rights activist and Uyghur Muslim Arslan Hidayat tweeted a video, showing shocking scenes of various torture instruments, allegedly filmed in an internment camp in Xinjiang.
After watching the video, Wang told the Chinese-language Epoch Times that Chinese authorities used many of the same torture instruments on her while she was imprisoned during the "709 Incident."
For instance, she was forced to wear handcuffs and shackles made of crude iron for seven days and nights. These handcuffs and shackles are very heavy, making it difficult for her to move around, raise her arms, eat meals, sleep, or use the restroom. The crude iron is extremely coarse and prolonged exposure caused severe bruising on her wrists and ankles.
Hidayat highlighted a torture device called the "tiger bench" in the video.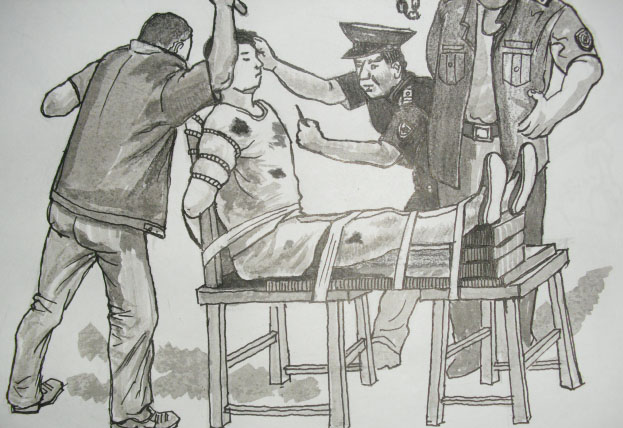 Prison guards use belts to bind the victim's arms and legs tightly to a bench. They then add layers of bricks or some other hard object under the victim's feet, which further pulls the binding, sometimes to the point that the belts break. Victims endure unbearable pain from the pressure of the belts and often pass out.
Wang said she suffered this torture method as well.
In another torture session, Wang said she was deprived of sleep for five days in a row. She thought she would die, but eventually managed to pull through.
"It was truly a miracle. I feel that God was with me, protecting me," Wang said.
During the "709 Incident," Wang's husband was also taken away by the police and her school-age son was placed under house arrest.
Wang was awarded the 21st prestigious Ludovic Trarieux International Human Rights Prize in June 2016, also called "The award given to a lawyer by lawyers."
In August 2016, the American Bar Association awarded its inaugural International Human Rights Award to Wang in absentia.
Liu Xiaobin, a former mainland police officer, revealed that in the early 2000s, many detention centers and prisons sent their employees to Masanjia Re-education Camp—a camp notorious for inventing numerous barbaric torture methods—to learn how to extort confessions through torture. These employees and Masanjia staff collaborated and developed many new torture methods that are implemented at local prisons and detention centers. Liu is a Falun Gong practitioner who now lives in the United States.
Wang Qingying, a prominent rights activist from Guangzhou City who fled to the United States, said that while he was imprisoned, he observed that Falun Gong practitioners suffered the most severe tortures, followed by Uyghur detainees from the Xinjiang region.