China's AIDS Heroine
March 26, 2007 12:00 am Last Updated: March 26, 2007 12:00 am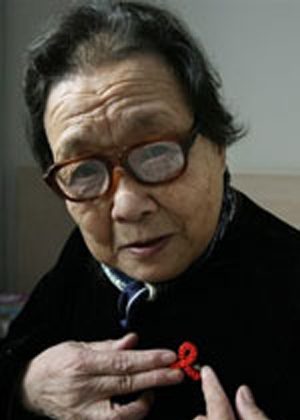 Dr. Gao Yaojie is known as the "number one person fighting AIDS in China." She was the first to make the case that blood transfusion was the main source of AIDS infection in China, contrary to the regime's official position.
Just before the Chinese New Year, Dr. Gao was allowed to leave China to accept the 2006 Female Global Leadership Award from Vital Voices Global Partnership in Washington, D.C. The retired 80-year-old female doctor learned of the news from the Henan Province Vice Party Chief after being placed under house arrest for six months.
A Saint Sent to Prison
Dr. Gao was born in 1927 in Cao County, Shandong Province. She graduated from the School of Medicine at Henan University in 1954 with a specialization in gynecology. Her research focused on the treatment of gynecological cancers, infertility, and sterility. She soon became one of the best gynecologists in Henan Province.
Because of her intellectual background however, Dr. Gao was persecuted during the Cultural Revolution. Three-quarters of her stomach was removed after prolonged malnutrition in prison, and she tried to commit suicide by drinking poison while under severe mental trauma. The poison caused cirrhosis of her liver.
During this time, her 14-year-old son was also thrown into prison for being "anti-revolutionary" because of a picture he drew in school. "In order to put him in prison," Gao recalled in tears, "his age was changed to 19. He was targeted because of my intellectual background."
Dr. Gao was able to return to medicine when the political turmoil ended in the 1970s, but remained under close government surveillance.
Dr. Gao's daughter admitted that she held a grudge against her mother for many years because she "didn't fit into the society." Her son, who is currently an associate professor, once cried in front of her, saying, "All I've gotten from you is tribulation."
Today however, Dr. Gao is regarded as a saint who has been looking out for the welfare of the people.
AIDS Becomes a National Crisis
Fate brought Dr. Gao to AIDS on April 7, 1996. She was invited to see an AIDS patient who had a tumor removed from her uterus and determined that the patient had transmitted AIDS through a blood transfusion from a blood bank. She immediately realized the danger of the situation and took up AIDS research as her main medical cause.
In 1998, Dr. Gao wrote a letter to a provisional commissioner calling for unlicensed doctors to be barred from practicing medicine. See saw these individuals as direct participants in the spread of AIDS because of their ignorance and lack of medical ethics. Her daughter subsequently lost her job in a medical office as an indirect result.
On April 5, 2006, Xinghua University invited Dr. Gao to give a talk on her new book "Researching AIDS in China." During her speech, she shed tears several times. "Two days marks the tenth year I will have been working on AIDS prevention," she said.
"It was hard for me to decide to come here. My husband is in the last stage of laryngeal cancer, and I have kept him company in the hospital for a year now. But I eventually decided to come because I feel there is a need for more young people to know the truth about AIDS in China. AIDS has become a national catastrophe, and it is everyone's responsibility to be educated about this!" Gao said.
In her 2006 speech, she outlined three major problems contributing to the AIDS crisis in China. The first is the spread of HIV through infected blood in blood banks, with little government supervision. "It's not only occurring in Hunan Province, where I first diagnosed it, but nationwide. That is why officials in Hunan dislike me so much, and I can understand that," Gao said in her speech.
The second problem, according to Gao, is that Chinese people hold serious misconceptions about AIDS patients, making public prevention efforts difficult. Official government opinion is that HIV is spread mainly though sexual contact and drug abuse, rather than blood transfusions.
The third problem is corruption. "Government officials, research foundations, NGOs, hospitals, pharmaceutical companies, unlicensed doctors … so many people have deceived the public in order to hide this disease and profit," said Gao.
In August 2006, at the sixteenth International AIDS Conference in Toronto, Li Dan, a private AIDS rescue worker, estimated that there were 5 to 10 million people in China infected with AIDS. This number, he claims, is increasing 30 to 40 percent each year. Even though this far exceeds China's official statistics, the U.N. has warned China that at its current reported rate it will double the number of AIDS infections in South Africa by 2010. South Africa is currently the world's leading country in AIDS cases.
The Unwitting Hero
During the past ten years, Dr. Gao has spent more than one million yuan (approximately US$120,000) from her savings, research award money, and book royalties on projects related to raising awareness of AIDS prevention and treatment. She has provided financial assistance to 164 AIDS orphans and printed 1.24 million educational booklets on AIDS.
Despite risks of arrest and torture, she has made repeated visits to a village in Henan Province seriously affected by AIDS, delivering medicine, money, and food to people there. Not once did a person report on her visit to local officials, despite monetary incentives to do so.
She has compiled nearly 10 thousand letters from people living with AIDS into published booklets, enabling the outside world to hear the voices of some of the most vulnerable people in China.
During these years, Dr. Gao has been under close surveillance by local authorities, causing much worry and stress in her personal life. She once said sarcastically that she got involved in AIDS prevention not out of bravery, but because she didn't know any better.
"I never would have guessed this work was so complicated behind the scenes, and there are so many underhanded dealings. But I am a doctor, so I can't tell lies. I've got to leave behind an honest life, for there is my only chance to make a difference," she said.
Dr. Gao's research in Hunan Province shows that beginning in the early 1980s, rural villagers were encouraged to donate their blood by local officials. For 400 ml, the donor was paid 45 yuan (approximately US$5), which was a lot of money for a local peasant at the time. "Give your blood if you want a good life," was a slogan coined by officials.
The blood plasma was broken down into elements of albumin, globulin, and platelets and used by companies to produce expensive medicines, which was very profitable for both the government and the medical industry.
During the transfusions, Gao discovered that blood drawn from donors was being put into a community vat with no pre-screening or sterilization procedures. Following the separation of plasma, the mixed blood was re-injected into the donors. This enabled a single HIV carrier to infect a large group very quickly. People who used the derived plasma products could be infected shortly after as well.
At its peak, Henan Province alone had over 230 blood-donation centers. An investigation in 1994 by China's Health Ministry and the Shanghai Biological Institute found that the blood products from Henan were contaminated with HIV. Despite these findings, the government did not begin closing the centers until 1998.
A Lack of Government Accountability
Dr. Gao recently wrote in her Web blog, "It's not that the issue of contracting AIDS through blood transfusion has begun to get worse, but rather we are just beginning to uncover it widely now." In her opinion, illegal blood collection centers have not disappeared; they've merely gone underground. "There is a severe shortage of blood supply in China, so how could illegal blood collection be stopped? It's too profitable for businesses," she wrote.
In 2001, there were 35 manufacturers across the country capable of producing 78 million tons of blood products according to Gao. "But due to a lack of HIV-screened plasma, they have reported only 38 million tons of production. Would they let their unused equipment lie idle, or instead use it for unscreened sources?"
Recently, the president of a well-known hospital in China was in his 70s and needed an operation. He reportedly knew that it would take a year to fully recover if he did not have blood transfusions, but he refused transfusions out of fear of contracting HIV.
Radio Free Asia reported in July 2006 that the AIDS tragedy in Henan Province from 10 years ago could be happening in Guizhou and Guangxi provinces today. There are 48 blood centers in total in the two provinces, with annual donations of 2,500 tons a year. HIV screening efforts remain minimal.
A peasant from the mountainous area of Guizhou Province told reporters that the area where he lives is so barren that selling blood has become the only means for his family to make a living. Farmers in his village began selling blood years ago for 85 yuan (approximately US$10) through a government stipend. Cost of travel and room and board at the donation centers leaves them with 50 yuan (approximately US$6), which is enough to support their families for months.
An Arduous Road Ahead
Out of her ethical responsibility as a doctor and respect for life, Dr. Gao Yaojie has championed AIDS prevention efforts for the past 11 years. In 2001, she received the Jonathan Mann Award for Global Health and Human Rights by the Global Health Council.
In 2002, she was named Time magazine's Asian Heroine. In 2003, her remarkable contributions to AIDS education and research won her the Ramon Magsaysay Award for Public Service, Asia's equivalent to the Nobel Prize. Unfortunately, she has not been allowed to leave China to receive these awards in person.
When Vital Voices, a woman's organization in the United States, decided to grant its annual Global Leadership Award to Dr. Gao on Feb. 2, 2007, the police put her under house arrest. Many people, including officials from China's Women's Federation, the Secretary General, Governor, and Party Chief of Hunan Province, came to persuade her not to leave China to accept the award.
"They even tried to exert pressure on me through my children and asked me to cite an illness as an excuse for not going. I told them I could not deceive the people of the world. My son knelt in front of me for two days, begging me not to go, telling me he was under tremendous pressure. But I can't tell lies," Gao said. Apparently, she was only allowed to leave after Hu Jintao, head of the government, gave his personal approval.
When asked why she needed to receive the award in person, Gao said that she is close to 80 years old, and her life is limited. She went out of her concern about the AIDS epidemic and for the sake of the Chinese people. "To the Chinese, AIDS is still a tragedy," she said.
Now the central leadership has followed suit and taken up AIDS prevention as an important cause. But in a China where local officials act like despots within their domain, and instructions from the central government are only good within Zhongnanhai, the control of contaminated blood products and prevention of AIDS looks bleak. After all, poisoned wine, rice, and milk powder continue to fill the market because of growing corruption. How could poisoned blood be so easily regulated?
Dr. Gao Yaojie once called herself a failure in preventing the spread of AIDS in China. But the real failure, it seems, is the existing system under the communist regime.