China's 2006 Super Girls Contest Brings Down its Curtains
October 5, 2006 12:00 am Last Updated: October 5, 2006 12:00 am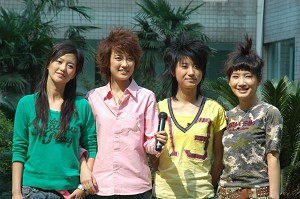 The popular star-search TV program in China, Super Voice Girls , greeted its night of national finals on September 29. With a record-breaking 5,190,000 votes, Shang Wenjie became the champion; Tan Weiwei came in second, and Liu Liyang and Ai Mengmeng came in the third and fourth, respectively.
The 2006 Super Voice Girls contest presented by the Hunan Satellite TV officially began on April 2, 2006. Five branch contests were carried out in the five cities of Changsha, Hangzhou, Chengdu, Shenyang and Guangzhou. Contestants were required to be 18 years of age or older, and each branch contest generated three semi-finalists to enter the "Yearly Final" held in Changsha City, the capital of Hunan Province.

The champion Shang Wenjie had been considered the "black sheep" of the bunch. She became one of the three semi-finalists representing the Guangzhou branch contest, then entered the national top ten, and then overcame all adversities on the way and entered the national final four. It had been a hot topic recently whether the "black sheep" could win the competition.
The advantage for Shang Wenjie lies in her natural vocal talent. With an outstanding voice quality, she can perfectly control high tones and mid-low tones, and her transition between high tone and mid tone is very smooth. Moreover, she can also sing in English.
When Shang Weijie entered the top four, many people believed she couldn't wait to win the competition. But many other people adhered to the rules of the black sheep: she might be very prominent in the beginning, but it is very difficult to win in the end. Shang Wenjie broke that rule and became a legend for the triumph of the black sheep.
However, the director of the Hunan Broadcasting and Television Bureau told the media that the Hunan Satellite TV will no longer broadcast Super Girls next year; instead it will broadcast Super Boys.