As Beijing staged a dazzling $100 million spectacle
hosting the Winter Olympics
last year, Ji Yunzhi lay dying up north in a Chinese hospital. She had a mere breath left after the rounds of torture inflicted on her meant to scare her into renouncing her faith.
Iron ankle fetters and handcuffs chained her to the hospital bed where she spent the last month of her life, with a rubber tube forced up her nose.
The 65-year-old died 48 days after her arrest and detention on the Lunar Chinese New Year, one of a string of mental and physical abuses she had suffered over the more than two decades past.
At her death, blood stains smeared her face and shoulder. Her grieving family who demanded an explanation from the authorities saw nearly 50 policemen guarding Ji's body and monitoring their apartment. The police forced Ji's husband to authorize the cremation of his wife's battered body, and threatened to have his nephew fired from a secure government job if he refused to comply.
They also showed the man photos of his son, Simon Zhang, attending Falun Gong events in the United States and warned him that they know everything.
Zhang, now a New York architect, shared the story about his late mother, also an adherent of the spiritual discipline Falun Gong, at the last day of the International Religious Freedom Summit on Feb. 1.
A previous arrest during the 2008 Beijing Olympics had Ji jailed in a labor camp, at one point electrocuted for two hours until she had an involuntary urination. Her face was also burnt by the torture.
Wish for Religious Freedom
Their Falun Gong faith—which teaches assimilation with the universal principles of truthfulness, compassion, and tolerance, along with slow-moving meditation—has been heavily persecuted under the atheist communist ideology of China's ruling party, which suppresses most religious faiths, for more than 23 years.

Zhang remembers his mother, who he hadn't seen for 19 years before she died at the hands of Chinese police, as warmhearted and considerate. "My brother's wife said my mom gave her things her own mom didn't," he told The Epoch Times.

"My mom had one strong wish: to see for herself how we can practice Falun Gong freely in America," he said at the event. Ji did try to visit him in the United States a few years prior but couldn't get approval for her passport application because of her faith.

"Now, she would never have that chance," he said.
Zhang's family is one of millions torn apart by the communist party's persecution of Falun Gong, he told the audience, noting that there have been more than 4,900 documented cases of adherent deaths by torture or abuses, as well as an untold number of victims to the state-sanctioned crime of forced organ harvesting, all for not renouncing their faith and right to independent thought, speech, and action.
"What the Chinese communist regime has done to Falun Gong, including my mom, is a genocide and a crime against humanity."
Beth Van Schaack, the ambassador-at-large for global criminal justice, highlighted Beijing's religious repression in her remarks a day prior.
Aside from the suppression of Uyghurs in China's western Xinjiang region, which the United States and a number of other countries have deemed a genocide, "[a]cross China more broadly, religious persecution is also directed at Tibetan Buddhists, Falun Gong practitioners, Christians, and so many others seeking only to peacefully practice their beliefs," she said.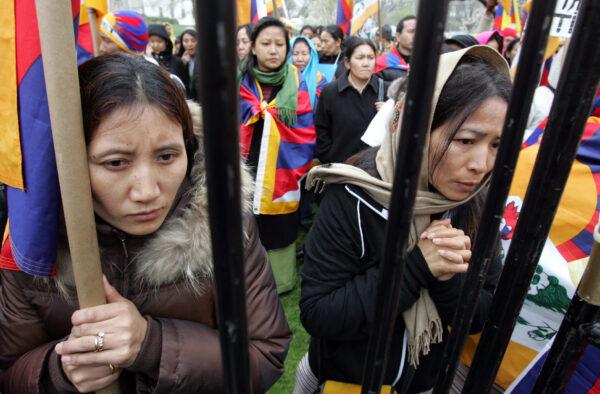 Religious Freedom, Human Rights a Bipartisan Concern
Concern for China's human rights is one issue that unites lawmakers from left and right on Capitol Hill.

At a panel on Tuesday, Foreign Affairs Committee chairman Rep. Michael McCaul (R-Texas), who was an honorary congressional co-chair of the summit, decried the Chinese Communist Party's "all-out assault on religion" while vowing to "keep religious freedom at the forefront of America's foreign policy."

"Protecting religious freedom isn't just about doing what's right, it's also a matter of national security," he said in a speech, adding that he will strive to shed light on abuses around the world, hold perpetrators accountable, and help the diaspora in America who have family and friends persecuted for their faith overseas.

Asked about concerns of the Chinese regime exporting its repressive influence overseas, McCaul also referenced the practice of forced organ harvesting and the widespread high-tech surveillance apparatus in China, which dozens of countries have adopted.

"They have Biometrics to follow all their people within China. You know, organ transplants—where they force people and they sedate them and take their organs out, and it's just horrific," he said.

Echoing his point, Rep. Jim McGovern (D-Mass.) stressed a need for the United States to "raise the issue of human rights at every level," including "when we're doing trade bills" and "investing in other parts of the world."

In a "country that oppresses their people for whatever reason," he said, "There will be violence and instability in the long run. And so, it is not in our interest to just turn a blind eye to terrible oppression."
'Alone in the World'
One person seeking help at the summit is Grace Chen, a 17-year-old music student in New York.

Chen plays the Chinese stringed instrument the erhu. Both her parents were arrested in communist China on account of their faith in the fall of 2020. She hasn't heard their voices for over two years.
"I bookmarked every single article about my parents' arrest on my laptop. I felt like now, I was [sic] all alone in the world," she said at the summit.
Her teachers and classmates have written lots of letters to the two detainees. Even if the letters may not reach them, at least, she said, she wanted the police in China to know that someone cares. If her words could reach them, though, she would apologize to her parents for not minding their safety enough.
"Did they find your location because I called you so often? I'm sorry for not being more careful. If I called you less, would you still be safe at home now?" she said, imagining talking to her mother.
Before she was born, Chen said that the police had beaten her father until all his teeth fell out because he practices Falun Gong.
"Even after that, you never, ever gave up your faith. You are my hero, baba," she said, using the Chinese term for dad. "But I hope this time you are not hurt."