The continuing protests in Hong Kong are highlighting how the Chinese regime uses Western social media to push its propaganda in a bid to shape public opinion abroad.
Last week, Twitter, Facebook, and YouTube suspended hundreds of accounts linked to a Chinese regime information operation seeking to undermine the protest movement in Hong Kong.
In addition, Twitter banned state-controlled media from advertising on the platform, while YouTube has started labeling videos on its Hong Kong site to clarify whether the channel that's posting them has government funding. Videos by Chinese state media now appear with an information panel that reads, "funded in whole or in part by the Chinese government."
The moves mark a growing recognition of the influence campaign launched by the regime on social media to shape the narrative surrounding the Hong Kong protests, which Beijing has portrayed as the work of "terrorists," fomented by Western powers and "radical forces."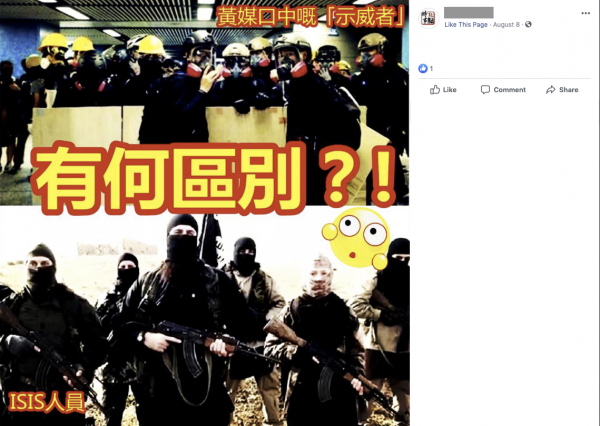 Expanding Social Media Reach
While Twitter, Facebook, and YouTube are blocked in China under the Great Firewall, the regime has sought to leverage the platforms. Chinese leader Xi Jinping has repeatedly directed leaders in the regime's propaganda apparatus to "tell China's story well, and properly disseminate China's voice."
Regular users in China, meanwhile, may only access such blocked sites through virtual private networks (VPN)—programs commonly used to bypass China's internet blockade, by making it appear as though a user is located outside of China—facing risks of fines, arrests, and detention.
Sarah Cook, a senior China research analyst at Freedom House, said the system is predicated on a fundamental double standard.
"You have ordinary citizens in China that are in some cases arrested, or even imprisoned, in addition to them being blocked from using these platforms," she told The Epoch Times.
"Then you clearly have that, the [state media outlets] CGTN, Xinhua, Global Times, and People's Daily, who are given permissions, are using VPNs, and even have an open internet connection, and their job is to post this stuff, to 'promote China's voices around the world.'"
"It really undermines any kind of reasoning the Chinese government can give to why these are blocked and … exposes how politicized it is, and how it's really about the Chinese government controlling the information, leading the narrative, and monopolizing it," she said.
Sonny Lo, a political science professor at the University of Hong Kong, said the Chinese regime has turned technology into "a tool of socio-political hegemony" to ensure that people are "sticking to the correct political line of thought."
"Mass media are expected to be the servant of the state rather than a fifth branch of government to check governmental powers," he told The Epoch Times in an email.
This strategy includes using social media externally to "win the hearts and minds" of people outside of China, Lo said.
Recent tender documents by state-run media China News Service show the outlet offered hundreds of thousands of dollars to boost its followers on Twitter and Facebook.
The public documents dated Aug. 16, which have now been taken offline, offered 1.25 million yuan ($176,461) for services that would increase the outlet's Twitter followers by 580,000, and 1.2 million yuan ($169,403) to boost its Facebook following by 670,000.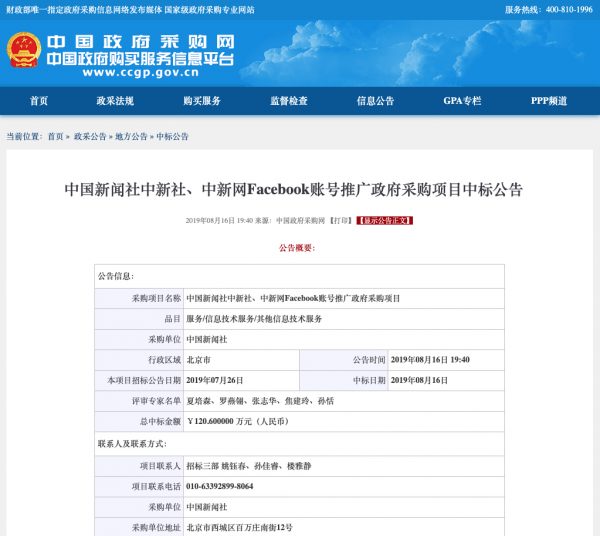 ECNS.cn, the English portal of China News Service, has about 592,900 followers on Twitter and 1.2 million followers on Facebook.
In June 2015, China's state broadcaster China Central Television (CCTV) also sought to procure services to expand its Facebook influence.
The Central Cyberspace Affairs Commission, China's top internet regulator, put out similar tenders in May 2018 and on Aug. 19, to carry out "online promotion of crucial topics." The tender documents did not provide further detail about what this would entail. The amount of the two bids totaled nearly 1.07 million yuan ($149,331).
Cook said that by boosting their social media following, the outlets would be able to appear more convincing as established authoritative news voices.
"When … you see tens of millions of people following, then you feel like this is pretty credible," she said.
Cook said that it isn't mere coincidence for Chinese state media to choose social media such as Facebook and Twitter as an avenue to reach people globally, given how powerful and personalized the platforms are.
"It's a new frontier," Cook said. "It gives them an avenue for accessing the grassroots in society and public in other countries."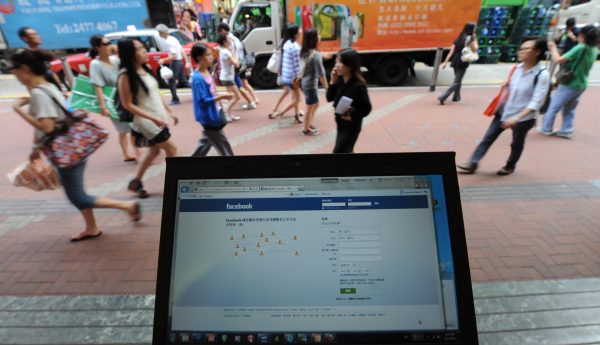 Influencing Perceptions of Protests
During recent Hong Kong protests, outlets such as CGTN, the English-language branch of CCTV, have been consistently posting information that attempts to undermine the movement.
One Aug. 28 CGTN video with English and Chinese subtitles portrayed protesters as terrorists who disrupted Hong Kong's peace and prosperity, with no mention of complaints of excessive use of force by police that have triggered concerns in the international community.
Similar stories and images have flooded internet platforms lately, both inside and outside of China, prompting Twitter, Facebook, and YouTube to suspend thousands of Chinese accounts that they found "manipulative."
"It's [the Chinese government] really actively trying to sow disinformation and twist opinions by fabricated stories," Cook said.
"They build a following, then when something comes up like this that really matters to them, they use these established channels of disseminating information to reach all of these audiences."
It remains unclear how effective China's social media campaign has been—a majority of the posts have seen very little engagement. However, the campaign's active and visible presence can still leave a footprint, Cook said.
A 2016 study by a researcher from George Washington University found that over a six-year span of increased exposure to Chinese state media, the public sentiment in Africa toward the Chinese government became more positive and more aligned with the official narrative.
"Seeing their feed on a day to day basis … subconsciously you'd think in your mind: China, the land of Pandas and bullet trains, and definitely not the torture and torture and killing and detention centers," Cook said.