The female honor guard contingent that will goosestep past the giant portrait of Chairman Mao in Beijing's Tiananmen Square during China's grand parade to mark the 70th anniversary of the Second World War are all tall, young, stunningly pretty, and have uniform bust sizes.
But not all of them are real soldiers. And there's a good chance their ample bosoms aren't genuine, either.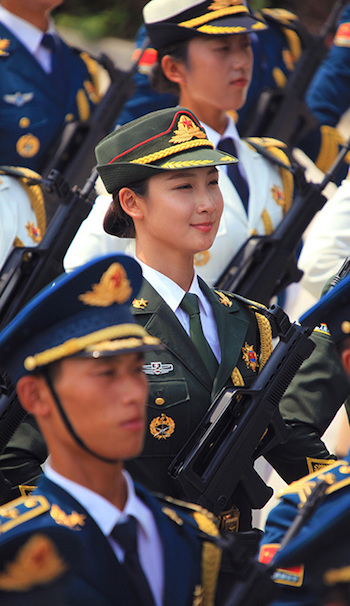 Take Men Jiahui, a 23-year-old model from the city of Dalian in northeastern China who signed up for the honor guard because she "respects" them, according to a report by Chinese Internet web portal Sina on Aug. 25. The article, which ran with the headline "Daily life pictures of model in female honor guard exposed," was later deleted from the web.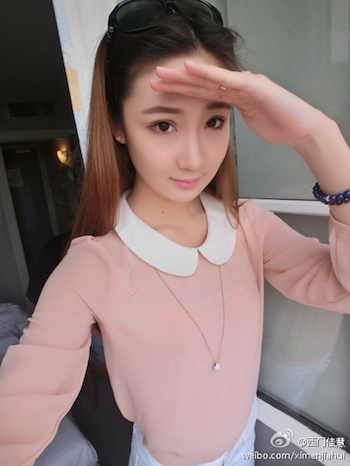 On her personal Sina Weibo account, Men, a graduate from Beijing Institute of Fashion Technology, said she finished 11th in a modeling contest by state-run broadcaster China Central Television, and posted pictures of herself modeling with cars. Sina Weibo is China's equivalent of Twitter.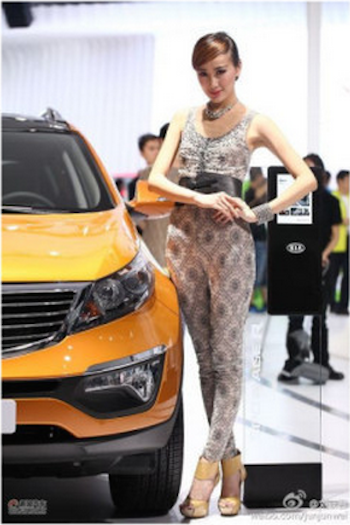 According to Hong Kong newspaper South China Morning Post, several members of the female honor guard were "former models."
The 51-member strong female honor guard contingent are an average age of 20, all roughly 178 cm (5 foot 8 inches) in height, and nearly nine out of ten of them have college degrees, reports the state-run Xinhua News Agency.
They have recently drawn the ire of the Chinese public, especially after the People's Liberation Army released several photos of the contingent carrying out parade rehearsal preparations—applying makeup and having the peaks of their caps perfectly lined up with a ruler.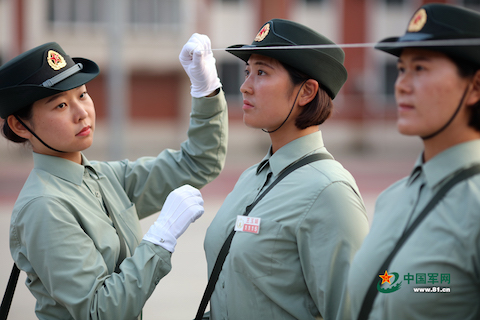 "Is this a military parade or a beauty contest," wrote a Chinese netizen.
Another asked: "Is it proper for the military to trade on female sex appeal?"
"Their breasts are all the same size and pointing in the same direction; how much sponge did they use?" wrote a netizen in reference to a People's Liberation Army photo of white uniformed female chests lined up into the distance.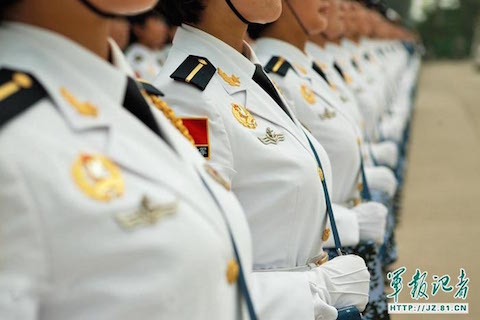 Set for Sept. 3, China's World War II Victory Day parade will feature over 10,000 Chinese troops, and military hardware like fighter jets, tanks, and ballistic missiles.
Heads of state from 30 countries, including Russia, Pakistan, and South Korea, will be at the parade, while 19 other countries will send representatives. Leaders from the United States and its Western allies will not attend, but former British prime minister Tony Blair and former German chancellor Gerhard Schröder—both of whom have engaged in profitable consulting and speaking activities related to China after their days in office—are expected to make an appearance.
Analysts have slammed the Chinese regime for its grandiose celebration of China's victory in World War II because the Chinese Communist Party played a bit role in defeating Japan.
Troops from Kuomintang (KMT), or Nationalist Party under former Chinese leader Chiang Kai-shek did most of the fighting against the Japanese. By the end of the war, the nationalists had sustained heavy losses, particularly in the officer corps, and were quickly defeated by the communists in a civil war.
In contrast, the Communist Party spent the war adding recruits and gathering Japanese weapons while only sending token forces to big battles and smaller skirmishes. Then-Party leader Mao Zedong's reluctance to fight the Japanese is legendary. When top general Peng Dehuai committed most of the Party's regiments to battle in 1940, Mao chastised him for making the move without consulting him first, and later listed the offensive as one of Peng's "crimes" during the Cultural Revolution purges.