BEIJING—Washington neared a deal to lift its ban on U.S. firms supplying Chinese telecoms firm ZTE, sources said on May 22.
Meanwhile, Beijing announced tariff cuts on car imports, further easing trade tensions between the world's two largest economies.
The reprieve for ZTE, which was hit by a seven-year U.S. ban in April that had crippled its operations, could include China removing tariffs on imported U.S. agricultural products, as well as buying more American farm goods, two people briefed on the matter told Reuters.
The sources declined to be identified because the negotiations are confidential.
Representatives for the U.S. Treasury and Commerce departments did not immediately reply to a request for comment. White House representatives also did not immediately reply.
ZTE, based in the southern Chinese city of Shenzhen, did not immediately reply to requests for comment.
Washington and Beijing stepped back from the brink of a full-blown trade war after talks last week, with the two countries releasing a joint statement promising that China would import more U.S. energy and agricultural commodities. Meanwhile, negotiators are discussing opening China's market to more U.S. access and having the regime make commitments to intellectual property protections, according to a senior U.S. official involved in the talks.
Amid U.S.-China negotiations, last week President Donald Trump made concessions by promising to help ZTE "get back into business, fast."
Meanwhile, the steep cut in import tariffs for autos and car parts follows China's pledge last month to open its car market, the world's largest, which also included a timeline to remove long-standing caps on foreign ownership of automotive ventures.
Import tariffs will be cut to 15 percent for most vehicles, from 25 percent, beginning July 1, China's Ministry of Finance said, a move likely to boost carmakers that ship high-end cars to China, such as Tesla and German giants BMW and Daimler AG's Mercedes-Benz. Tariffs for auto parts would be cut to 6 percent from about 10 percent.
'Handshake Deal'
White House advisers have previously said the ban against ZTE was being reexamined, and the firm would still face "harsh" punishment, including enforced changes of management and at the board level.
One source told Reuters there was a "handshake deal" on ZTE between U.S. Treasury Secretary Steven Mnuchin and Chinese Vice Premier Liu He during talks in Washington last week, which would drop the ban in exchange for China purchasing more U.S. farm products.
A second source said China might also eliminate tariffs on U.S. agriculture products it assessed in response to U.S. steel duties, and that ZTE could still be forced to replace its leadership, among other penalties.
The ZTE deal, while not yet cemented, was likely to be finalized before or during a planned trip by U.S. Commerce Secretary Wilbur Ross to Beijing next week to help reach a broader pact to avert a trade war, both sources said.
ZTE, which is publicly traded but whose largest shareholder is a Chinese state-owned enterprise, had been hit with penalties for breaking a 2017 agreement after it was caught illegally shipping U.S. goods to Iran and North Korea, in an investigation dating to the previous U.S. administration.
A 2016 report released by a Chinese regime-affiliated think tank found that ZTE purchased 53 percent of chips they used in making their products from American firms, worth $3.1 billion.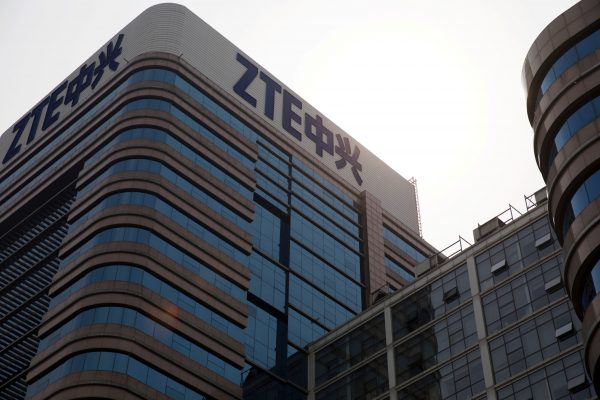 Chinese officials had made ZTE a key focus of their demands during talks in Beijing this month, threatening to halt talks on broader two-way trade disputes unless Washington agreed to ease the sanctions, sources said at the time.
Chinese officials had viewed the U.S. punishment as an attack exposing their country's dependence on imports of key technologies.
Washington and Beijing both claimed victory in trade talks on May 21 as the world's two largest economies agreed to hold further talks to boost U.S. exports to China.
China promised to narrow the $335 billion annual trade surplus it possesses with the United States, but did not specify to what amount, while details and a firm timeline were thin.
The Chinese regime's top diplomat, State Councillor Wang Yi, will stop in Washington on May 23 on his way back from Argentina to "exchange views on China-U.S. bilateral relations," China's Foreign Ministry said on May 22.
By Michael Martina. Epoch Times staff member Annie Wu contributed to this report.