A stream of calls from Beijing to eliminate "black sheep" within China's sole governing political party cast light on its ongoing power struggle, experts say.
In the past week, China's top public security agency repeatedly declared to root out the remaining forces of several former high-ranking Chinese Communist Party (CCP) members; even though the so-called "big tigers" were jailed in past years amid a wide-reaching corruption crackdown under the command of Party leader Xi Jinping.
"Comprehensive self-examination and self-correction" should be in place to "resolutely remove the black sheep," a Chinese official said. Listed names included then-top politicians from Xi's rival faction that was led by former leader Jiang Zemin.
Zhou Yongkang, at the top of the list, is China's former security chief. Zhou was sentenced to life in prison for taking bribes in 2015, while also being charged with abuse of power and leaking state secrets. Zhou is also a known loyalist of Jiang.
Although observers said the anti-corruption campaign aimed to wipe out Xi's political opponents or potential rivals that threaten his power, the latest claims indicated a less unified image of the CCP, experts said.
China affairs commentator Wang Youqun said Xi's push within the power struggle spotlighted his "strong sense of insecurity."
While still in charge, Zhou controlled police forces, spy agencies, judicial systems, and prosecution institutions across the country. After Xi became Party leader in 2012, Zhou was put under investigation and taken down in 2014.
U.S.-based China affairs commentator Li Linyi told The Epoch Times on Sept. 6 that the remnants of Zhou's power have not been fully expelled in the past seven years since his downfall.
The "level by level" purge takes effort, he said. "Not only those who are promoted [by Jiang], but also their subordinates need to be excluded."
Meanwhile, according to Li, documents issued by Zhou, as well as his previous photos taken with others, must also be purged, as internal regulations specify.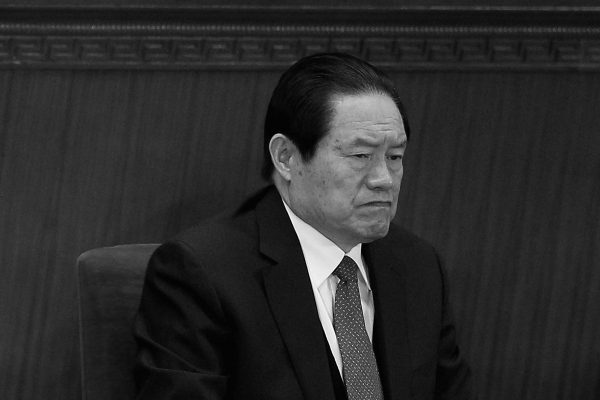 Yet there is no sign of the ongoing power struggle drawing to an end.
From February to July in 2021, China's Political and Legal Affairs Commission caught and punished nearly 180,000 judicial and law enforcement officers, the organ reported in late August. A second campaign launched in mid-August, also known as "education rectification," will last for another three months.
Minister of Public Security Zhao Kezhi said the move was to further eliminate hidden threats among the Party, including cronies of fallen top officials such as Zhou, and any two-faced politicians.
Li said that the provincial public security department chiefs and political and legal committee secretaries are "sitting on the fence," many of whom were promoted by Jiang's faction when they were in power.
On Sept. 1, Xi asked young communist regime cadres to be "brave to fight" the enemies and be loyal to the communist leadership at the Central Party School in Beijing. A day later, China's top anti-corruption organ said on its official website that "interest groups" seek to seize state power.
Analysts suggest that it's likely that more big tigers will be removed from China's political and legal system to consolidate Xi's power.