China to Hint at Full HK Democracy by 2017
December 7, 2005 12:00 am Last Updated: December 7, 2005 12:00 am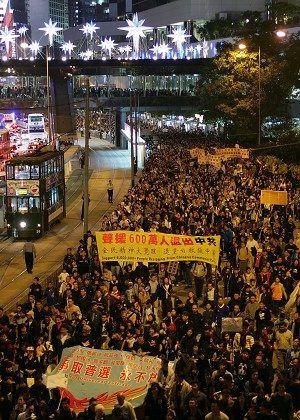 HONG KONG – Beijing is likely to hint at the possibility of giving full democracy to Hong Kong by 2017 to win over pro-democracy lawmakers opposed to the city government's election reform proposals, a newspaper reported on Wednesday.
Citing an unidentified source close to Beijing, the South China Morning Post said the hint would be delivered by a Chinese state leader in a vaguely worded statement.
"The central government may hint in vague and indirect wording that there could be a possibility of reaching full democracy by 2017," the newspaper quoted the source as saying.
The report that Beijing was planning the rare overture comes after tens of thousands marched in Hong Kong on Sunday demanding a timetable for direct elections.
Pro-democracy lawmaker Ronny Tong said a Chinese contact had suggested to him that China might make a vague statement that it respected the views of the Hong Kong people and would implement universal suffrage once there was consensus on the issue.
Tong, of the Article 45 Concern Group, said he had told the contact that would be insufficient, and the contact had come back a few days later to ask if 2017 would be an acceptable date for full democracy.
"I said that would not be acceptable," he told Reuters. "The date is too far ahead."
Despite widespread calls for full democracy, Beijing has been unwilling to let the territory decide for itself when this should come. The territory's next chief executive selection is in 2007 and the Legislative Council is picked the following year. Each has a term of five years.
Analysts say the Communist Party fears losing control over the city and worries that growing demands for more voting rights could spread to the rest of China, threatening its grip on power.
Democratic Party chairman Lee Wing-tat said the message was perhaps a trial balloon and that his party was against 2017.
"The latest year for universal suffrage is 2012 for us," he said.
The newspaper did not specify who would make the statement or when, and the source gave no exact date for the possible introduction of universal suffrage in the city, which Britain handed back to China in 1997.
Hong Kong's Beijing-anointed leader, Donald Tsang, has refused to budge on his election reform proposals, which critics say are inadequate. Tsang set no timetable for universal suffrage, which is allowed for in Hong Kong's post-colonial constitution.
Hong Kong's chief executive is approved by China's leaders and picked by a Beijing-backed committee of 800 electors. Only half the members of its 60-seat legislature are directly elected.
The Hong Kong government's reform plan would double the size of the chief executive selection committee and add 10 seats to the Legislative Council, five of which would be directly elected.
Tsang is pushing for a vote in the Legislative Council on Dec. 21 and went on prime-time TV last week to appeal for support, but pro-democracy lawmakers have vowed to veto the package unless it sets an acceptable timetable for transition to full democracy.