While the Chinese communist regime's zero-COVID policy has accelerated the recession of China's economy, the hardships caused by the strict COVID-19 pandemic control measures has driven wealthy Chinese citizens' interest in emigrating to the United States, Canada, and Europe.
In response, the Chinese Communist Party (CCP) recently put out new regulations to tighten its control over investment emigration through notarization. Experts believe this move is intended to make it more difficult for wealthy Chinese citizens to move to foreign countries through investment immigration, preventing capital from leaving China.
Recently, a notice jointly issued by the Ministry of Justice and the notarial association of the CCP was circulated on social media, outlining new regulations for notary associations across China to handle the certification documents needed for individual citizens' foreign investments.
The notice requires the notary public to more strictly inspect applicants' foreign bank accounts, stock holdings, and property transactions, as well as the identity of the applicants and the purpose and nature of their businesses. It also requires applicants to provide approval documents from China's foreign exchange administration and documents of their overseas work experience, emphasizing that they can't be notarized by alternative methods.
The notice also requires that all local notary services report the implementation of the new regulations to the Ministry of Justice and the notary association by May 7. The notice was issued on April 24.
On May 3, a notary at the Guoxin Notary Office in southwest China confirmed to The Epoch Times that he had recently seen a document regulating the handling of individual Chinese overseas investments.
"This [overseas investment] cannot be done now because of the document issued," he said. "We can't do it. But it is still all right to notarize for going abroad to work or study."
The document has sparked heated discussions on Chinese social media.
Sun Limei, an immigration agent in Beijing, posted on her social media account last week, "This notice means it is more difficult to obtain a notarized certificate and complete the emigration process."
A netizen posted on Twitter, "This means that the business of Chinese people to emigrate to other countries through investments is completely terminated."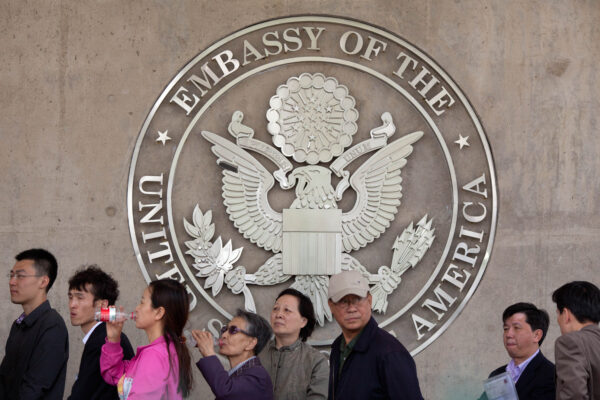 Wang Yingguo, a Shenzhen entrepreneur living in the United States, told The Epoch Times that in China, notaries and procedures are under government control.
"This kind of document is not announced to the public, it is only issued internally from top down to guide the internal operations," Wang said. "It involves the issue of investments in foreign countries. (Currently), the related notarization is stopped. … It means China is tightening its control of foreign exchange and the outflow of funds."
Since March, following Shanghai being locked down under the regime's "zero-COVID" policy, web searches in China for "investment immigration" and "immigration" on Baidu and Google have increased significantly.
An agent of a global immigration agency in Guangzhou, China, told The Epoch Times that the current overall situation is stricter than before and that the threshold for emigration policies has been set higher. In particular, investment emigrants will have to meet higher requirements in all aspects, including reporting to the government about their funds, which makes it more difficult to get funds out of China.
Frank Xie, a professor at the University of South Carolina's Aiken School of Business, told The Epoch Times, "Now the Chinese regime is not only restricting emigration through investment, but also tightening control over Chinese citizens going abroad for travel. It's basically cutting off both investment emigration and Chinese citizens' foreign travel.
"It [the Chinese regime] is now trying to cut off all possible channels for capital to flee to foreign countries, and all channels that may consume its foreign exchange."
He said the regime will try to keep enough foreign exchange to import food, energy, medicines, and medical products as the Chinese economy continues to deteriorate.

Yi Ru contributed to the report.