China Tests Vatican With Bishop Move
April 29, 2006 12:00 am Last Updated: April 29, 2006 12:00 am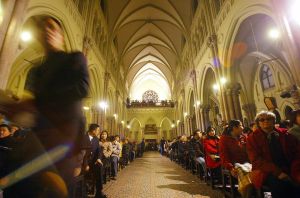 BEIJING – China's state-run Catholic Church plans to install a new bishop whose promotion is reportedly opposed by the Vatican, throwing up another obstacle to efforts to normalise ties between Beijing and the Holy See.
The vice chairman of the Chinese Catholic Patriotic Association, Liu Bainian, told Reuters on Saturday the government-sponsored church would make Father Ma Yinglin bishop of Kunming, capital of the southwestern province of Yunnan. Liu said Ma would probably be installed within days, possibly Sunday.
Ma, 40, is secretary of the government-backed Council of Bishops and holds posts in the Patriotic Association, according to the AsiaNews service, a Rome-based Catholic news service that reported Ma's promotion.
Both Chinese organisations follow Beijing's line that the Vatican should not control Chinese church affairs, including appointment of bishops, and must cut diplomatic ties with Taiwan — the self-ruled island China says is a breakaway province.
Liu said Ma had been unanimously elected bishop by priests, nuns and parish representatives in Kunming.
"I hope the Vatican won't oppose his appointment and will accept it. They should respect the choices of the Chinese church and not interfere," he said.
But Father Bernardo Cervellera, director of AsiaNews, said in his report that the Holy See opposed Ma's elevation.
China's 10 million or more Catholics are divided between an "underground" church loyal to the Holy See alone, and a state-approved church that rejects effective papal control.
Yet even in the state-backed church, many priests and parishioners now expect their bishops to gain Vatican approval, and it has become customary for the Vatican to suggest appropriate candidates, according to Cervellera.
Cervellera said in his report that the "Vatican let it be known for some time that it does not support the candidacy of Father Ma", because of Ma's close involvement with the government and his lack of pastoral experience.
"The Vatican has even asked that the ordination be delayed to leave time for calm discussion and to reach an accord on another person," he reported.
Liu, a layman who often speaks for the state-backed church, said he had not been in contact with the Vatican over Ma. The Vatican should not expect to play a role in appointing China's bishops, he said.
"That may have happened in isolated cases," he said. "But there are no diplomatic relations between China and Vatican, so how could we discuss these issues with them?" he said. Ma could not be contacted for comment.