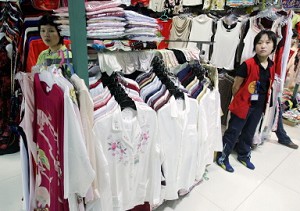 BEIJING – China has hardened its line in talks with the United States over its surging textile exports, dimming hopes of a deal by the time presidents Hu Jintao and George W. Bush meet in Washington in a week's time.
A U.S. industry source familiar with the matter said Chinese officials had stood their ground on the first day of talks on Tuesday, and American negotiators could return home on Thursday if no concessions were made.
"They had a very bad day, very bad. The Chinese were hardlined on all their positions. The U.S. expects if there's not a whole lot of progress today to go home tomorrow and break off the talks," the source, who declined to be identified further, said.
This week's round of talks is the fourth. Negotiations were triggered under World Trade Organisation rules after Washington in May imposed emergency curbs to restrain a burst of Chinese exports after the abolition of global textile quotas on Jan. 1.
China's textile exports to the United States surged 97 percent to $7.4 billion in the first six months, setting alarm bells ringing in textile-producing states and heightening wider fears about China's growing economic clout. The United States had a $162 billion trade deficit with China last year.
The Bush administration is scheduled to decide on Wednesday on industry requests for emergency restrictions on six more categories of Chinese clothing and textiles, including bras, sweaters, dressing gowns and knit fabric.
China's official media had struck an optimistic note ahead of the talks.
But the U.S. industry source said the two sides were far apart on the length of a deal, the categories it would cover, how much Chinese exports would be allowed to grow each year and the right of the United States to impose new quotas in the future.
"The Chinese delegation did not appear to be in any hurry to resolve any of those issues," the source said.
Lack of Understanding
A spokeswoman for China's Ministry of Commerce had no immediate comment, but a columnist in the People's Daily, the mouthpiece of the ruling Communist Party, hit out at the United States and the European Union for what he called their strong embrace of protectionism.
The columnist, Jiang Jianguo, noted the United States' growing dependence on China, which he said helped create U.S. jobs and finance its welfare system by buying U.S. government bonds.
At the same time, U.S. political objections had torpedoed Chinese oil company CNOOC Ltd's $18.5 billion bid for Californian producer Unocal Corp, showing congressmen "lack an understanding of basic facts and economic principles", Jiang wrote.
The China Daily, another state-run paper, weighed in with advice for the United States not to delay restructuring its industry if it wanted to prosper in the new world economy.
"The U.S. government's decision to yield to domestic protectionists has time and again egged them on to demand more and more," the paper said in an editorial.
It said the problems thrown up by a June 10 deal on textile export ceilings with the European Union showed that the gains trade barriers give to domestic producers are offset by losses for consumers and other businesses.
China agreed with the EU to cap growth in 10 lines of textile exports at 8 to 12.5 percent a year. But the new quotas were quickly filled, leaving a pile-up of more than 80 million made-in-China bras, blouses and sweaters at EU customs posts.
European Trade Commissioner Peter Mandelson is due to present a plan in Brussels on Wednesday to release the mountains of Chinese garments but faces opposition from France, Italy, Spain and Portugal, which are still significant textile producers.
"This trade fiasco demonstrates that protectionist measures, at best, are zero-sum games for those who resort to them," the China Daily said.
Despite the lack of progress on Tuesday, the U.S. industry source said it was too early to write off the talks.
"Maybe China will move and the dam will break," he said.
Additional reporting by Selina Shao