China Strengthens Tibetan Religious Repression
January 1, 2008 12:00 am Last Updated: January 1, 2008 12:00 am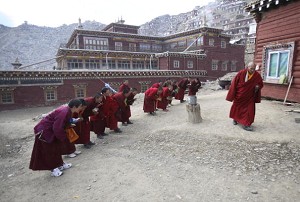 Sources revealed on December 24 that the Ganzi Tibetan Autonomous Prefecture in China's southwest Sichuan province continues to strengthen its control over the local temples.
Officials have ordered Tibetans under the age of 18 not to serve as lamas. As a result, many young lamas have been expelled from the temples. Meanwhile, the government is investigating lamas associated with India. The National Security Agency is also interrogating foreign lamas who are learning Tibetan Buddism in Ganzi.
Dawa Tsering, a lama in Baiyu County of Ganzi said, "The government [has] recently ordered the expulsion of about 13 lamas under age of 18 from our temple. It has been a Tibetan tradition for the education to take place in the temple. Now the government requires that one has to be older than 18 years of age to be educated in the temple, and the young lamas have all been sent back home. We have no idea when the government will dismiss such [a] policy."
It has been learned that the Baiyu County government has recently forced local eminent figures such as the Tulku and Je Khenpo (titles of high-ranking Tibetan monks) to disseminate through radio an anti-Dalai Lama statement prepared by the local government entitled, "Accuse the Dalai Lama of Separatist Activities."
Dawa Tsering said, "The County official has visited our temple several times this year. Each time, we were asked to sign an anti-Dalai Lama's 'separatist activities' campaign statement. We have been reluctant, but there's nothing else we can do. The County government prepared the speech and made the Tulku read it on the radio."
He continues, "This speech propagandizes devotion to the government, devotion to the officially recognized religion, accuses the Dalai Lama of splitting China, states that the Dalai Lama is no good, and that all lamas must make a clean break with the Dalai Lama. This is an act of alienation."
In addition to the expulsion of the young lamas, and the forcing of the local Khenpo to instill the ideology of "The Dalai Lama is a separatist," the Ganze local government has also intensified the monitoring of foreign lamas.
A lama from Taiwan said, "Recently, local governments have prosecuted lamas with an association with India. This year, four lamas from our monastery walked to Nepal. It is said that some recent incident in Tong has caused tighter control by the government."
This lama said, "Half a month ago, the local police and a national security agent from Ganzi visited me. The national security agent is a Tibetan. He asked where I come from and what I do inside the temple. They have asked our Khenpo earlier about me. I told them everything."
He continues, "Later, they asked me to show them my identification and requested a photocopy of my Taiwan ID card. I told them the ID will only be valid in Taiwan; it is useless to copy it. Finally, they did not make a copy of my ID, but joked that they have confiscated my ID. Even though they returned my ID, the atmosphere was not right. I did not expect the Chinese Communists to further strengthen the control of religion right before the Olympics."
This lama from Taiwan hopes the Chinese Government relieves the restrictions on speech and religion, "I had thought that Taiwan has been the tumultuous place. I am going to tell my friends in Taiwan, once I return, that Taiwan is a paradise where you see unsatisfied people criticize the government and criticize the president, Chen Shui-bian."
He said, "The mainland is said to be open, but they even control us who come from Taiwan to study Tibetan Buddhism. Didn't the Communist Party say Taiwan is a province of China? This will not do. Leniency and tolerance are the best way to live together. The Communist Party should now relieve the restrictions on speech and religion to benefit a long-term governing of the country."