When news emerged that U.S. President Donald Trump was threatening to impose a 10 percent tariff on an additional $200 billion worth of Chinese goods, it sent the Chinese stock market plunging.
Shanghai stocks fell by almost 4 percent, to a two-year low, on June 19.
Hong Kong stocks were also hit hard. The Hang Seng index tumbled nearly 3 percent to its lowest closing level in six months.
After Trump first announced on June 15 that he would proceed with tariffs on $50 billion worth of Chinese goods, China retaliated with its own tariffs on U.S. goods. Trump had vowed he would impose additional tariffs should that happen, and acted quickly on his word by proposing the additional $200 billion punishment on June 18.
White House trade adviser Peter Navarro told reporters during a June 19 briefing that Trump was resolved to implement the $200 billion should Beijing go ahead with its retaliatory tariffs.
"If they thought that they [China] could buy us off cheap with a few extra products sold and allow them to continue to steal our intellectual property and crown jewels, that was a miscalculation," Navarro said, reiterating Trump's stance that China's intellectual property theft practices are hurting the American economy.
Nervous Investors in China
The specter of a new round of trade disputes made Chinese investors nervous. They dumped stocks across the board, with more than 1,000 stocks dropping by their 10 percent daily limit on June 19.
The Chinese yuan also fell in value, to 6.4754 against the U.S. dollar in afternoon trade, the weakest since January.
In a further sign of trade-related jitters, China's central bank unexpectedly injected 200 billion yuan ($31 billion) in medium-term funds into the banking system on June 19. Analysts said the move suggests the Chinese regime is worried about liquidity and the potential economic ramifications of a full-out trade war.
Yi Gang, governor of the People's Bank of China, urged investors to stay calm. "We will use a combination of monetary policy tools to maintain liquidity at an appropriate and stable level," he said.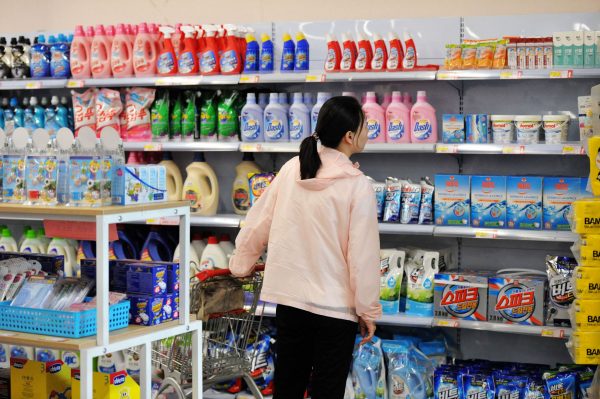 Also on June 19, the central bank issued a working paper recommending that banks cut their reserve requirement ratios—the percentage of deposits that banks must have on hand as cash—another sign of anxiety over investor decisions.
As China already faces a sharp downturn in investment growth, a mounting debt burden, and rising credit defaults, a disruptive trade conflict with the United States could make "a bad situation tentatively worse," Japanese financial services firm Nomura said in a note on June 19.
The International Monetary Fund's (IMF) latest assessment of China's financial stability found that the country's total debt—including central and local government, corporate, and household—amounted to 2.55 times its GDP (Gross Domestic Product).
"As an investor, I am not optimistic with my investments," Gu Xiaoliang, a 31-year-old personal investor in Shanghai, told Reuters in an interview. "Right now, I don't have clear judgment so I'm just going to wait and see."
Official Response
China was quick to respond. The country's commerce ministry pledged that should Trump go ahead with the $200 billion tariffs, Beijing would fight back with "qualitative" and "quantitative" measures.
Its state-run newspaper, Global Times, also published a strongly-worded editorial on June 19 lambasting Trump. It predicted that if China were to go tit-for-tat on the $200 billion tariffs, the United States could impose another set of tariffs on $200 billion more of Chinese goods. On June 19, the White House said it plans to carry out this scenario should China retaliate further.
"Trump is evidently trying to scare China," it said, perhaps aware that China would have more to lose in a drawn-out trade dispute. The United States is China's biggest customer. In 2017, it purchased $505.47 billion of Chinese products, according to U.S. data.
The newspaper further claimed that Beijing's decision to impose tariffs on American goods was because the United States violated World Trade Organization (WTO) regulations by first slapping tariffs on Chinese imports.
The United States and the European Union have filed complaints to the WTO, alleging discriminatory policies in China that put foreign firms at a disadvantage. In particular, both stressed that American firms were being forced to transfer proprietary technology to their Chinese joint-venture partners.
Reuters contributed to this report.