Amidst Olympics Games China's Stock Market Falls
August 17, 2008 12:22 am Last Updated: October 1, 2015 10:54 pm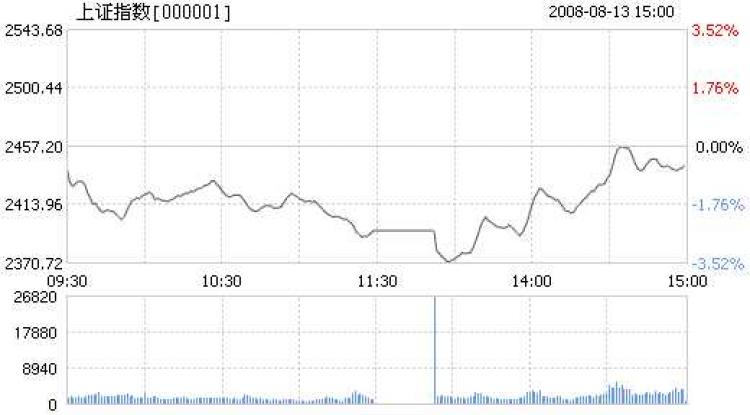 On Aug 13, 2008, the Chinese stock market took a turn for the worse. It was already not looking very good when the Shanghai and Shenzhen markets opened at incredible lows, but around 11 a.m. they began to plummet. Overall benchmark Composite Indexes ended up in poor shape. Shanghai fell to about 2,400 points and Shenzhen to just below 8,000 points.
Shanghai opened at 2,440.52 points. At one point, it was as high as 2,458.77 and then dropped down to 2,370.74 points. Finally, it closed at 2,446.9 points. There was a total 12.78 (0.52 percent) drop. Although that may not sound like a lot, the volume of money in question was 36.4 billion yuan (US $5.3 billion).
At the same time, the Shenzhen market opened at 8,150 points. It reached its summit at 8,334.16 points and then slid down to 7,986.74 points. Shenzhen then closed at 8,249.649 points. There was a 56.84 point (0.69 percent) gain. This increase amounted to about 27.4 billion yuan ($ 4billion).
Since the opening day of the Olympic Games, Aug 8, 2008, Shanghai's benchmark Composite Index has been steadily declining. It fell below 2,500 points on Aug 11 and as of this report, it fell to just below 2,400 points.
The following illustrates how Shanghai's benchmark Composite Index has been dropping throughout 2008: On January 21, it fell to 5,000 points, dropping down even further to 4,500 on January 28. On March 13, 4,000 points was where it fell to, falling even further to 3,500 on March 27. By April 22 it was below 3,000 points, 2,900 on June 13, 2,800 on June 17, 2,700 on July 1, 2,600 on July 3, 2,500 on August 11, and finally collapsing to a mere 2,400 as of August 13.