China announced it would reduce tariffs on textile products and metals, including steel, as it runs low on ammunition in its tariff war with the United States.
Tariffs on textile and metals will be lowered to 8.4 percent from 11.5 percent, starting Nov. 1, China's Finance Ministry stated on Sept. 30.
The announcement came six days after Trump imposed a 10 percent tariff on $200 billion of Chinese goods on top of tariffs already imposed on $50 billion of goods that were implemented in August. China responded by imposing tariffs on $110 billion of American goods. However, China only imported about $130 billion of American goods last year, which reduces the room for any further tariff threats.
The United States, on the other hand, imported more than $505 billion worth of goods from China in 2017.
"There's a lot more room for us to escalate this," said U.S. author and columnist Gordon Chang, a specialist on the Chinese economy, in an earlier interview with China Uncensored.
Trump resorted to tariffs in response to China's unfair trade practices, including theft, the forced transfer of intellectual property, dumping, and other violations of World Trade Organization rules.
"We are not in a trade war with China, that war was lost many years ago by the foolish, or incompetent, people who represented the U.S.," Trump said in an April 4 tweet. "Now we have a Trade Deficit of $500 Billion a year, with Intellectual Property Theft of another $300 Billion. We cannot let this continue!"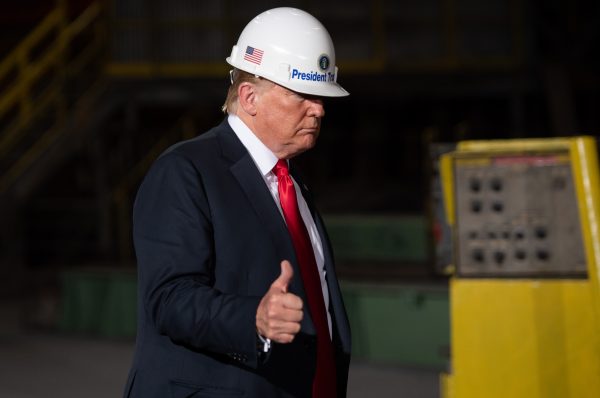 Trump has repeatedly said he doesn't want a trade war, but indicated that he needs to apply pressure to achieve a level playing field for American businesses. The president has been rolling out a fundamental overhaul of U.S. trade policies, seeking more balanced relationships with many major foreign trading partners.
China's tariff reductions represent cracks in the initially tough stance the communist regime had taken in its rhetoric against Trump's pressure. The regime had already reduced import tariffs in July on some consumer items including apparel, cosmetics, home appliances, and fitness products.
Also slashed were import tariffs on wood and paper products, minerals, and gemstones—to 5.4 percent from 6.6 percent, the ministry said in a statement.
Average import tariffs on over 1,500 products will fall to 7.8 percent from 10.5 percent, the ministry said.
"Reducing tariffs is conducive to promoting the balanced development of foreign trade and promoting a higher level of opening up to the outside world," the ministry stated.
China's cabinet has announced plans to cut tariffs on machinery, electrical equipment, and textile products beginning on Nov. 1.
As a result, the overall tariff level will be reduced to 7.5 percent in 2018, from 9.8 percent in 2017, the cabinet has said.
Influence Campaign
Chinese export hubs have been hit hard by Trump's tariffs. The Chinese regime has ramped up its efforts on everything short of open armed conflict to fight the tariffs, according to cybersecurity expert Casey Fleming, who is chief executive of Black Ops Partners.
Meanwhile, Trump has accused China of election meddling for targeting voters in Iowa with propaganda ahead of the Nov. 6 midterm elections.
"They do not want me, or us, to win because I am the first president ever to challenge China on trade," Trump said during his address at the U.N. Security Council meeting Sept. 26. "And we are winning on trade. We are winning at every level. We don't want them to meddle or interfere in our upcoming election."
Iowa's top newspaper recently published a four-page editorial insert by China Daily. The insert was filled with critiques of Trump's tariffs, an apparent attempt to influence a state that exports large amounts of soy and pork to China. The insert didn't mention that China Daily is run by the Chinese regime.
The newspaper's executive editor, Carol Hunter, said the insert met the Register's standard criteria for advertising.
China has been placing similar inserts in other newspapers such as The New York Times, The Washington Post, and The Wall Street Journal. China Daily spends millions a year (pdf) pushing Beijing propaganda in the United States.
China tried to punish American farmers with a 25 percent import tariff on soy, which is a threat to Iowa, the second-largest soy producer in the United States.
But, despite the tariff, China will likely be forced to buy American soy because its own harvest was hit by an early frost and Argentine production fell by 40 percent since last year due to a drought.
In 2017, China consumed more than 110 million tons of soybeans, of which it imported 95.53 million tons, or 87 percent of its total consumption.
Epoch Times staff members Annie Wu, Sunny Chao, and Charlotte Cuthbertson, and Reuters contributed to this report.