The U.S. State Department on Thursday said the United States welcomed China's commitment to arms control negotiations and that "prudent next steps" should include face-to-face meetings between U.S. and Chinese officials.
State Department spokeswoman Morgan Ortagus issued the statement a day after a top Chinese diplomat said China would "be happy to" hold arms control talks with the United States and Russia, but only if Washington was willing to cut its nuclear arsenal to China's level, which is about 20 times smaller.

"But actually, we know that's not going to happen," added Fu Cong, the head of the arms control department of the Chinese Foreign Ministry.
Still, Fu's comments appeared to represent a slight shift after months of Beijing rejecting outright a proposal by U.S. President Donald Trump that it joins Washington and Moscow in negotiating a trilateral arms control treaty.
"The United States welcomes China's commitment to engage in arms control negotiations," Ortagus said. "As such, prudent next steps will need to include face-to-face meetings between the United States and China."
"We will all bring different perspectives and objectives to the negotiating table and will surely have disagreements," Ortagus said. "But it is time for dialogue and diplomacy between the three biggest nuclear weapons powers on how to prevent a new arms race," she added.
She said Marshall Billingslea, Trump's special envoy for arms control, would invite China to join "good faith negotiations" in Vienna, Austria.
Billingslea held talks there with a senior Russian official last month on the proposed trilateral treaty.
The United States says as a growing nuclear weapons power, China should join it and Russia in a new treaty.
Russia and the United States together possess more than 90 percent of the world's total nuclear warheads in 2020, according to the Federation of American Scientists, which tallied 6,372 warheads for Russia and 5,800 for the United States. It counted China as having 320 nuclear warheads.
"The United States also recommends that China meet with Russia at an early date to consider next steps for trilateral arms control negotiations," Ortagus said.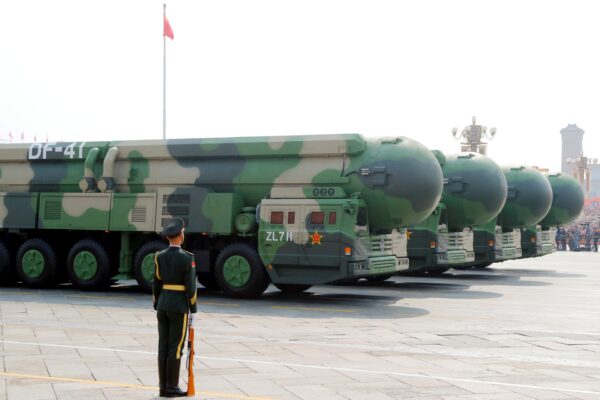 Why New Nuclear Arms Control Treaty Is Needed?
Major changes occurred in the international security environment since the New Start was negotiated and probably these changes could not have been foreseen a decade ago when the New Start treaty was negotiated, Billingslea said at the EU Defense Washington Forum, organized by the European Union and the Brookings Institution on Thursday.
Some of these changes were related to Russian activity in the international arena like the annexation of Crimea, Russian involvement in the conflict in Eastern Ukraine that occurred a few years after the New Start ratification, he said.
Among  "egregious Russian military intelligence operations around the globe" are the illegal occupation of territory in the Republic of Georgia, propping up the illegitimate dictator in Venezuela, deployment of mercenary proxies into Libya, Billingslea said.
A report issued by the Department of State a few weeks ago shows "that Russia stands in violation of nearly every agreement we have," Billingslea said.
It also lowered the threshold for the use of nuclear weapons, he added.
However China's activity is even more concerning and it certainly could not have been foreseen a decade ago, Billingslea said.
"While [China] wants the world to believe that it maintains only a handful of weapons we know this is not what it is doing," he said.
China is building its nuclear power in a secretive and non-transparent way and the world needs and "the world deserves to know what China is doing,"  Billingslea explained.  China is in the middle of realizing its program to at least double the size of its nuclear stockpile, he added.
Although "China appears less frequently in the annals of U.S. compliance reporting than does Russia. That infrequency, however, isn't exactly to Beijing's credit," said Assistant State Secretary Dr. Christopher Ford in June.  The reason is that the PRC "refuses to engage in good faith arms control negotiations," so there is very little to assess compliance with, Ford said.
Moreover, a 2020 State Department Report shows that China conducts nuclear testing and does not adhere to its "commitments not to assist others in developing nuclear-capable missiles," Ford said.
Russia and China have in fact an arms race and therefore a new arms control regime with Russia and China should be established to "to prevent an unprecedented three-way arms race, and to address the threats and challenges of today," Billingslea said.
The new agreement must be verifiable and cannot be only based on trust, as Russia has a record of frequent often non-compliance and China keeps its activities secretive, he added.
Reuters contributed to this report.