China's 149-Million Seniors Face Nursing Care Issues
October 9, 2008 11:54 pm Last Updated: October 1, 2015 10:45 pm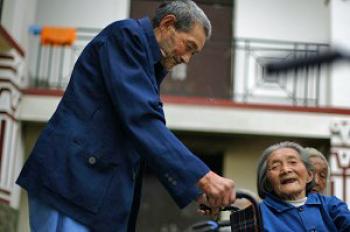 According to China's official media, the senior population over 60 years old has reached 149 million. Many rest homes in large cities have few available beds. Population control programs have significantly reduced the number of children able to support older family members.
China News Web reported that the senior population over 60 years old in China accounts for 21.4 percent of the world's senior population, ranking first in the world. At the beginning of the 1990s, 10 young people supported one elderly person in China. However, the ratio now is three-to-one. Because the Chinese Communist Party (CCP) has imposed the one-child policy for decades, both elderly parents rely on one child. So the resources for senior care are diminishing in every family.
Desire to Live in Rest Homes
A survey showed that 20 percent of the elderly wish to live in rest homes. However, the current number of beds in rest homes can only provide for less than one percent of the total senior population.
In early 2006, there were more than 39,500 organizations and 1,497,000 beds for the elderly in China, which included social welfare homes, homes for the elderly, nursing homes, elderly apartments, and elderly care homes, including more than 29,680 rest homes and 895,000 beds in rural townships.
Shanghai Leads the Nation
Shanghai is the first city in China to become an 'aging' city. It has nearly 3 million people over 60 years old, which is more than 20 percent of the city's total population. This is nearly twice the national average. Many elderly people wish to enter their favorite rest homes, but actually, it is not easy.
It is reported that although the beds provided by Shanghai's relevant organization had already been occupied long ago, there are still over 1,000 elderly people waiting for a room. Beijing has the same problem. It will require 20 years to solve the problem.
In addition, the aging population in Tianjin City has also been rapidly increasing in recent years. According to statistics, there are 1.56 million people over 60 years old in Tianjin, which accounts for 16.3 percent of city's population, much higher than the national average of 11.6 percent. Among these elderly, nearly 160,000 need to live in rest homes, but there are less than 20,000 beds in the whole city. The supply is far less than the demand.
Poverty Is a Major Deterrent
In China, the majority of elderly people live at home, especially in rural areas.
Since the seniors have relatively less financial capability, the high cost of rest homes is a major restraint for living in a care facility.