China Sends Carbon to Russia to Fight Chinese Toxic Spill
December 27, 2005 12:00 am Last Updated: December 27, 2005 12:00 am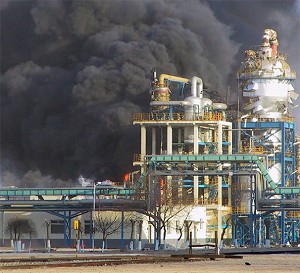 BEIJING – China has sent Russia a second batch of activated carbon to help mitigate the effects of a toxic spill in a river flowing towards the border dividing the two countries, Xinhua , the official CCP news agency, reported.
About 400 tonnes out of a total batch of 1,000 tonnes was delivered to Russia's far east city of Khabarovsk on Monday, Xinhua said in a late-night report seen on Tuesday.
China had already sent 150 tonnes of carbon, and the remainder will arrive soon, Xinhua said.
An explosion at a chemical plant in China's northeast last month poisoned drinking water for millions and sent a frozen, poisonous slick of benzene heading slowly towards Russia.
Khabarovsk, a city of 580,000, had readied alternative water supplies while waiting for the slick to wind its way northeast of Russia's Amur river, reports from Russia said last week.
Another toxic spill, of cadmium-contaminated water, sparked China's second major environmental scare of the winter, as CCP officials drain reservoirs and divert rivers in an effort to dilute the concentration of poison before the toxic plume reaches the heavily-populated south.
Additional reporting by James Fish
Please also read:
China's Cover Up of Chemical Accident Unveiled ,
Russia Nervously Awaits Arrival of Chinese Poison Spill ,
Jilin PetroChina Explosion Under Investigation, Vice-Mayor of Jilin City Reported Dead , and
Contamination Causes Water Cut-off in Harbin, China .