News Analysis
In violation of U.S. sanctions, China has been purchasing Iranian oil. Now, the United States may lift the sanctions on Iran to replace oil lost from Russia, in which case China will have cheap oil from Russia.
The United States is leading a collaborative effort among its allies to cut off Russia's gas exports. This means that America must find a replacement for the 8 percent of its fuel imported from Russia, while Europe must find a replacement for roughly 30 percent of its energy imports. Consequently, the Biden administration is attempting to obtain oil from either Saudi Arabia, Venezuela, or Iran.
Venezuela is unlikely to comply with the U.S. request, as President Nicolás Maduro is Russian President Vladimir Putin's closest ally in the Americas. Additionally, the United States does not officially recognize Maduro as the president of Venezuela.
On March 6, the Biden administration dispatched U.S. senior officials to Caracas to discuss renewing oil imports. The delegation included Roger Carstens, the special presidential envoy for hostage affairs; Juan Gonzalez, the National Security Council's senior director for Western Hemisphere affairs; and Jimmy Story, the U.S. ambassador to Venezuela.
The fact that President Joe Biden did not send the secretary of state or the secretaries of trade, commerce, or energy was a bit of an insult for the Venezuelan regime. Biden also said that Venezuela would have to meet certain conditions for sanctions to be lifted, but he never said what they were.
So far, Saudi Arabia has also been unwilling to help. The royal family feels that Biden has snubbed them by refusing to talk to Crown Prince Mohammed bin Salman. Instead, Biden has only had limited conversations with his father, King Salman bin Abdulaziz Al-Saud. Saudi Arabia is now meeting with China to discuss the possibility of settling oil sales in yuan, rather than dollars.
Currently, China purchases 25 percent of all of Saudi Arabian oil exports. The Chinese Communist Party (CCP) has helped Saudi Arabia manufacture ballistic missiles, as well as consulted on its nuclear program.
If yuan-denominated oil contracts are adopted, exports to China would increase dramatically, shifting Saudi Arabia deeper into the CCP's orbit. U.S.-Saudi relations are already threatened. Before Biden became president, he called the Kingdom a "pariah" for its alleged involvement in the murder of journalist Jamal Khashoggi. The Saudis are also opposed to the Biden administration's consideration of removing sanctions from Iran, as Saudi Arabia would feel threatened by a nuclear-armed Tehran.
Iran's oil sales could be restored if the Iran nuclear deal is concluded successfully and sanctions are lifted. China, however, has already been buying oil from Iran.
In December, Beijing circumvented U.S. sanctions, purchasing 286,944 tons of Iranian crude oil, according to China's General Administration of Customs. It is estimated that China purchased more than 500,000 barrels per day on average between August and October. In order to thwart sanctions, the oil was labeled as coming from Oman, the United Arab Emirates, and Malaysia.
At the time, Iranian oil was roughly $6-$7 per barrel cheaper than other Middle Eastern suppliers. And China was willing to risk sanctions in order to save money on oil. The shipments are now valued at $1.3 billion a month (the bulk of which go to China), accounting for 6 percent of China's imports, according to Reuters. This income is crucial to Tehran, which suffers under isolating sanctions.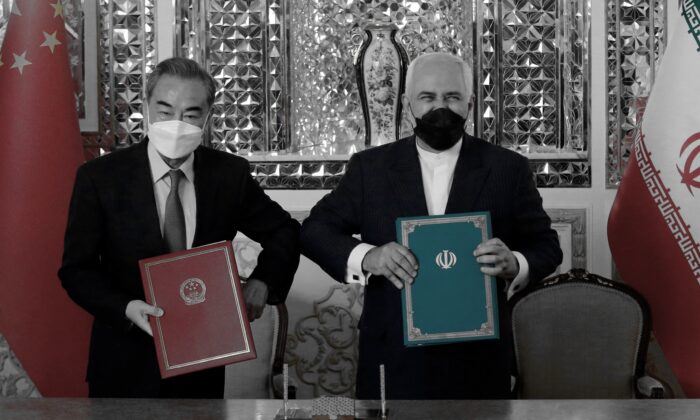 In January, China imported more than 700,000 barrels per day (bpd) from Iran, which was higher than the 623,000 bpd peak in 2017 before then-President Donald Trump renewed the sanctions in 2018. The sales were able to take place because the Biden administration has failed to enforce the sanctions.
With the Iran nuclear deal back on the table, it is possible that much of the oil currently being sent to China will be sold to other buyers, at market price. Iran has millions of barrels of oil stored offshore, which could flood into Europe and Asia if sanctions are lifted.
This would allow Iran to be able to sell oil on the world market, at the higher market price. Not only would this benefit Iran, but the increased supply would drive down global oil prices. Crude dropped below $100 a barrel on March 14, on expectations that a resolution could be reached.
At one point, it looked like the talks would be completely derailed by Russian demands that future business between Russia and Iran be exempted from EU and U.S. sanctions. Western powers refused to meet this requirement, and Russia did not withdraw it. Therefore, the deal looked like it could be dead, with the sanctions remaining in place.
Another obstacle was that several of the European signatories said that the deal could not be signed until two British citizens were released from prison in Iran. Then on March 16, Iran freed the two Brits, sparking hopes that the talks were making progress.
After the prisoners were released, U.S. State Department spokesman Ned Price seemed optimistic and said, "We do think that we would be in a position to close those gaps, to close that remaining distance if there are decisions made in capitals, including in Tehran."
If an agreement can be reached, Iranian oil could be used to reduce the deficit in the U.S. and European demand, eliminating their dependence on Russia. This would put the EU a step closer to halting the purchase of Russian energy, a sanction that would strike at the core of the Russian economy.
China will make up some of the lost revenue to Russia by increasing its energy purchases, but most likely at below market prices, as it did with Iran. And while Iran would be able to sell oil to Europe and the United States, it would presumably remain faithful to China, which supported the Iranian economy during its economic isolation.
Another benefit to the Iran nuclear deal, apart from lifting sanctions and using Iranian oil to fill the gap of Russian oil, is that the United States would be in a better position to prevent Russia from flouting U.S. sanctions by funneling cash and assets through Iran.
A potential sticking point, however, is that Iran has insisted that the United States remove the designation of the Islamic Revolutionary Guard Corps as a terrorist organization. The question remains whether this single issue is more important to Tehran than restoring the country's economy.
And finally, while the talks were in progress, Iran launched a ballistic missile attack on the U.S. consulate in the Iraqi city of Erbil, underscoring the danger of allowing Iran to develop nuclear weapons. U.S. Republican lawmakers have sworn to oppose any lessening of sanctions against Iran, as they want to prevent Iran from becoming a nuclear power.
If the United States finds a replacement for Russian oil, then China, as nearly the only buyer, can obtain cheap energy from Russia. If the United States does not find a replacement and the European Union does not block Russian oil exports, then China can continue to get cheap oil from Iran.
Views expressed in this article are the opinions of the author and do not necessarily reflect the views of The Epoch Times.