Robbed of Their Land, 800 Hold Sit-In Protest
November 14, 2008 12:53 am Last Updated: November 14, 2008 2:56 pm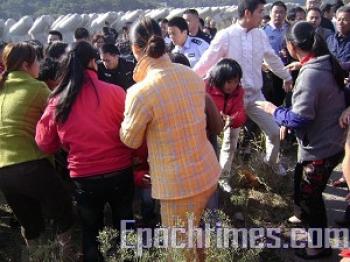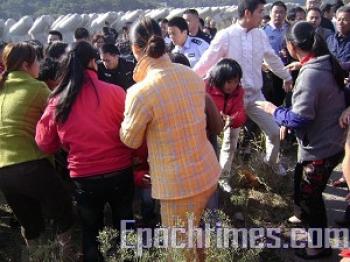 CHINA—Residents in Zhuangyuan'ao Village, Wenzhou County, Zhejiang Province, staged a sit-in demonstration for 22 days to protest the authorities' illegal land expropriation to build a shipping dock. Violent clashes ensued.
On Nov. 10, the authorities mobilized over 100 police officers to expel protestors, resulting in violence. One resident was arrested and another was injured and the suppression is ongoing. The police stationed in the village blocked all traffic from coming or exiting.
In the early morning on Nov. 11, police broke into a house and arrested a resident surnamed Zhang, whose whereabouts remain unknown. Another villager, Ms. Chen told the reporter, "At 9 a.m. on November 10, dozens of women went to the township government to reason with officials. The Party Chief tried to escape and was stopped by the villagers. The Party Chief then called the police. The police rushed to the scene and the violence started. An officer kicked a woman iin the stomach and beat her until she couldn't move. She was later hospitalized. At 10 a.m., the local county regime sent out about 300 police to suppress the protestors."
Conflicts between the police and hundreds of sit-in protestors broke out later. A man holding a camera was arrested and later the police dismantled the temporary tents set up by the protestors.
Nearly 800 Protesters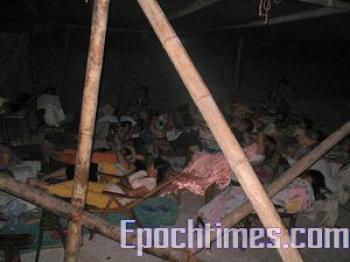 It was heard that protestors came mostly from three nearby villages. The number of protestors is nearly 800.
Since 2004, the local government has forcibly taken over 4,570 acres of farmland to build an international shipping dock where residents lived for generations. The government did not compensate the villagers who lost their only way to make a living. The young people had to leave the village for jobs, leaving mostly seniors and children in the village.
The villagers started to appeal to the government in 2004 hoping to get help but their efforts were in vain. The sit-in protest started in mid-October and no government representative showed up to address the situation.
Huang, another villager, said, "The police demolished the place for the sit-in appeal. We will continue to protect our rights. As soon as the police leave, we will be back to protest."
Villagers In Danger of Floods
The reporter learned that the dock built by the authorities sits on higher terrain than the village. There isn't a storm drain built around the dock. If there were to be a storm or typhoon, heavy rains would cause a mud and rock flow that would inundate the village. The lives of the residents are very much in danger as a result