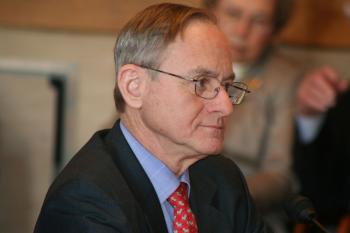 WASHINGTON—At an all-day hearing Feb. 4 on Capitol Hill, U.S. Congress Members and experts from the State and Defense Departments, and academia and non-government organizations, gave testimony on China's activities in Southeast Asia, and the economic, strategic and security implications for the United States. Concerns by China's mainland and maritime southern neighbors were discussed regarding China's increasing willingness to use force and threats to back up its territorial claims.
The hearing was conducted by the U.S.-China Economic and Security Review Commission (USCC), which advises the Congress on China's activities.
"Especially in the South China Sea, China has become increasingly assertive—even provocative—towards its neighbors in regard to maritime issues," said Dr. Richard Cronin, Henry L. Stimson Center. Dr. Cronin testified that it appears that China is switching back to its pre-1995 stance when it takes up military action to back up its territorial claims in the South China Sea.
"Since the 1950s, the PRC has claimed most of the South China Sea as Chinese maritime territory," said Dr. Andrew Scobell, Texas A&M University.
"[Since late 2007] China has increased naval patrols, pressured foreign energy companies to halt operations in contested waters, [taken steps to appropriate the Paracel and Spratly islands,] and unilaterally imposed fishing bans in parts of the sea," said Bronson Percival, Center for Naval Analyses (CNA). Mr. Percival said that China insists that disputed claims are "bilateral issues," i.e., between China and a weaker nation, and cannot be handled by "multilateral mechanisms."
Last year China displayed highly aggressive conduct against US Navy vessels. In March 2009 the U.S. navy ship Impeccable in the South China Sea—in international waters—was interfered with by Chinese vessels and told to leave the area or "suffer the consequences," testified Congressman Dana Rohrabacher (R-CA). A similar incident occurred in June with the destroyer USS John S. McCain.
"There can be no mistaking what these moves mean. The [People's Republic of China] is aggressively signaling through their actions, claiming dominance and control over the South China Sea," said Rohrabacher. He adds that if China acts in this belligerent way to the U.S., one can only imagine what the threat must be to the countries in the region.

"We strongly object to behavior that puts at risk the safety of our vessels and is a clear violation of international norms of behavior in ocean waters outside territorial seas," stated Deputy Assistant Secretary of Defense Robert Scher. He asserted that the U.S. rejects any attempt to restrict the freedom of the seas in EEZs (Exclusive Economic Zones). Nearly 40 percent of the world's oceans lie within the 200 nautical mile EEZs. Consequently, navigational rights must be preserved, according to Scher, for the sake of global economy and international peace.
Even though no standing army threatens China, it is building a massive military, which we ignore at our peril, said Congressman Rohrabacher. He referred to the anti-satellite missiles and anti-ship ballistic missiles that China is developing, with the intention of denying us the ability to come to the aid of our regional allies.
According to Commissioner Larry M. Wortzel, who co-chaired this hearing, China's growing naval capabilities is seen as a potential threat to the countries that have maritime territorial disputes with China—Vietnam, Brunei, Indonesia, Malaysia, the Philippines and Taiwan. He said that during the Commission's visit to Vietnam last December, they heard several times Vietnam's concerns over China's assertiveness in the South China Sea regarding territories claimed by both nations.
The consensus of all participants at the hearing was that the U.S. should be more engaged in the region and has a vital role in preventing China's domination of the South China Sea and maintaining free passage of U.S. Armed forces and energy supplies.